Days are flying by with my renewed passion for writing. I bought 11 Kindle edition books about
fiction writing and I've read 4 of them in the last week! I'm taking notes, experimenting, and watching
flix recommended that demonstrate plot and dialogue genius. I've registered for 2 literary contests and
my daughter Rachel and I are trying out a fun activity. We select a writing prompt, choose a deadline
for manuscript completion and then share our stories. Our first task will be shared this
Saturday. It'll be interesting to see
what each of our minds guided us to create from the SAME PROMPT! "Incorporate the following 3 items in your
story: a soup can without a label, a cigarette pack filled with M&Ms and an
unrequited crush."
This past Sunday was a week alone in the house…it was
necessary to get out for awhile. I got
to the car with needed transportation devices, drove to Walmart, hobbled in,
rode all around for almost 2 hours in their motorized vehicle with basket just checking things out, purchased a few
items to aid in my writing projects and EAR appeal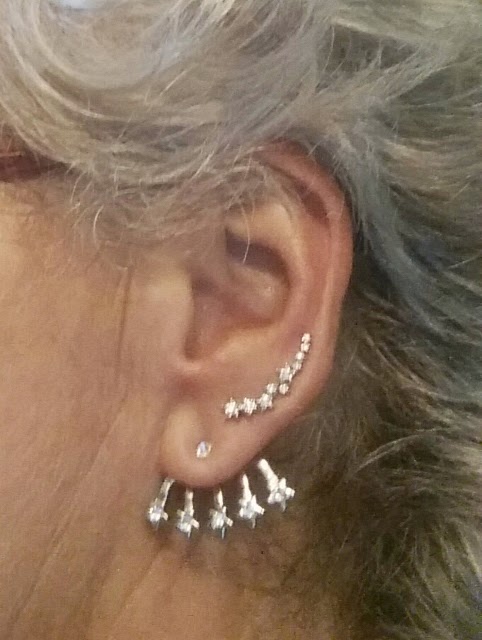 I love it!!!
and a few groceries, graciously accepted
assistance getting bags into the car, drove back, unloaded the car and got
everything in the house AND I did so without a hitch, mostly!!!! Woo!
Hoo! Must say though that a great
deal of focus and creative 'problem' solving was involved…LOL
Handlebars came to the rescue!
Between the loading of the car and the unloading of the car
(I didn't get any perishable items), I went into a Texas Roadhouse restaurant
for lunch. To my absolute surprise and
pleasure, I was gifted with a server from heaven!!! Bright Spot–
Louie, Louie, Louie! He greeted me as
though we were old friends and provided the perfect recommendation for lunch
after I gave him a rather shabby description of what I thought I wanted…LOL That
man sure knew what he was talking about…everything was spectacular.
Of course, after I finished eating, I invited him to have a
seat and asked him to tell me something happy in his life or what he is
grateful for. Without hesitation, he
said, "Waking up." That lead to a chat
that inspired me. Louie is 37 years old
(looks like 25) and has been around the block.
Born in New Jersey, he gravitated to Florida for his education, than
headed west to perform as a Chinese pole acrobat and trapeze artist. How fun is THAT?! He returned to Florida a few years ago and
now he has a gorgeous little girl named Neriah, who is 2 years old.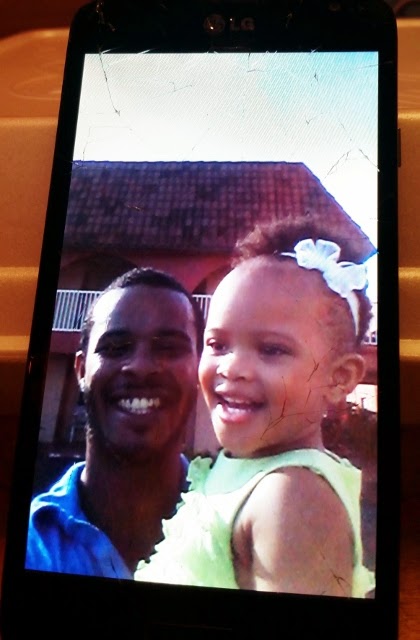 Dad and Neriah
We talked about his love of and appreciation
for overcoming obstacles, getting up more times that you fall and goals worth
having and sticking with until they are reached. Louie wants nothing more than to be able to
say "YES" whenever his daughter needs something. I could see in Louie's eyes and feel in his
presence the love he has for Neriah.
Louie, thank you for taking good care of me and for allowing me to step into
the beauty that is your life for a moment.
Keep your heart on your goal and you can't go wrong!!!