Today turned out to be spectacular weather wise…and otherwise! Sharon and I drove to Assateague, MD in the hopes of catching a glimpse of the wild ponies!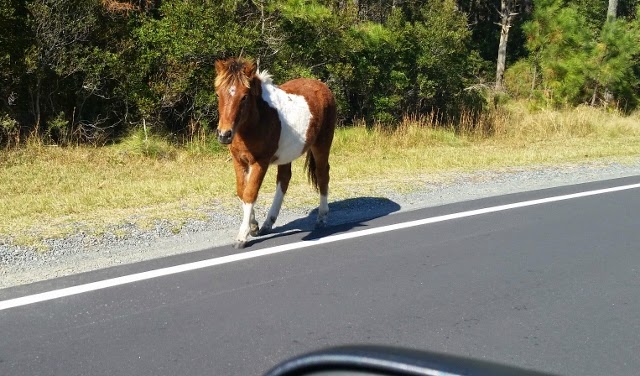 Not only did we get a glimpse, but we practically walked among them. It was wonderful! Most of them were quite large. Many were fuzzy as opposed to having the smooth shiny coats I'm accustomed to seeing. They were serene, appearing quite tolerant of their uninvited guests. In fact, the half dozen or so were grazing on the tall grasses of the dunes at South Ocean Beach and completely undeterred by our presence.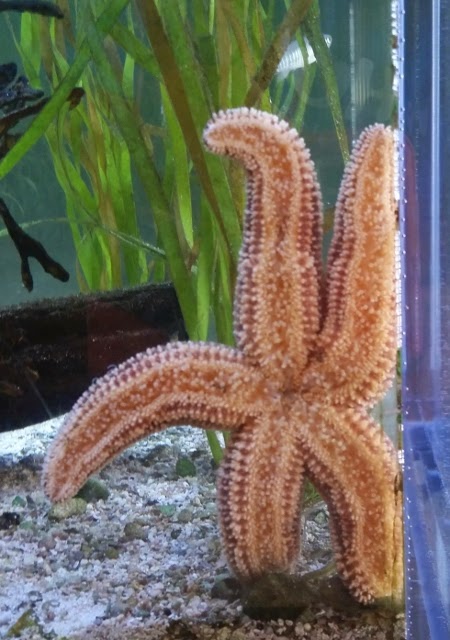 live starfish at the visitor's
center exhibit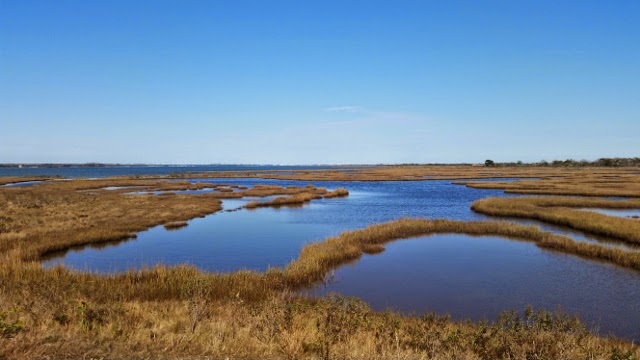 on the road back…so beautiful
Cool street name, huh!!!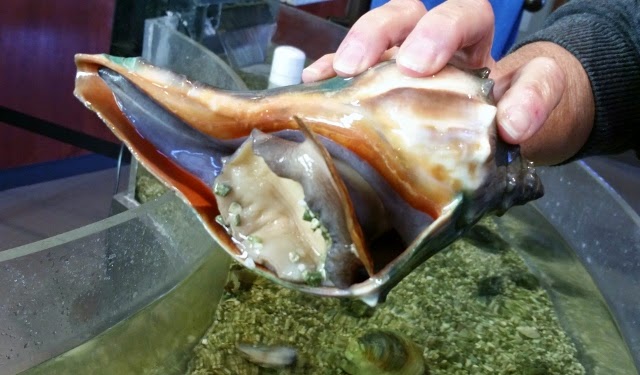 living conch shell
Once we finally tore ourselves away from the herd feeling ecstatic over our good fortune…Bright Spot…we were greeted by Bob, who commented that he really liked Van-Go and the inspiration that she carries on her snowy white body! Sharon and I talked with him for a bit and as it turns out, he has just embarked on an adventure of his own! Bob lives in New London, NH and has a 19′ camper that he's headed to Florida in and then west across the southern coast. Sharon offered a few tips on where to go in Florida and Bob made note of them. His goal is to escape the frigid New England winter this year. He was a pleasant man and very enjoyable to talk with. He commented that one of the things he loves most about the 'traveling' lifestyle is that "he can't wait to see what tomorrow brings." I couldn't agree more. 🙂 Another remark he made really struck a cord with me because I believe I truly understood what he meant. He said, "…it's a different way of being." I experience that more and more as I continue along my journey within and on the road. Thanks, Bob, for your words of wisdom and cheers to the very best adventure possible for you!
By this time, our bellies dictated our next stop…the historic town of Berlin…where there were lunch opportunities…LOL It was voted 'America's Coolest Small Town' in 2014. Quaint buildings were homes to the shops and eateries that lined the narrow streets along which we walked. Sharon highly recommended one of the restaurants, so in we went. We had no idea what a memorable experience was about to take place. Sharon recognized the waiter, Richard from another restaurant that she'd been to. When he approached our table, he confirmed that it was him and they got to chatting. He asked her for her drink order and turned to walk away??? Hmmm, did he not see me? He DID return shortly and asked me for mine. Strange. He didn't come back to get our food order, but a woman did. She explained what my menu choice would consist of when I asked and headed to the kitchen. When our food was delivered, it was nothing like her description. The roll was soggy as opposed to light with crispy crust, the roasted veggies were nearly pureed, the portion was minuscule AND it was very salty and greasy!!!! I was very hungry, so I just scraped the 'stuff' off the roll and commenced to eat it with my fork. When she saw the bread on the side, she inquired and I explained that I had expected a completely different type of roll from her prior description. She exclaimed, "Well, everyone else that has ordered it liked it" and walked toward the kitchen mumbling something to the cook…she never returned. Sharon and I commented that we never heard of someone saying that to a customer and just kinda shook our heads. When Richard came to check on us after the fact, he told us she was the manager…oh my! We proceeded to share the other disappointing aspects of the meal (Sharon's meal was fabulous though). He was very understanding and also surprised at the manager's behavior. He offered to remove the cost of my lunch from the bill and I accepted graciously. He returned with the check and extended his hand to Sharon. He didn't even glance in my direction? By now, we were both laughing at the whole scenario. I was thoroughly amused at my seeming invisibility at certain moments! So, here we were…..one very satisfied woman and one still very hungry one! So, she recommended a second place and it was closed!!! Thankfully, there was one more restaurant opened (this time of year many establishments are either closed for the season, close very early or are only opened on the weekend). I had a lovely spinach salad with prosciutto, goat cheese, and shredded apple. It was well worth waiting for! After a quick ice cream run, we came back to the house! What a crazy ride lunch was!!! LOL It sure pays not to take things personally…LOL