Fun display across from the depot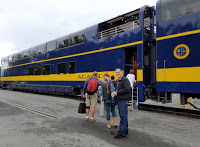 "All aboard"
View of train from the upper landing
as we were riding along the Kenai River
What a splendid gift!!! Carl and I were gifted a round trip ride on the RR with Gold Star Service (meals, adult beverages and ongoing commentary along the route!) So, first, let me say thank you to those responsible for making this trip possible!!!
THE TRAIN – I can't say enough about how great it was from picking up tickets to prompt departure and arrival to the over all service from the supervisor, the bartender and the high school trainees, meals, comfy seats, smooth ride and, of course the view from the upper deck panoramic windows!!! Despite the overcast, slightly rainy weather, we were able to get a few really nice shots along the way.
David…one of the HS trainees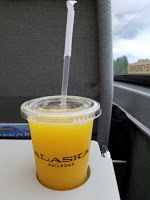 My morning Mimosa!

Add caption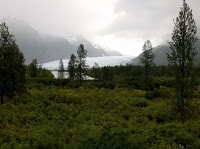 Glacier in the distance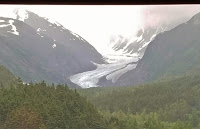 An awesome glacier…
pic turned out a little weird?
At breakfast and dinner, we sat at a table for 4 which afforded us the opportunity to chat with new friends! Both experiences were great, but the two amazing women we had the privilege of meeting at dinner had a wonderful story to share! –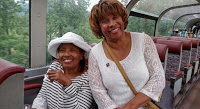 Meakie and Elizabeth
BRIGHT SPOT – Meakie and Elizabeth are sisters. Meakie lives in NY (used to live in Bowie, Md for 25 years) and Elizabeth, recently retired, lives in Memphis, TN. This trip was a bucket list item for them. Once Elizabeth retired, she gave her sister the 'go ahead' to plan their very first road trip together! They have been having a blast! They are very family oriented and make it a point to meet up with siblings for a good time at least every two years. Another fun fact is that Elizabeth's dog, Angel, has a sister named Bella that belongs to Elizabeth's sister….so when the people sisters visit, the doggie sisters can visit, too!!!! Tee! Hee! These two ladies were a real highlight of our return trip from an already great experience!
THE SEA LIFE Center in Seward – I wasn't sure I even wanted to go here, you know, just another aquarium type deal! So many people said it was great and we had a coupon, so we decided to give it a try. I AM SO GLAD we did. I couldn't choose a favorite part if I had to, but the jumping, happy puffins are way up on the list! They were like water bound Tiggers…LOL They were hysterical! I did manage to get one 'in the air' shot…very cool! I got to touch squishy things and jagged things. And the sea lion and seals were also great fun! Again, it was just fabulous. Pardon me if this paragraph sounds like it was written from the perspective of a 10 year old…LOL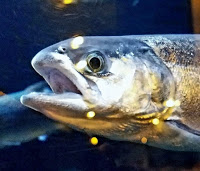 Well, hi there!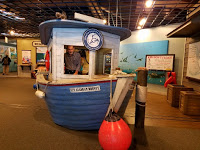 Carl's new boat!!!!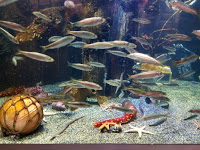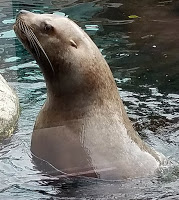 "Get my good side, now!"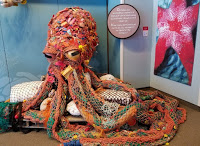 This may just look like a cool octopus
creation, but it is constructed with all
the 'junk' found in the Bay…kinda sad!
Squishy!!!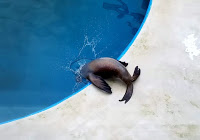 Wonder what he is looking for down
there? LOL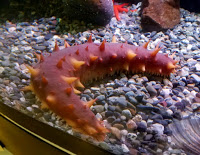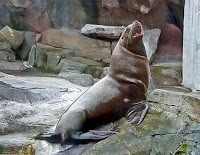 A very vocal sea lion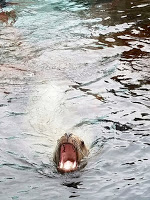 LOL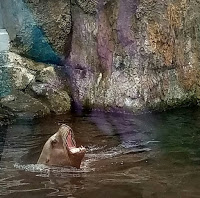 LOL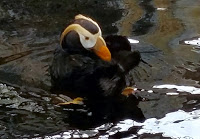 A PUFFIN…I love them!!!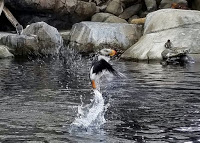 OMG…he is having so much FUN!!!
AROUND TOWN in Seward – We were very fortunate that the rain was reduced to a slight occasional drizzle while we did a walking tour of Seward. It was cool to see a long stretch of camp sites as we walked along the banks of Resurrection Bay…tents and RVs everywhere! (TRIVIA – Resurrection Bay was the backdrop for the opening of the film, The Hunt for Red October serving as a stand-in for Russia's Murmansk Fjord.)
We hit all the t-shirt shops, got a few free trinkets with our coupons, had a little lunch and marveled over the many outdoor wall murals all created by locals. They were just gorgeous! What a wonder-filled day we had!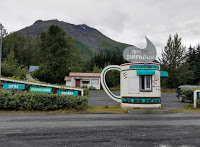 Love the design of this quickie coffee shop!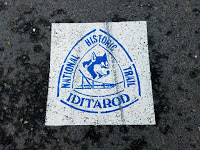 The big race goes right through Seward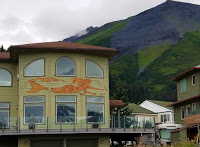 How cool is THAT storefront???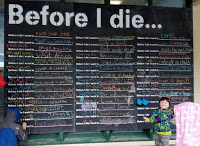 What an awesome idea!!!
Hopefully, you can zoom in and read some of the responses