Sherry, the curator of the museum where we are volunteering this summer arranged a complimentary farm tour for us. What a delightful experience it was! The tour began at the Palmer Art Museum and Historical Center where a spectacular garden is tended by a selfless group of volunteers…2 of which taught us a lot about the soil and what it takes to maintain healthy plants in the area.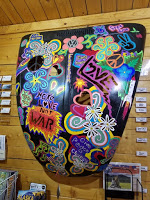 How cool is this?!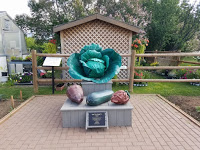 Alaska's Matanuska Valley is known for
its giant veggies, especially cabbage!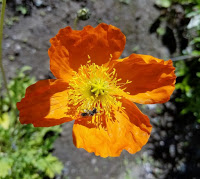 A bee having a little snack!
Our tour guide for the day and owner of The Alaska Farm Tour, Margaret, was raised on a 2,000 acre grain farm in Wisconsin. She directed the AK Farmland Trust for 3 years, talked with over 100 farmers, ranchers and agriculturists, fell in love with them and the idea of preserving the agricultural land. Having a personal interest in protecting and promoting the 'ag' community, she established this tour opportunity for locals and visitors alike. It was one way for her to honor the fields of the Matanuska Valley and the people who tamed the harsh landscape and gained much more than profitable crops.
Margaret!!!
Our first stop was at the Moonstone Farm. They grow foods on their historic farm using sustainable practices. They have veggies, chickens, eggs and hay. The owner, Michelle Church and her husband of 31 years, have kept up the Matanuska Valley family farm that originated in 1935. They has tended to its success since 1999.
Before we walked around the grounds, we indulged in a wonderful lunch as part of the tour package.
Hay raker that preps hay for baling…
forgot the technical term…oh, my!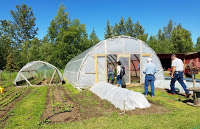 Our yummy lunch…part of the tour
A stack of moose antlers!!!!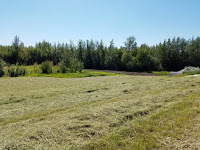 Hay waiting for some TLC
Carl caught leaving the outhouse
LOL
Next stop was to spend a little time with Don Berberich, a fruit farmer. He is not only a farmer, but an FFA advisor and 'ag' teacher. He owns "Juice, Jelly and Jam" which is a fruit growing and processing operation! He rents a few acres from a larger property and grows red and black currants, raspberries, strawberries, apples, rhubarb and honey berries. Like a kid in a candy shop, Don took us from one crop to the next beaming with enthusiasm! He operates his farm with only one employee. "Finding enough labor to maintain and pick crops is the biggest challenge." Currently, he makes jams, jellies, candy and savory sauces from his annual crop. One of the many fascinating facts he shared was that the snow actually protects the crops from the cold acting like a blanket. Despite the warmer winters the past 2 years, Don's crops have survived for the most part. Then, of course, there are those pesky birds and moose that just love to nibble!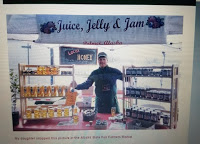 Don and his booth at one of the fairs
Don showing us his beautiful
rhubarb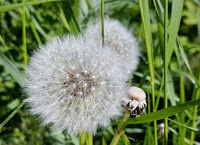 Aaaahhhhh! More wishies!
Honey berries
The third farm we visited was Country Garden Farms. Bill is a sod and hay farmer with over 40 acres of land. He had much more in years past, but lost hem to developers. The sod yields a sell-able crop every 3 years. Sections are planted and harvested on a yearly rotating basis. The hay is often sold as straw fiber rolls (used for sediment retention to reduce soil erosion). Mostly, it is sold to horse and cow market. Did you know that cows eat the body weight in dry matter each month?! The most fascinating fact for me was that if even a small section of the center of a bale of hay contains moisture, it can combust spontaneously and catch fire!!! The trapped moisture generates enough heat to cause a fire! That's crazy! Many barn have been downed this way. Also, a heavy downfall is much less damaging than a persistent drizzle.
Bill also commented that the farming industry desperately needs the younger generations to step up and commit to continuing the long-standing family farms in Alaska. HIS family has been very fortunate in that his son-in-law has chosen to carry on this family business!
Farming in Alaska is not a glamorous occupation. It requires a great deal of time and effort and sometimes it is not even particularly profitable, but it certainly makes all the difference in the lives of the people who depend on the dedication of the farmers and their families.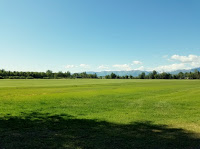 This looked like velvet in person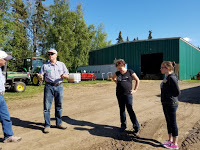 Bill sharing about his farm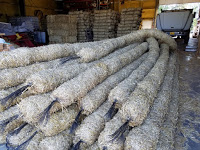 'fiber rolls'