There are many places in Alaska that we've been told you can spot eagles. So far, we have not had much luck. We did get wind that you can sometimes see them at the landfill looking for snacks! LOL
However, you can't get close enough to see them without binocs. A local told us about a hiking trail nearby. So off we went. We climbed up several high hills yet we were still quite a distance from the landfill. We did see probably 100 pigeons, a few blackbirds AND maybe 6 eagles. With binocs we could see 3 mature bald eagles sitting on a hill. There were also a few immatures. At one point, we saw an adult go flying with a youngster! I think it was a lesson in snatching snacks from pigeons…LOL (on the job training) We saw what certainly appeared to be a golden eagle perched in a tree as we walked out of the wooded area. And we caught just a glimpse of a bald eagle soar across the treetops as we were leaving. Not too shabby, but the search for seeing mass quantities of eagles will continue.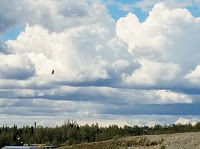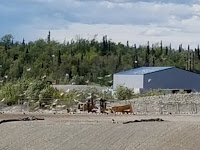 This scene was pretty far away.
This is a zoom shot.
The sky was magnificent that day…the blue was super blue and the clouds were gloriously white. And that's not the half of it…there were swirls and puffs and…even faces! See pics.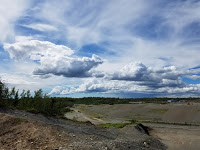 Pair of eyes looking down and left…
either a face full of shaving cream or
a surgical mask?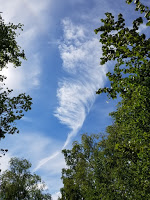 Tornado swirl
A slight rainbow over the treetop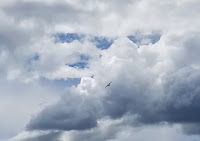 Face looking down to the right
at the eagle…may have shades on…
nose…mouth…perhaps an earring?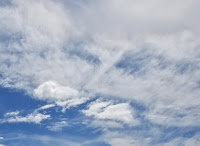 Eyes looking down and to the left…
pointed nose…blowing out white
smoke from each nostril!