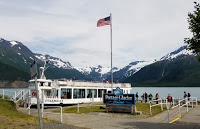 Ptarmigan – Glacier Tour Boat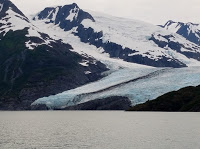 Portage Glacier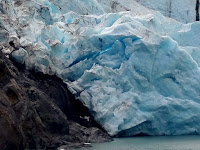 Turquoise Ice!!!
WOW! Turquoise ice! Waterfalls hundreds of feet tall streaming down into a glacier fed pool! That was what we got to see aboard the 'Ptarmigan' in Girdwood on the Kenai Peninsula. What a splendid hour…we got within a couple hundred feet of the face of the Portage glacier…it was gorgeous! There were icebergs bobbing in the cold waters around us. This towering wall of ice is 6 miles long! In addition to the extreme beauty of the experience, there was one fact that I learned from a staff member that truly impressed me…the sound system used to narrate our cruise cannot be heard from the shore in order to preserve the naturally peaceful setting for the wildlife…HOW COOL IS THAT?!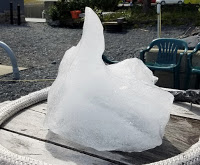 Section of an iceberg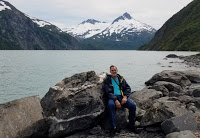 Before the cruise…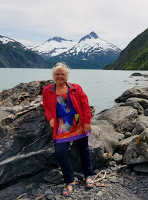 At the docking area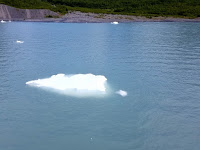 Check out the glow around iceberg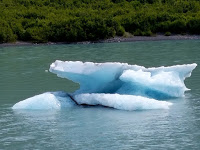 Tip of an iceberg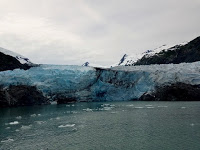 Portage Glacier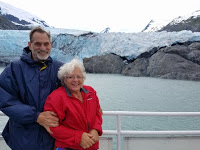 'Twas a tad windy…lol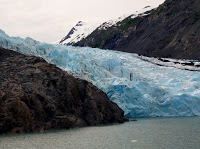 Glacier…so beautiful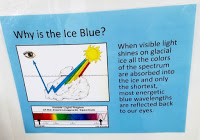 Awesome info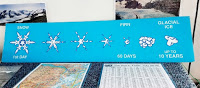 Fun snowflake to glacier chart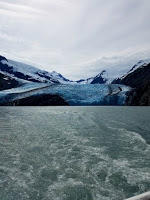 Leaving the glacier area in the boat
After the cruise, we proceeded to the Wildlife Conservation Center. I try to go to as many of these around the country as possible…I love the work being done there for orphaned and injured animals.
Bright Spot – On that note, I'd like to share a beautiful success story of the Center's. The Athabaskan Natives here have always relied on the wood bison for food, clothing and shelter.. Eventually, they seemed to have disappeared…thought to be extinct (1941) due to over hunting and ecological change. In 1957 a small herd was discovered in Canada. That sparked a movement to restore populations of wood bison in Alaska. The AK Dept of Fish and Game made a commitment to return them to their native range in western AK. First; however, a captive breeding and holding center would be necessary to support the stock for restoration and the AK Wildlife Center was deemed a perfect fit! Well, thanks to the love and care the wood bison received from dedicated staff, 130 wood bison were successfully released into the wild in Spring, 2015!!! Thank you AWCC for your tireless efforts in making this possible!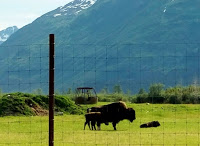 Found the pics…wood bison!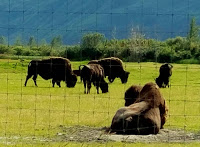 Wood bison…happy again!
Other animals at the center (some of which will be able to go back into the wild after rehabilitation) included black bear and grizzlies which we were able to see at feeding time, musk ox, reindeer, black tailed dear, caribou and last but not least…there was a spectacular bald eagle whose wing had been shot and irreparably damaged leaving it unable to fly. This saddened me greatly though I felt grateful to the AWCC for patching her up and creating a lovely enclosure for her to spend out the rest of her life and allow people to see the magnificence of this creature up close.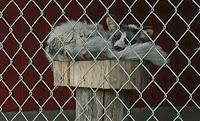 Arctic fox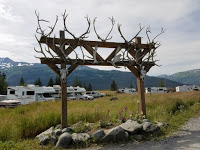 Entrance to the AWCC
Black bear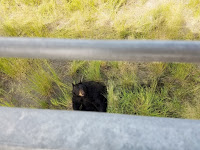 Black bear – peek-a-boo!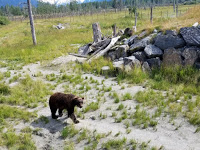 Grizzly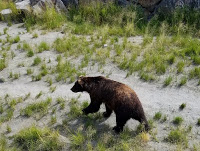 Grizzly pacing…waiting for lunch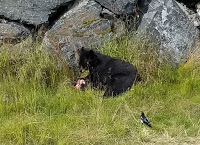 Magpie spying black bear having lunch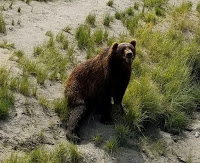 Grizzly right before they tossed him his lunch…
Aaawwww, sitting so nice!
Good job, Big Guy!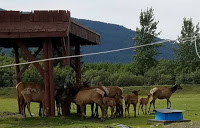 See the little ones?!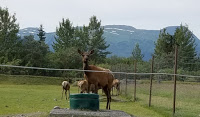 This is called a "Ham Deer"…
Just kidding!
My Favorite!