The Mobile Carnival Museum – WOW! We weren't sure exactly what to expect, but we were pleasantly surprised as we walked through the halls and up and down the stairs of the Carnival Museum gazing awestruck at the ridiculously gorgeous costumes worn by past kings and queens of Mardi Gras!!! The workmanship, detail of design and overall ingenuity of the long, long, long capes was nothing short of extremely impressive!!! There were so many. I got pics of quite a few, but just a sampling of the total. Go…whomever had the creativity, skill and patience to whip up these jaw-dropping outfits!!!!
OH MY GOODNESS! I know them!!! LOL
We also visited the Fairhope Municipal Pier on a very cold and windy day!!! The pier was nice, the sparking sun on the water was lovely, but the roses were exceptional!!! Go Mother Nature,,,you did good on the roses!!!!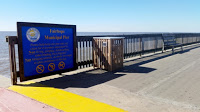 We got about 100′ before we stopped
and turned around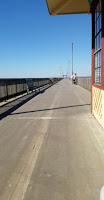 Way too windy to make
it to the end…boo! hiss!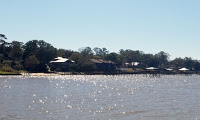 It looked like diamonds jumping on the water!
Even the aftermath of the blossoms
are beautiful