November, 2016
It was wonderful to be a part of the celebration for the men and women who have and are currently serving our great nation through various aspects of the military. The folks at this campground prepared a small ceremony that included songs, stories, snacks and a warm sense of community. It didn't matter one bit that I didn't know anyone there. The feeling of fellowship, respect and gratitude does not require prior introductions. The young girl who sang "America" brought tears to many an eye that morning. Her voice was angelic and effortless. I had the privilege of speaking with her later that day and at the ripe old age of 16, she already has a strong sense of appreciation for our veterans. She was delightful.
The Super Moon appeared in the relatively clear night sky while I was there. It is always a treat when there is a full moon visible. I love the moon! I love its light!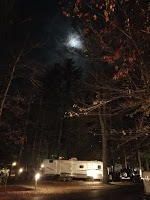 Super Moon
Karaoke Night was a hoot! After much coaxing by Val and Margie…karaoke pros…I made my way to the front and embarrassed myself sufficiently while attempting to sing, "It's a Great Day to be Alive." The DJ helped with the howling part…LOL It was crazy, but tons of fun!!!
Bingo night
Now those lights bring back memories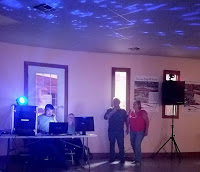 Val and Margie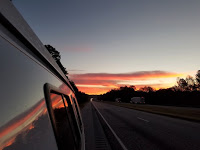 Cool sunset shot reflected on the window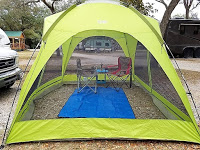 My first raising of the screen room!!!
BRIGHT SPOT – Wayne and Catherine!!!! What a joy these two characters were!!! They met in May, 2016 at a church in Robertsdale, AL. Wayne was camp-hopping. They chatted a lot and found each other very easy to talk to. After a few months Catherine admitted that he started to look different to her. One day she texted him…"If you were just a little older…" He came running over to her RV!!!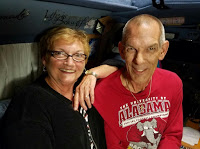 Catherine and Wayne sitting in Van-Go
Wayne continued to hop for awhile, while Catherine stayed monthly in one spot. They realized that 2 motor homes was NOT working. Within 2 months, Wayne proposed and Catherine said, "YES!" Wayne shared a profound belief of his that prompted him to act pretty quickly once he knew what he wanted for his life…"Life is but a vapor."
Catherine put her RV in storage and she and her 3 'girls' (Fancy Foo, Precious Poo and Sissy Sue) moved in with Wayne!!! They basically live at Styx Resort now. They plan to be married on February 25th at a quaint little church called Morgan's Chapel in Bon Secour, Alabama. Let's all wish them the very best for their marriage and their life over all!!! Best wishes, Wayne and Catherine! Please forgive me for this post happening almost 2 months after we met!!! It's kinda like finally finding the right partner…better late than never…LOL