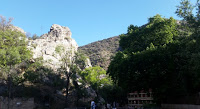 View on the way to Bisbee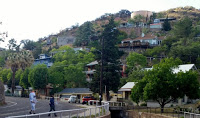 Bisbee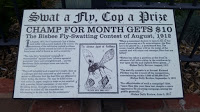 Local paper
Our last stop in Arizona was Bisbee. The town was founded as a copper, gold and silver mining town back in 1880. Mining in the Mule Mountains became very popular in the early 1900's and people swarmed to the area. There were mining changes over the next 60 or so years and the industry all but ceased and the population dropped drastically. In the 1960's because of its amazing scenery and desirable climate, artists and 'hippies' flocked to Bisbee.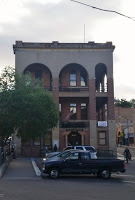 Awesome post office bldg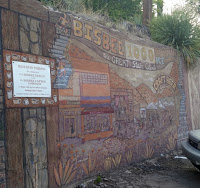 One of many wall murals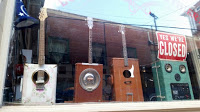 Hand crafted guitars…wow!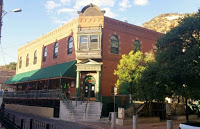 The Brewery
Then the attraction of copper mine tours brought enough visitors in that coffee shops, live theater and retail stores began to spring up and once again the economy of Bisbee flourished. Bottom line is that Bisbee is quite an eclectic town definitely worth the time to check out!
Another awesome feature of Bisbee is their "Bisbee 1000 – The Great Stair Climb". There's a whole history to it, but basically it's a physical challenge event. It is the ONLY outdoor stair climb in the U.S. and possibly one of the most unique events in the world. It's a 4.5 mile course of featuring 9 staircases consisting of over 1000 steps connected by winding roads through some of the most scenic parts of Old Bisbee. We were told that participants range in age from 7 – 80 years old!!! This year the event takes place on October 15th! I wish we were going to be here to see it…sounds like a blast!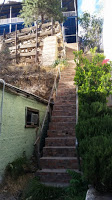 One of nine staircases
Another staircase
Carl and I decided to take the Queen Copper Mine Tour and it was great! The pictures are a bit sketchy but hopefully you will get an idea of what it looked like inside.
Half the fun was getting suited up and riding the 'miner car' through the dark tunnels!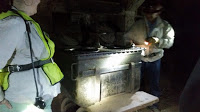 The miners' "potty"
A-mining we will go…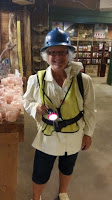 Is it me? LOL