Wow! First time for 3 Bright Spots in one day!!!
Bright Spot #1– Gotta love small towns…I went to the post office at 12:30 and it was closed for lunch until 2:00!!! So, I decided to have a little lunch myself…"when in Rome" as they say! I met Amanda in the House of Pizza. I asked what was great there that wasn't pizza and she highly recommended their grilled chicken salad. It was fabulous.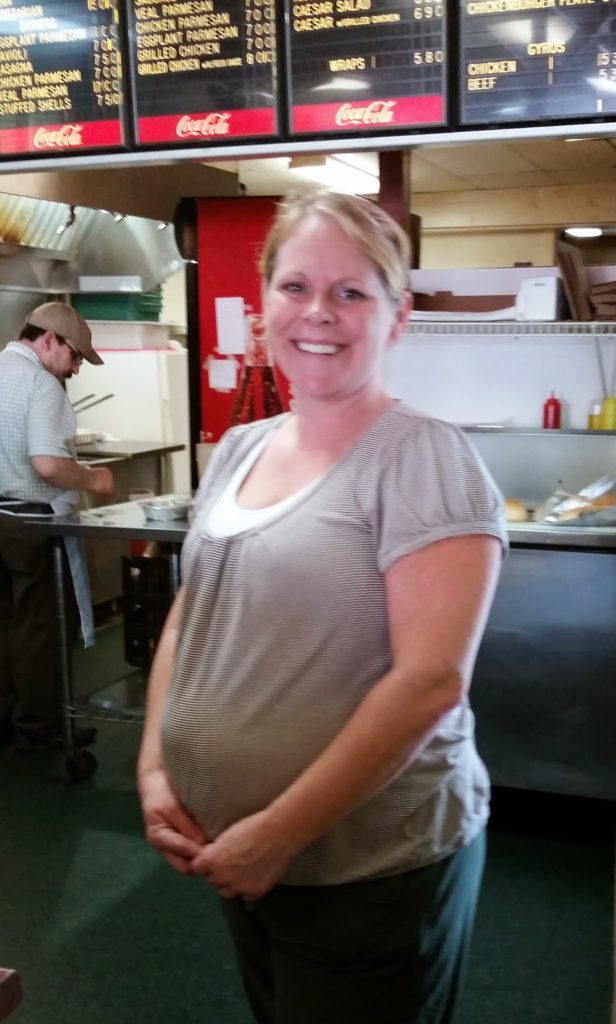 Amanda
This woman had the most beautiful smile and I just wanted to talk to her…knowing she MUST have some happy news. As it turned out, Amanda is expecting her 3rd son (Brice) sometime in January! Her other sons are Dylan, 13 and Ethan, 9! She told me cheerfully that she believes herself to be a really great mom! I had no doubts as we continued to talk. She loves wanting to make someone else happy more than she does herself. She also loves that motherhood is never boring! She had another good news story for me…Saturday was the grand opening of the new library in Canaan. This has been an ongoing community project for close to 10 years. She was so excited and proud as she shared that so many people donated time, money and expertise in various areas to make this dream come to fruition. Best wishes Amanda with your wonderful family…be sure to take them to that new library!!!
Bright Spot #2– After I ate lunch, I returned to the post office and there I met Elaine. Aside from being extremely helpful and genuinely pleasant, Elaine was thrilled with the unseasonably warm weather! 70* in mid October is Maine…WOW!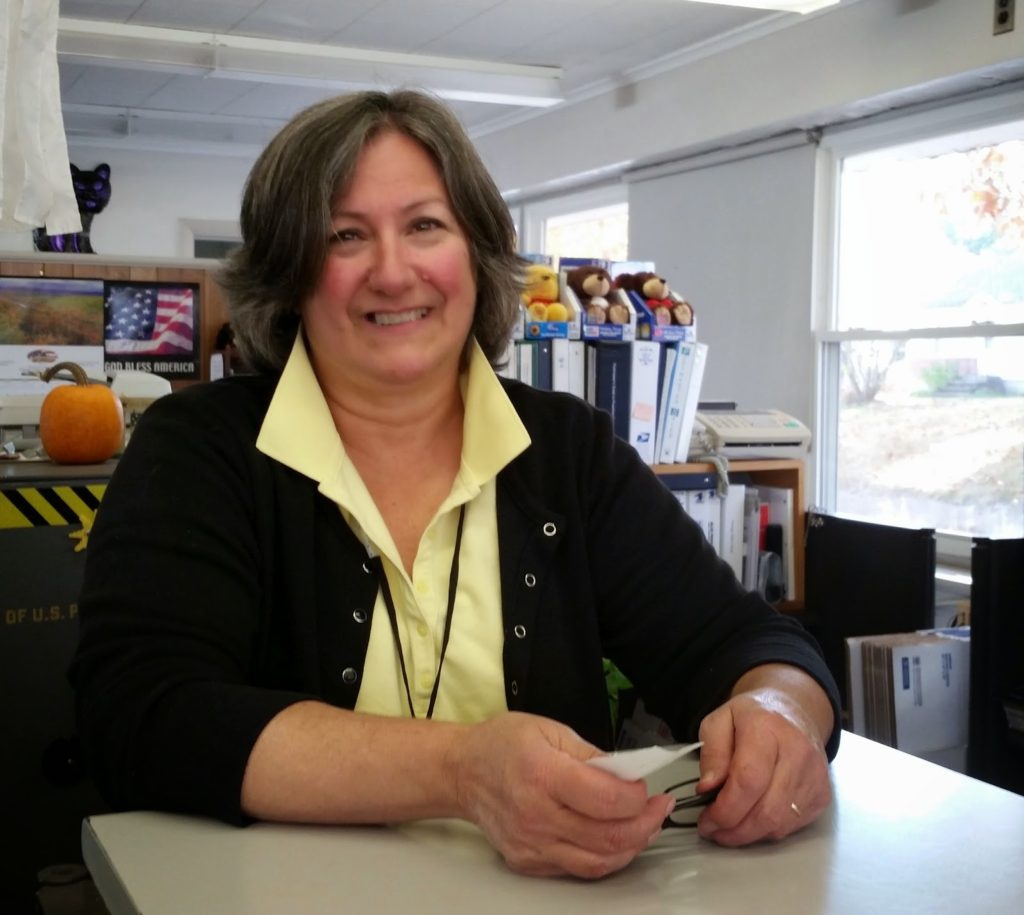 Elaine
She is also very happy for her daughter who is making a name for herself in the TV/movie industry. She assisted with producing and directing in several areas of the country. She was even part of the team who worked on the new movie "We Bought a Zoo"!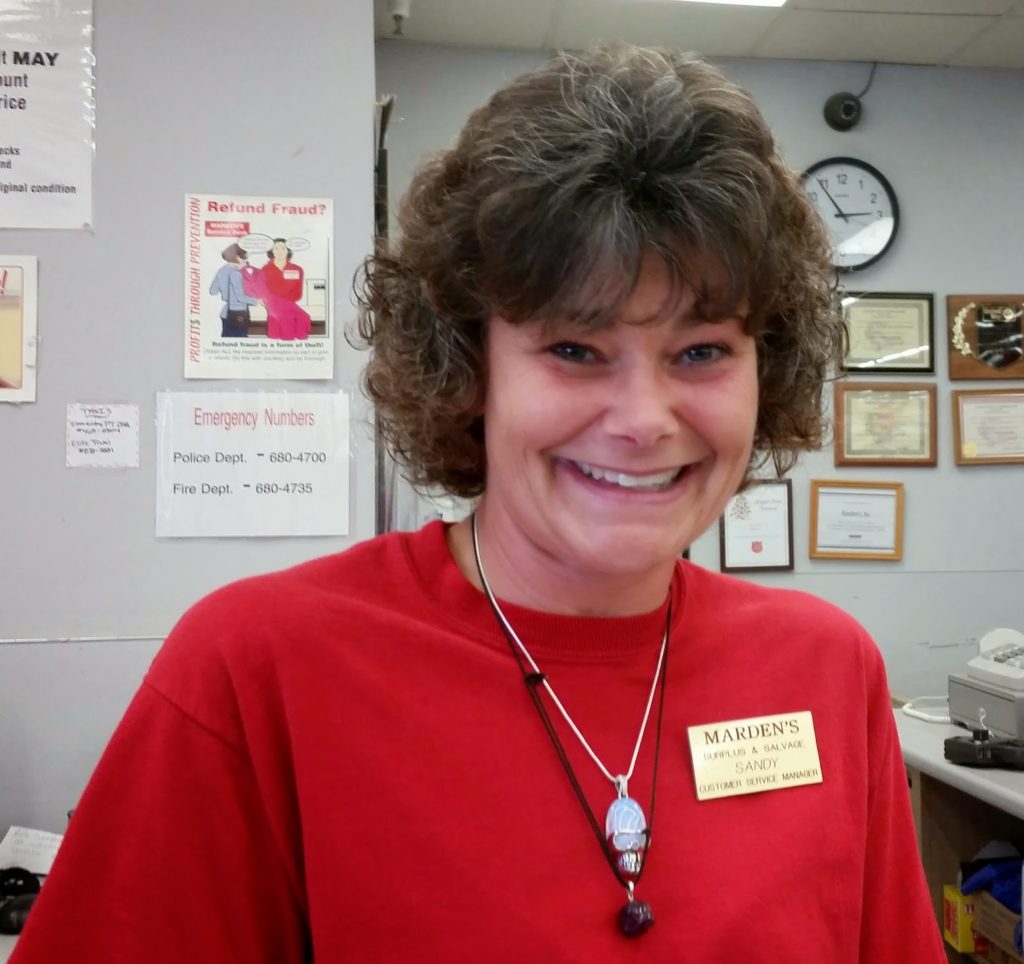 Sandy
Bright Spot #3– Melanie and I went shopping and she knew the cashier, Sandy. They got to talking and Sandy shared that she was ready to make a big change in her life. She was ready to get out of retail and open a Doggie Daycare at her home AND her husband is willing to build whatever structures she'll need! Her energy was absolutely delightful. I told her about my blog and asked if I could include her exciting story and of course, she was happy for me to. I can see the doggies' tails wagging now! Sandy will have great success in whatever she chooses to do…she has the attitude of champions!