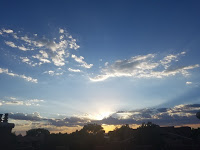 Welcome back to ABQ!!!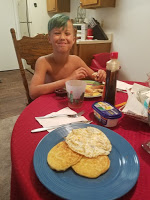 First breakfast in apartment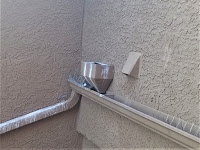 Mommy Pigeon and her 4 eggs…
we'll try to get better pics soon!
They are soooo adorable!
After 9 days on the road across over 1900 miles, we arrived in Albuquerque!!! Our first stop was Capulin RV Park for one night, then to the apartment office to pick up keys and off to my friend, Jean's for the night…nothing in the apartment to sleep on…yikes!!! LOL
The following day Tiffany, Christopher, Bryan, Cameron and I drove to Rio Rancho, Belen and Los Lunas to gather my things that were being stored in NM at various friends' houses! We made a quick stop at Dion's Pizza before we headed for the apartment to meet up with the "muscle"…the movers who were hired to lug all the goods to my 3rd floor apartment…36 STEPS!!! There were items in Van-Go (most of which were stuffed in cabinets and other various nooks and crannies..no boxes), Jean's van, Bryan's truck and my Ford Fiesta. These 2 guys were gems…absolutely delightful! What a testament to them as this was no easy task that I charged them with! Thank you so much…C&C Movers!!! (Calvin and Kevin)
Soooo, we get into the apartment…A/C was not working. We plugged in 2 tiny fans, opened doors and windows and commenced with unpacking the kitchen and bathroom…first things first!
Throughout all this…about 3 hours…I'm realizing that whatever is going on with my right hip is NOT happy with the 3 flights of stairs! OK, so I'll go slower and up and down less and it'll be fine! Way to think positive, but not realistically! By the second day of up and down, I knew this was NOT going to work for me. Not knowing what the plan of action was with hip treatment, I couldn't risk any additional injury. I went to the office and explained the situation. They said they would look to see if a first floor apartment would be available anytime soon! Day 3 …still no A/C!!! Finally, the office lent us a floor model room cooling apparatus that did well enough for us to function moderately comfortably.
Day 5 a first floor apartment became available unexpectedly…oh, yeah! We stopped unpacking!!! I was told that it would be ready for move-in in 8 days! Alrighty then…now we begin packing everything back up! I was extremely grateful that the new digs 'showed up' but was a little freaked out that we were going to have to move AGAIN! Yet another team of 'muscle' was contracted for what will hopefully be a much easier move! My friend Susan graciously offered to assist. What was supposed to be an afternoon and evening of part packing, dinner and part chanting turned into ALL packing because yours truly couldn't find the CD we like! (I DID fix dinner…lol) Thank you, Susan for being the sweet person and friend that you are! I promise we shall have many chanting nights in the future!
Day 7 was my appointment with the orthopedic surgeon. It seems there is some arthritis in my right hip and low spine. Treatment plan consists of lab work to insure there is no infection, then physical therapy in office and at home, continued use of Rx Ibuprofen for awhile and a commitment to shed a few pounds! There may be a shot or so of cortisone down the road and at this point, the Dr. sees no need for surgery! YEAH! Let's keep that thought alive!!!
The following few posts will focus on Galleries of Cam and Gram fun throughout all the craziness!
***Day 8 – Oh, BTW, the A/C is up and running! Cameron and I are thrilled to say the least!!!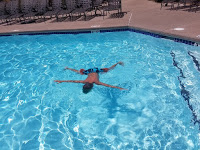 Mastery of the 'dead man float'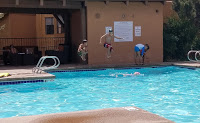 Another new friend to splash with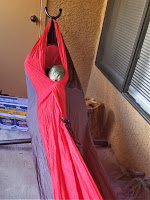 My little cocoon…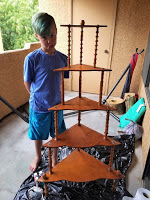 Poor boring shelves…so sad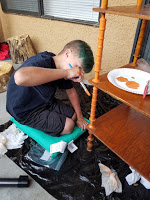 Let's get this project started!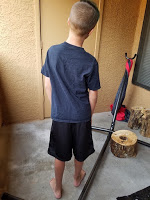 Just a shirt…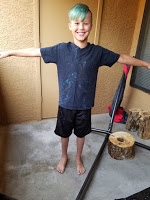 YES…the beginning of an official
'painting shirt'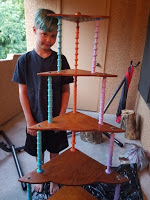 Spindle color…a little better
Awesome snails that Cameron
spotted on a walk through the
apartment complex
Another 'slow-poke'…lol