(These next few posts are me catching up to the present) Well, we're off!!! The first two stops on our nine day adventure across the country to NM were fabulous! We ran into some crazy rain…enough to have to pull over for awhile until it let up, but otherwise the traveling was easy. We played some travel games like hangman and state license plate search. We found 9 states already in only 2 days! Cameron made note of his favorite things in his journal.
BRIGHT SPOT – Our neighbors at Catawba Falls RV Park were wonderful. The mom was Dana. I am asking her forgiveness at this point for having misplaced her card where I wrote down the names of her husband and two great kids…Dana, please send your contact info in a personal message on FB!
Dana and I seem to hit it off right away. She gave us tips about walking to the falls and invited Cameron and me over in the evening to make s'mores with her family! It was late so we didn't stay too long, but it was truly delightful hanging out with everyone. Thanks guys!!!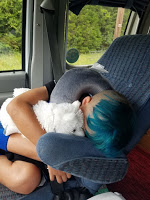 Snuggled up for the long haul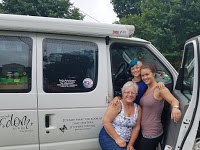 Mommy seeing Cameron and Grammy
off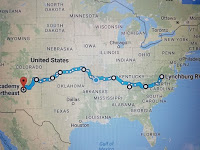 Our cross-country route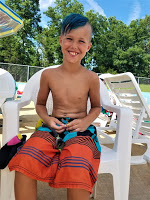 Virginia – YES!!! A pool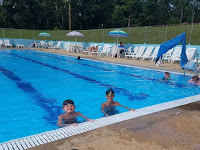 A new friend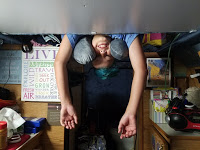 Hanging out in Van-Go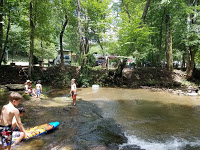 NC campground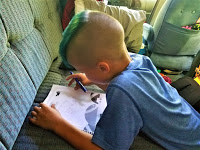 Hmmm…what did we do today?
Cool sculptures along the road as we
hiked to the falls
WOW..check out the bird's nest in
that tree!!!
NC
An awesome ruin of sorts along the
path to the falls
Cameron climbs a little ways
up the falls…
wishing Grammy would allow
him to go to the top…lol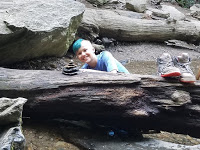 Cameron builds his first cairn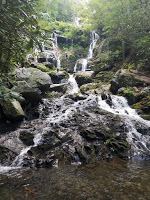 Catawba Falls…just
spectacular!