Wow…Dorothy's house and the Land of Oz! What a fun surprise we had while driving down the road…a billboard directing us to the Land of Oz! It was a good thing because we were pretty bummed about missing the famous Pancake House in Liberal, KS. We sprung for a night at a Best Western last night to get a reprieve from the heat…indoor pool, big TV, air conditioning, awesome shower, etc. We decided to hang out in the morning, have a little of their continental breakfast and go for another swim before we hit the road. The trip to the Pancake House on Pancake Blvd. had been planned and discussed for days! we figured we could have a delectable pancake lunch there….WRONG! They are only open until noon each day…I seemed to have overlooked that detail and when we arrived at 12:40…IT WAS CLOSED!!! So, we shook it off, toured Dorothy's house, then walked across the street and had lunch in a small hotel restaurant…it was acceptable…mostly…lol
Only one more night on the road…Woo! Hoo!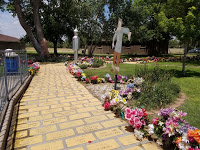 The yellow brick road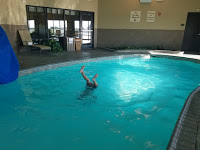 Spectacular hand stand at the Best Western pool
The GOOD witch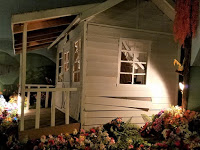 BAD witch shoes after the landing..
bottom right of pic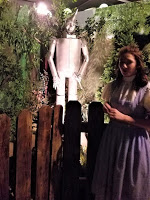 Our "Dorothy" guide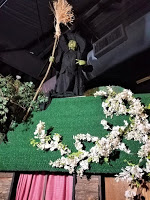 Not a happy camper…lol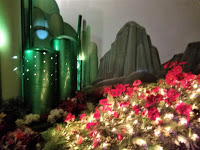 Emerald City and the poppy field
( a bit blurry)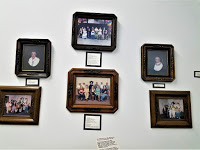 The original 'munchkins'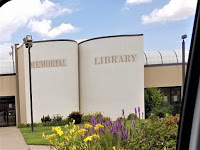 The entrance of the Liberal, KS
library…so cool!