After all the brake drama, we decided we needed to stay in a nice RV Park for a few days. Not many were open yet, but we did find one and WOW what a nice surprise it was. Never before had either of us seen an RV Resort of any kind! It was like a city! Paved roads, street light, street signs and names, hedges, adult recreation area with salt pool hot tub, sauna and community room! It was amazing. It was called Holiday Park!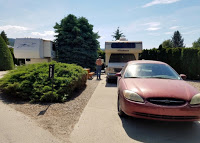 Our yard for 3 days…lol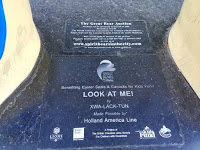 This is pretty cool…see bear statue
The artwork was amazing!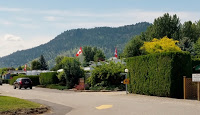 Canadian flag flying…yep, I'm really here!
All the street names
were fun!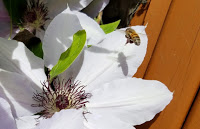 Am I good or what?
Check out the bee in mid flight…
oh, yeah!!!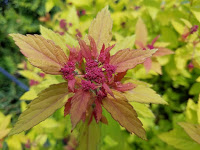 The flowers throughout were beautiful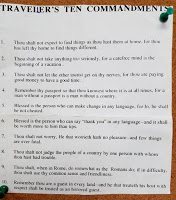 I thought this was really neat!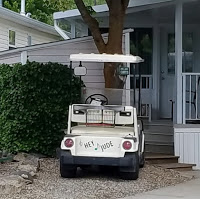 Gotta love THIS!!!
I wouldn't mind having one!
Maybe this was meant for me!!!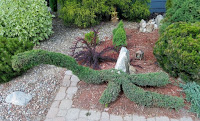 Love this topiary art!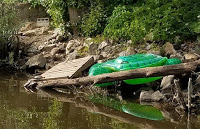 Turtle inflatable AND real turtles on the
edge of the board!
Hmmm? Coincidence or staged?!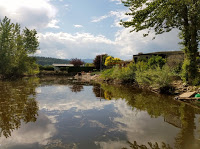 Reflections…my fave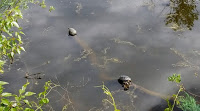 They must have had an argument…LOL

Turtles chillin' out!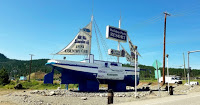 Entrance to the Resort…
that boat was enormous
One day we were just taking a walk through the property and ran into a maintenance man that told us about a kangaroo farm not far from the park! You KNOW it wasn't long before we were on our way with cameras in hand…LOL The rescue/petting farm was only 2 miles down the road and what a wonderful place!!! Kangaroo Creek Farm…
There were emus, goats, fancy chickens, ducks, capybaras (largest rodent in the world), cockatoos, peacocks, potbelly pigs adult and baby wallabies, kangaroos and wallaroos…the joeys were between 2 and 4 weeks old!!!!! They were so soft and warm and sweet…neither one of us wanted to give them back after holding them!
OMG…I wanted to keep him!
Isn't he adorable???
He is 2 weeks old!
A Benton Wallaby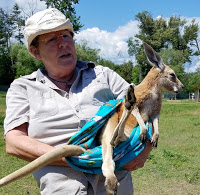 Yep, she just grabbed him by the tail
and stuffed him in the sack! Look at
those long gangly legs poking out!!!
One of several emus that were there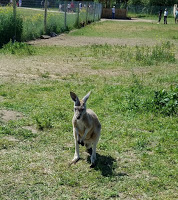 "This is not my best side…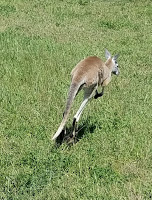 "…THIS is!!!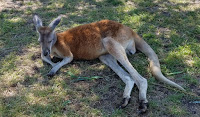 Kangaroo…strongest body part is
their tail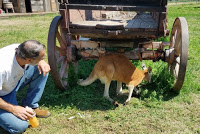 'Big Red'…kangaroo
Keeping cool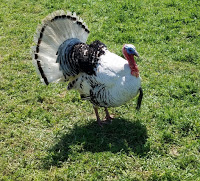 Strutting his tail feathers!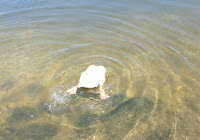 'Duck butt'…couldn't resist
A Wallaroo! Soooo cute!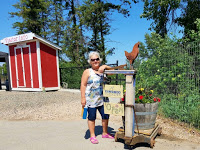 'C'mon already…I wanna go in…LOL
Awesome!
'Aw…P…l…e…a…s…e open your feathers!'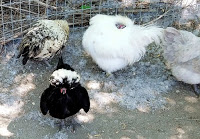 Fancy chickens!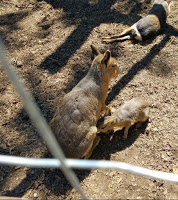 Awwww! Time for a snack!
You don't see this sign just anywhere
LOL
This is Irwin…the young albino at the farm
One of the cockatoos that was placed on Carl's shoulder kept saying, "Huh?" Must have been a relative of his…LOL Carl made a new friend in the adult kangaroo named "Big Red". It was laying under a wagon to keep out of the sun and when Carl stooped down to rub its back, after a few minutes it rolled over so Carl could get the other side!!! It was a riot. A few people standing around cracked up laughing.
Carl is feeding the capybara…largest rodent
in the world
'Here you go,
Little One!'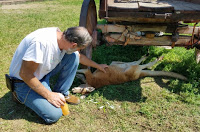 'Big Red' getting ready to roll over…lol
One of the funniest things we saw was when the woman who worked there came to get the young wallabees to put inside for the night…she reached down and grabbed it by the tail and stuffed it into a large sack to carry it up front! They spend the nights indoors because their skin is still kind of thin and if the older ones decided to 'play' with them unsupervised, they may get hurt.