The weekend of Oct. 16-18, 2015 my son Matthew married his best friend, Adam in Rehobeth Beach, DE. Just before dusk on Friday the 16th, the immediate family and close friends watched with love and joy as the guys shared their vows with pant legs rolled up in the receding tide under clear blue skies.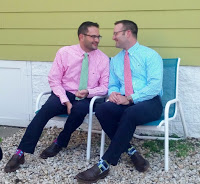 Adam and Matthew before the wedding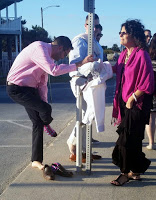 Off with the shoes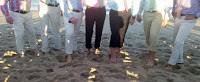 The barefoot grooms and groomsmen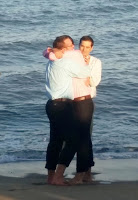 First married hug!!!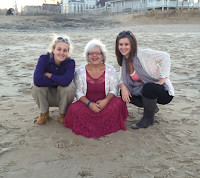 Rachel, me and Nicole
playing in the sand after the wedding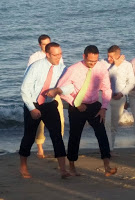 The newly married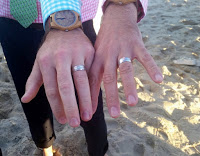 Rings…duh?!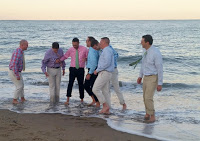 Testing the waters prior to the ceremony
at Rehobeth Beach, DE
Pretty chilly!!!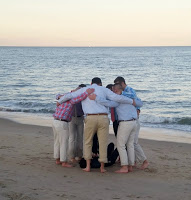 The photographer getting creative!
I can't wait to see this one!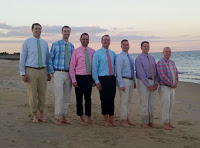 The wedding party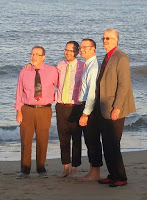 Husbands and their Dads
Matthew and Adam with my sister. Tanya
(Matthew's Godmother) and her wife, Amy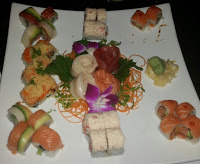 One of the wedding party table's
dishes…YUMMY!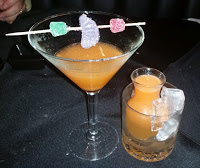 The crazy drink Megan "made me" drink
that kept me from being able to party after
dinner…LOL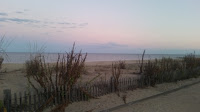 The shoreline just after the ceremony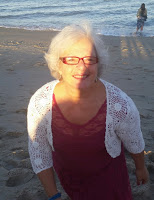 Me being happy!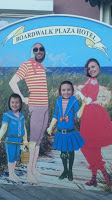 My silly daughter, Nicole
and family
Adam, Judy (his mom) and Michael
(lifelong friend) the evening before
the wedding…I don't even think they
had a drink yet…LOL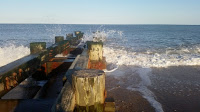 The ocean
A gentle breeze was a lovely addition to the already spectacular ambiance of this beautiful wedding ceremony!
After the ceremony, pictures were taken and we all went to for a spectacular dinner at the Stingray Restaurant.
We were all seated in a section of our very own, very cozy and intimate. The food was out of this world fabulous…yummy! The glow in Matthew's and Adam's eyes could have lit the room without the lights!!! It was great! I didn't make it to the late evening show…but I heard it was a hoot!
The following morning everyone was on their own for breakfast and we ate light because the "big picnic/party" was to start around noon! The pavilion near the Hawk watch platform in Henlopen State Park was the venue for the day's festivities. Here, many of us who haven't seen each other for quite awhile, had the good fortune of getting re-acquainted while marveling over the lightness of the day! I DID make it to Saturday night's fun and frolicking. A bunch of us went to a neighborhood bar where dancing and karaoke added to the excitement of our time together. What a blast!
Sunday breakfast for us stragglers was provided by the happy couple…lol…bagels, cream cheese and fresh fruit…so delicious!!! Afterward, it was with mixed feelings that we all bid farewell to new and old friends after such a blessed weekend filled with love!
I took a gazillion pictures during the weekend. I'll do my best to share the highlights here only, hoping that you too may get a sense of the wonderment of it all!