I love life's little surprises! Heck, I love life's big surprises,
too!!!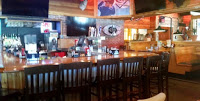 Noticing anything unusual about this
restaurant?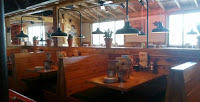 Yep, it is closed…empty…except for ME!
Today I had to go to the post office. It took a while. I also needed to stop at Walmart for salad
fixins. It was 1:45. I was hungry.
That wonderful Texas Roadhouse was still right there on the same
lot. I decided it would be better to eat
something light there than to go into Walmart really hungry!!! So I parked, grabbed my crutches and attempted to open the door…it
was locked. A very nice man/employee
showed me to another door and a bell. He
pushed it for me and invited me to sit on the bench. By then I was totally confused, but I
complied…mostly out of curiosity.
Then to my great pleasure, a handsome young man opened the
door and said to me, "Oh my, what do we have here? How can I help you?" Despite my surprise, I replied, "Well, I'd
like to come in and have some lunch!" He
smiled apologetically and let me know they don't open until 4:00PM. I was so bummed. I said okay and was going to leave. He told me not to go and that if I didn't
mind not actually having a server, he would be happy to fix me a wonderful
salad and check on me himself. As if I
wasn't surprised enough…
So in we went. He
seated me at a booth in the bar area and brought me 2 glasses of water because
it was pretty hot outside. I got comfy
and ordered my Caesar salad. Trevor, the
proprietor of this fine establishment was fun and unbelievably accommodating. Moments later, lunch arrived. I thanked him and told him to go in the back
and do what he needed to do because I was just perfect! I had the entire air-conditioned restaurant
to myself including great music and was being tended to by the owner. How fun was that? He came to check on me a
couple times.
Finally, I had to tell him about Bright Spots on my blog. HE was MY Bright Spot for sure.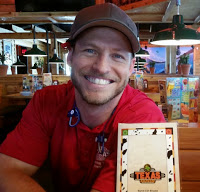 Trevor!
But I did inquire more about him and his
happy news. As it turns out, Trevor just
took over this restaurant last Wed. which was also his birthday! He had been with another company for 12 years
and chose to join the Texas Roadhouse team because of their philosophy. This organization sees their highest
priority as the people. It was obvious
how important that was to Trevor.
He explained that Texas Roadhouse does not spend money on advertising. They get the word out about
their restaurant through their "legendary store marketers." Carol is theirs. She is employed 40 hours a week to engage in
community outreach. She goes everywhere
giving out coupons, appetizers, other menu item samples and telling people
firsthand about the restaurant. She is
instrumental in raising money for various charities through the
restaurant. What a wonderful
concept! Carol just happened to come by just as I was
ready to leave. She was very sweet.
The self proclaimed best aspect of Trevor's happy life is his wife and 2 little guys, one is 3 and the newest member is 11 months old. I am so grateful to have crossed Trevor's path
today. He is a delightful person with a
positive and open attitude toward life's opportunities. Thanks, Trevor for your hospitality and
conversation…and the complimentary lunch!!!