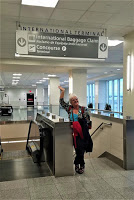 Here I go!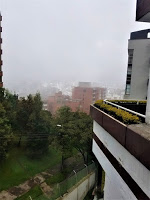 View at 9,350′ at night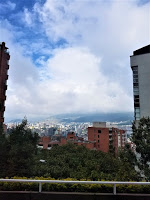 Same view in the morning
It took a couple of days for me before it truly sank in that we were in South America! The flights were relatively uneventful…just a tad cramped. We arrived in Quito, the capital, about 11:15 PM on Monday night, grabbed a cab and headed for our only pre-planned overnight accommodations for the next 2 weeks! Oh, yeah! The adventure had begun!
Our hotel, Fentenal de Bellevista, at 9,350′ above sea level, offered quite the view even in the fog. The clear morning sky allowed for a much better view. Up at 6:45ish, breakfast at 8:00 and off to rent a car by 9:30. The rest of the day was a fly-by-the-seat-of-your-pants kinda day. We had a sketchy plan at best! Our Google Maps chick was quite confused and we got lost and turned around quite a few times…it was GREAT!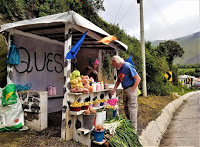 Our first roadside snack…we were not
totally sure what we were purchasing!!!
But it was great fun and tasted pretty good!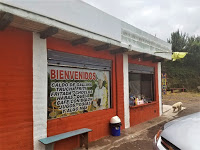 First restaurant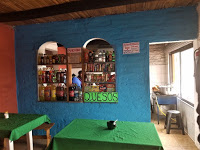 The dining room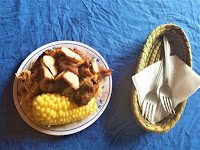 Pork, potatoes, really chubby tasteless
corn and delicious slaw…not bad for
a couple bucks!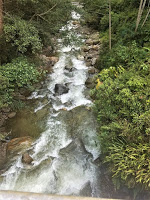 Along the mountain road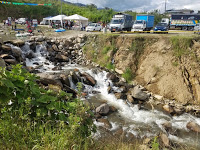 Section of the 'watering hole'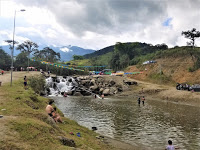 'Watering hole'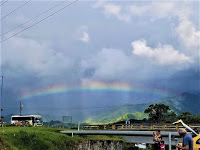 Just appeared opposite the 'watering hole'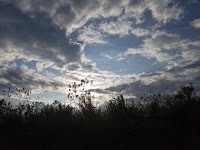 Awesome sky at dusk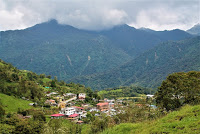 Village in a valley surrounded by the
Andes Mountains
Sights along the way:
*roadside stands everywhere offering local food and handmade crafts
*incredible vistas around every curve (The Andes are indeed quite meandering)
*mountain water run-offs a-plenty…beautiful
*living conditions were bare-bones/almost ghetto-like in many areas
*laundry swaying in the fresh breeze drying was actually a lovely sight
*dogs of a variety of breeds, sizes and conditions roamed the streets
*pot holes that required us to very slowly go into them and out rather than try to dodge them because there were so many and so close together
*rain and sunshine alternating throughout the day
*discovered that it is not only wise but necessary to bring one's own toilet paper with them as public restrooms (although immaculate) did not supply it
*a community 'watering-hole' – it was delightful with multi-level pools separated by rock walls pouring water into the pool below (little waterfalls)! People of all ages were swimming, playing and sunbathing…thoroughly enjoying the beautiful day. Several food and craft booths and restrooms (banos) were on the property for everyone's convenience.
The hotel we found online eluded us after many attempts to locate it. It was starting to get dark. Kids all along the road for a several miles were squirting cars with their hoses and even pouring buckets of water on them?!?!?! It was harmless enough and they sure seemed to be enjoying themselves. As we approached a town called Puerto Misahualli, music began to ring through the air getting louder and louder. We drove through a series of narrow streets where extreme partying was going on…as it turned out, it was the final night of Carnivale!!! It is one of the main festivals celebrated in Ecuadorian traditions…similar to Mardi Gras…beginning in late January or early February and culminating on "Fat Tuesday," the eve of Ash Wednesday.
Tired and hungry, we stopped at a place with a sign that said 'Rio Napo Lodge' that Bud kinda caught out of the corner of his eye that we had passed searching for the original hotel. What a blessing that was!!! See next post!