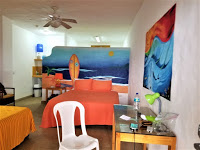 Our room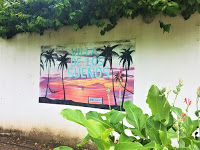 The B&B
Oh, boy, here we go…a 6 + hour drive through the mountains…hhmmm…sound familiar? LOL But guess what? All the way were paved roads…YES!!! Bud was especially thrilled and grateful. About 4 hours in, the sky opened up and down came blinding rain! It rained so hard we could barely see where we were going. Slow and easy was the order. It didn't last too long though and at the first sign of sky, Bud spotted an incredible view off to our right. He pulled into a long unpaved road and parked. We got out and WOW…far beneath us in a lush valley was an area with meandering waters and trees and bushes that was being partially illumined by the sun. It was so beautiful. Our pictures truly do not do it justice. We hung out there for a good 20 minutes.
We tried to follow the maps and directions that Bud and Henry worked so diligently to prepare for us so that we would avoid the congested city of Guayquil…well, that did not happen. We got pretty lost. The map depiction of where to turn at one point did not match the 'real 3-D in our face' road configuration and we totally missed it. SO…there we were in the midst of the craziness. And, don't you know we had no cell service. We couldn't even consult our frequently confused Google Maps chick…LOL At least it wasn't raining anymore. That would have been the icing on the cake. We lost about 45 minutes, but finally managed to free ourselves from the madness and were once again on course. When we got service, we quickly looked up the B&B that was recommended to us by a friend of Rita's. We got directions and promptly passed it. Marsha, the owner, was gracious enough to stand out front and wave us in after we called to explain what happened. The place was breathtaking. Multi levels, pool, jacuzzi and more…overlooking the Pacific Ocean. Shell, Marsha's husband and two other couples were sitting around the table chit-chatting when we arrived. Each one of them greeted us warmly. We knew it was going to be a great experience there.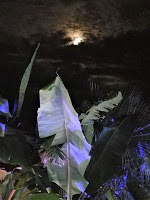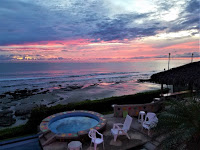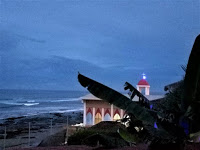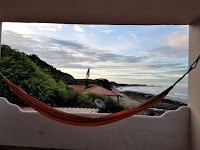 Marsha not only took me next door to order some dinner for Bud and me, but rounded up a bottle of Caladryl to soothe the insane itching on my calves and ankles from whatever bit me alive at the animal rescue in Puerto Misahualli. ADVICE…do not where shorts and flip-flops in the jungles of Ecuador!!! What was I thinking? Guess I wasn't…lol It was an early night, but a fabulous one. I actually slept out on the veranda in a hammock that first night. The gentle breeze was warm. The sounds of the ocean, like a lullaby, could have soothed a savage beast. The sky diamonds sparkled. The full moon crept about behind the clouds. It would take me at least a decade to get bored with THAT…lol!!!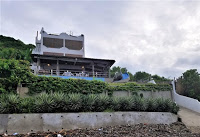 B&B view from the beach