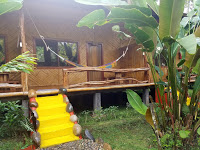 Our cabania…loving that hammock!!!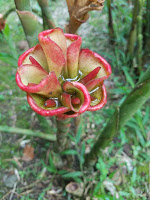 One of many exotic plants…
looks like apple peels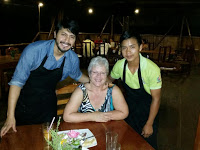 Chef David and his side kick…and me!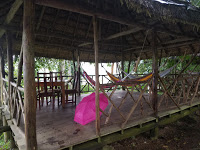 There were two of these structures over
looking the Rio Napo…wonderful space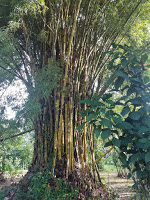 Bamboo tree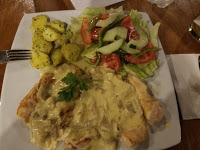 One of David's delectable dishes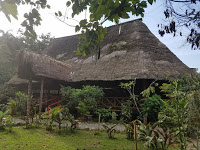 The restaurant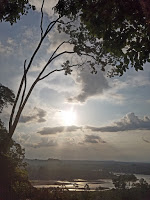 A view spotted by Bud while
driving…gorgeous!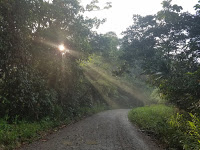 Where we stopped just to listen
Everything grows in Ecuador like they
are on steroids!!!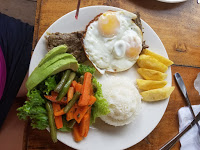 Another delicious Ecuadorian meal
In hindsight, this may have been one of my favorite stops! A jungle town in the depths of the Amazon rainforest! How extraordinarily gorgeous!
The grounds of the Rio Napo Lodge were brimming with lush flora and fauna…the exotic plants graced their onlookers with spectacular designs and rich colors. I have included a few pics here but there were 10 times as many. Luis, the owner, welcomed us with open arms and took care of us for the next couple days like we were family.
Bud had mentioned an interest in a possible boat tour down the Napo River and by dinner, Luis had arranged a private canoe ride and tour for the following morning. On the property was a full service restaurant run by Chef David from Argentina. He not only prepared sumptuous meals for us, but treated us like family as well. Our suite was nestled among trees and flowers with a private porch including a hammock that I became acquainted with quickly! The paths throughout the lodge were lighted with colorful lamps close to the ground. Everything about this place was amazing!
The morning came after a boisterous thunderstorm bringing with it a full rainbow…what a way to greet a new day! After breakfast, Bud and I met Luis who guided us to the river down a long steep windy mossy path. There waiting for us was Carlos and his covered canoe! The four of us set out down the Napo for a day filled with adventure.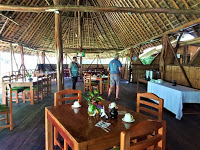 Luis and Bud at the restaurant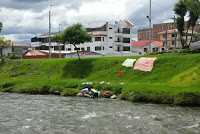 Folks washing clothes in the river
Poisonous ant
Mauricio chasing Peggy for us
Our river ride
Nena catching a ride with (on)
Bud
Nena…she followed us all through the day
(can't recall her species…oops!)
Bud and a baby Capuchin
Handmade tools
Peggy devouring a papaya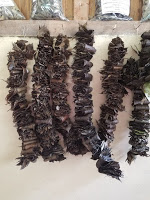 Wausa leaves used for making a
medicinal type tea…
David's friends gather them once they
fall from the tree, allow them to dry
in the sun and bring them
to the restaurant.
David makes the sweet tea and serves
it 'on the house'!
Bud and Aurora
Queen for a day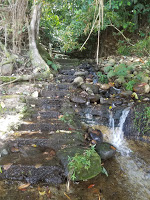 The 'stairs' from the lodge to
the river
Bud and the girls
When in Ecuador….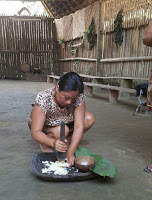 Making 'chicha de jora'
Mining for gold along the
Napo River
Fun times!
Poncho getting a shower

First stop…Amazoonico in the middle of the Selva Viva jungle reserve where all the critters there have names…how cool is that?! Here we played with Capuchins, tiny monkeys with long tails that are adept at snatching things from passersby…LOL. In my case, one grabbed an entire banana from my hand as I was trying to feed another one…pretty funny! We saw a Guacamaya, a large parrot/macaw, about the size of an 8 month old baby, taking a shower! Bud chatted with a smaller parrot named Aurora! Our guide, Mauricio, hopped a fence and chased a cochino (pig) toward us so we could take pictures. Then he climbed up a steep hill and shook a papaya from a tree to feed to the pig! Amazing! As we were leaving, we saw a pretty furry tarantula…enough said on that one…LOL
Next stop…an indigenous Kichwa village. The Kichwa community is the most populous ethnic group in the Amazon. A lovely local woman greeted us and explained what we would be seeing while there. A second woman demonstrated how to make 'chicha de jora' brew, a fermented drink resembling beer. She mashed corn and grated manioc root (cassava or yuca), added some water and spice then mushed it all into a ball. It was explained to us that it then needed to sit. Interesting facts about this beverage are that up to 5 days, anyone including children can drink it but after the 6th day, the alcohol content is only suitable for adults. We tasted an early batch and it was kinda creamy with a hint of vinegar flavor. If you drink it after more than 15 days it could make you deathly ill! I wouldn't want to be in charge of keeping track of that!!! (Now 'chicha morada' on the other hand, is a delicious fruit drink made with purple corn, cinnamon, cloves, pineapple…that is not fermented…Google has the recipe).
Then the beautiful dancers came out to perform for us dressed in traditional grass skirts and "coconut" bras. After a few numbers, Luis insisted that Bud and I join them…OMG…too funny. We resisted for awhile, then it was no longer an option to sit it out!! So in we went! So much fun!
Lastly, we had the opportunity to partake in a cleansing by a local shaman, Fabian. It was great!
We got back to the lodge about 12:30 and drove into town for lunch continuing afterward in search of the lost city of 'Ahuano' that eluded us the day before. Bud was determined to find it! We traversed the bumpiest, rockiest roads known to man for HOURS! 3 1/2 to be exact! Did we find it…absolutely not; however, we met a young man and woman from Germany that was volunteering at one of the rescue facilities, saw a most spectacular view of the river from a very high spot along the road, and pulled off at one point just to listen to the sounds of the jungle and try to see way down through the thick trees to the floor. We returned to the lodge about 6:30, a perfect time to get a quick shower and walk over to the restaurant so David could impress us once again with one of his delectable dishes! After a good night's sleep, we were off for Banos!!!