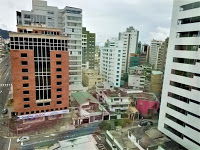 View from our room at the
Howard Johnson's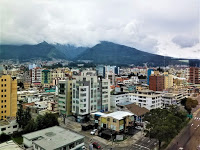 Before we got on the road to Quito, we hung around the Hacienda taking a few more pictures and just admiring the over all ambiance. I had started feeling out of sorts the night before…dry cough, dry mouth…so it was great that it only took us about an hour and a half to drive to Quito, our final destination. Bud and I walked into town to find a pharmacy to get a decongestant, vitamin C and Hall's thinking that would take care of my symptoms. By mid afternoon, I had a low grade fever of 101.4 and chills that I couldn't shake. I went to bed and Bud went out for a walk and returned later that day with Tylenol…Go, Bud!!! While he was gone, I called down for some fruit tea and a pitcher of water in an attempt to keep hydrated. I slept that whole day more or less. When Bud called down for dinner, he ordered chicken soup for me. It was the only thing I had eaten and it tasted wonderful. The Tylenol had begun its magic and my fever was down to 100.7. That as well as more sleep through the night enabled me to wake with no fever and enough energy to take a slow walk through the park.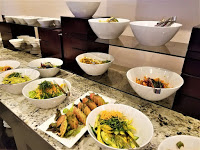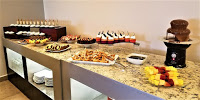 This is just a tiny bit of what was
available
The breakfast buffet there at the Howard Johnson was incredible…unfortunately, I had no appetite. So, with only a cup of hot tea in my belly, Bud and I went to the park.
This park was like nothing I had ever seen. It is called Parque La Carolina and covers 165 acres. It is situated right in the middle of Quito's central business district. There was something there for everyone. There were at least 5 playgrounds each with equipment for specific ages, skate parks for bicyclists and skateboarders and areas designed for aerobic exercise.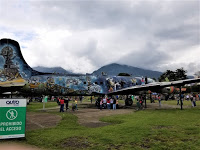 An actual jet painted by the local children
Check out that look!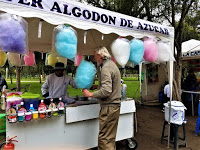 Look at all the colors!!!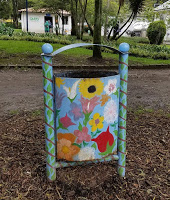 Even the trash cans were
beautiful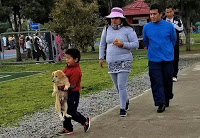 Soooo cute! I hope he doesn't have
much farther to go…lol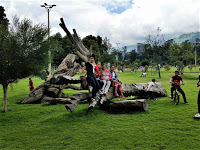 Three generations and a friend of
the family
You could play soccer, basketball, and volleyball. Kites were flying, people of all ages were on the walking/running trails, and others were having snacks that could be purchased from the many vendors. At one end of the park was a meandering pond for paddle boating enthusiasts and at the other end was a botanical garden. There were artists and performers of various kinds also. It was delightful to see families out enjoying each other on a lovely Sunday afternoon.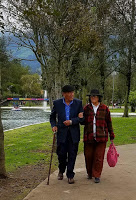 By far…one of my favorite
photos from the entire trip!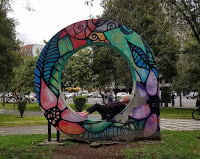 Silly me!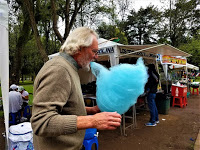 You have heard of a fire breathing dragon…
THIS is a cotton candy breathing man…LOL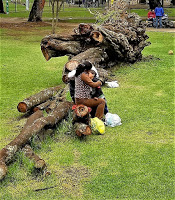 Hoe sweet is this?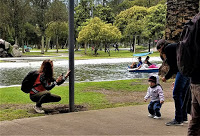 Bud was dancing across from this little
guy…he really got him going!
So great!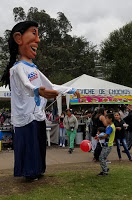 Our flight back to Atlanta, Georgia was at 11:15 PM, so around 6:00 we packed up and left to return our rental. We then spent the next 3 hours hanging out at the airport…fun…lol It was hard to believe that our spectacular adventure was coming to a close. Memories that will last a lifetime. Thank you, Bud!