Modifications & Accommodations Week
So, Marie and I are busy making the necessary adjustments of
her having a temporary live-in incapacitated friend and me being here in a
totally different way than was originally planned. Plan A was to come here and go to the beach
every day, travel south to the Everglades and Key West together, etc., etc! Well, we ARE making memories….that's for
sure! LOL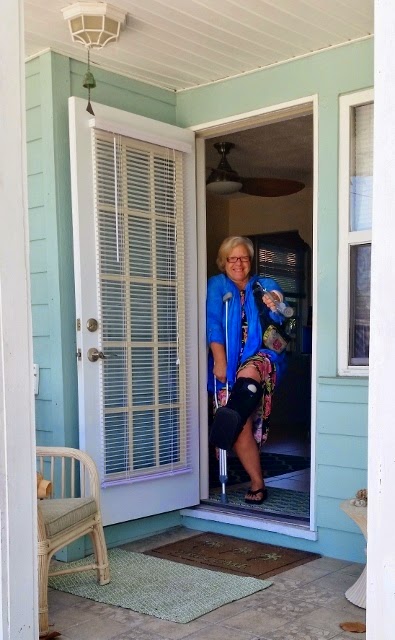 Awesome boot, huh?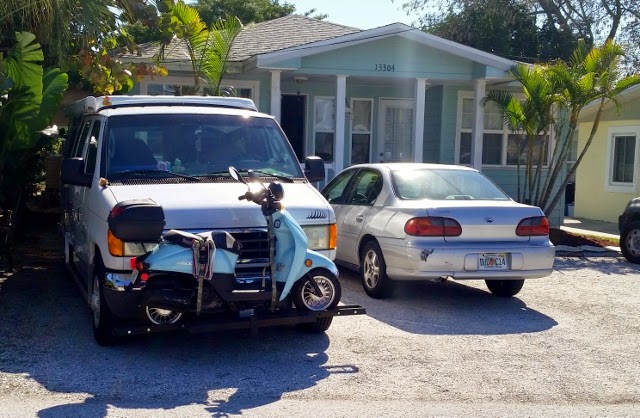 Van-Go and the 'Breeze" at their temporary
residence.
My tub seat, hand rail, and extended shower head arrived
yesterday to accommodate my new requirements for showering…omg! My "knee-walker" should arrive by the end of
next week….very excited about that….I'm so done with these crutches! They get me where I need to go and for that I
AM grateful…the shoulders and right leg however are not thrilled! I went for a wonderful massage the other day
which was so welcomed! I may need to go once
every 2 weeks while I'm recouping!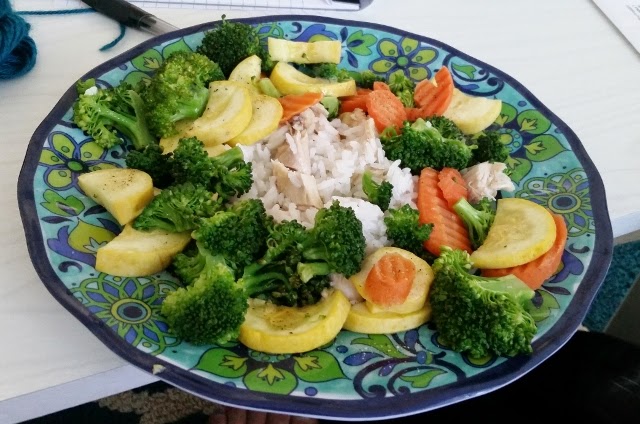 Yummy…go, Marie!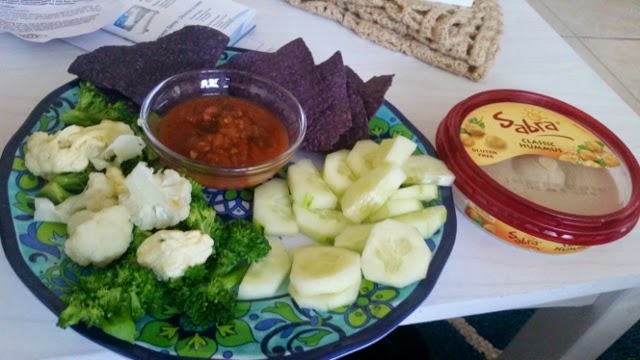 More yummies…LOL
Marie has been kind enough to prepare lovely meals and
run around gathering stuff I need. She
assigned a reachable space for all my kitchen needs right next to the fridge! I have however discovered ways to do some things myself. I put my book, drugs, water
bottle, etc in my small laptop case and hold the handles with my right hand
while also grasping the crutch! I have
made breakfast for us twice now. Her kitchen is perfectly sized and laid out for me to hobble
about and lean when necessary!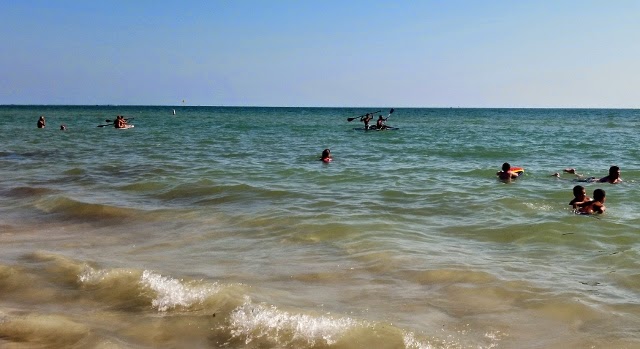 Tampa Bay/Gulf of Mexico
Fun on the beach when both feet are involved!
We have been to the beach twice this week!!! Routine:
1-Marie loads car
2-I drop in my seat, throw crutches in the back
3-Marie drives us to the beach (2 blocks away)
4-I get out at the beach access area and wait for Marie to
park.
5-Marie carries the stuff and watches me make my way onto
the sand about 30' from the entrance.
6-She opens my sports chair (not far from the trash cans…lol)
and sets it in the sand.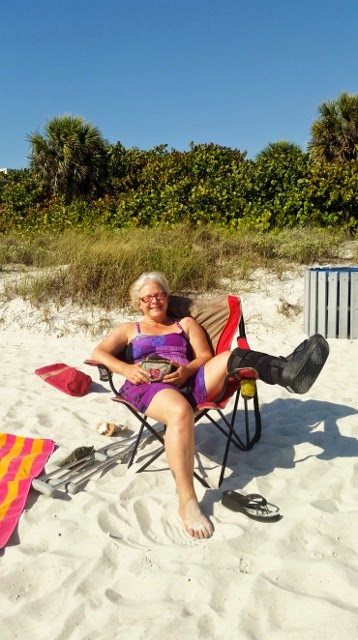 Fun on the beach when
only ONE foot is involved!
Whew, I made it into the
chair!!!
7-I plop the booty, drop the crutches and place the left
foot with boot over the arm rest.
8-Marie goes for a walk on the beach
9-Marie returns to catch some rays, we chat, we laugh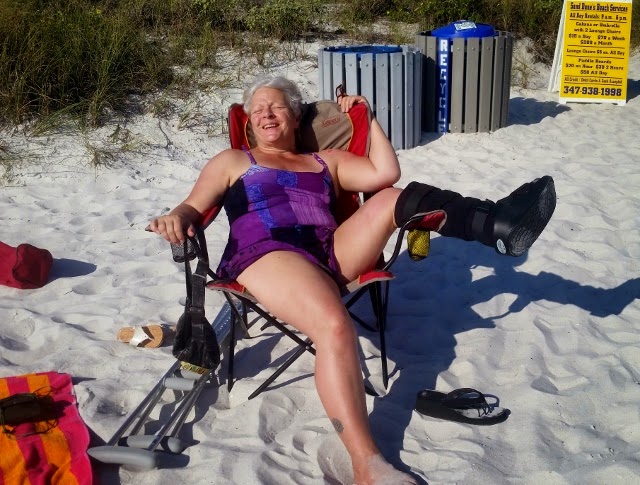 The scrunched in the sports chair with
sundress and boot version of catching
some rays…LOL
10-We do the process again in reverse!
WHEW!!!!!
***Today is Marie's birthday…HAPPY BIRTHDAY, MARIE!!! Tomorrow another friend of hers
is going to be joining us at the beach for a day of sun and surf to celebrate! I will be venturing a bit further along the
beach (in increments…lol) to get just a smidge closer to the water. We have coolers with ice packs and an
umbrella to cover whatever part of me needs shade at any given time! Might even attempt the swimsuit and try for a
little color while we're there. Marie
has a tri-fold lounge chair that will enable me to keep my foot elevated! This plan is assuming I can get in and out of
the chair itself…it is much lower than the sports chair…KEEP GOOD THOUGHTS,
PLEASE!!! Because being this close to
the beach and not going is….unacceptable!!!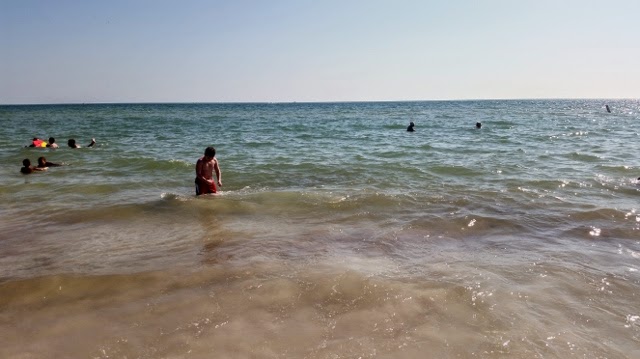 ***As an aside…it is absolutely mind blowing how many things we do automatically without even a conscious thought let alone use an enormous amount of energy and focus to perform each day! Biggest shocker for me is going up or down 2 measly steps with crutches….WOW!