Two really cool tourist spots that we visited were The Key West Lighthouse and Museum and Jimmy Buffet's Margaritaville! Both venues were quite spectacular in their own right…lol
Margaritaville…oh, yes! How fun is that?! Truth be told, we didn't get anything to drink in there… we stopped in to get a carry-out order of conch fritters…LOL Delicious, btw!
The lighthouse was built in 1847 to replace the original one built of wood that got wiped out in a hurricane. Even after this new brick one was constructed, another 20 feet were added in 1894 because their were complaints by the seafarers that its light was too hard to see with all the new buildings that had been added over time. It was decommissioned in 1969 by the Coast Guard, but its 175 watt metal halide light can be seen several miles offshore as the day's light diminishes. We climbed the 88 steps up a narrow winding staircase to get a view from the top.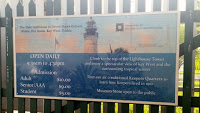 Gotta love being a senior…LOL
People at the top!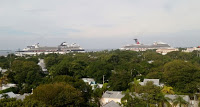 Carnival and a Celebrity cruise ships
as seen from the top of the lighthouse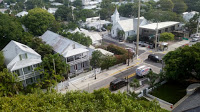 Surrounding neighborhood from the top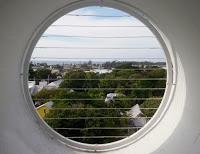 The Atlantic from about 2/3 the way to the top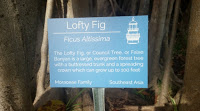 Had me fooled…was sure it was a banyan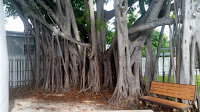 Full view of the Lofty Fig!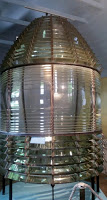 The interior light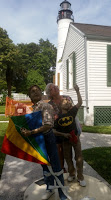 Hey, wutcha looking at? LOL