Lowdermilk Park offers a beautiful white-sanded beach. It is not very big, maybe 1,000′ but it really sweet. There's a great little concession with covered tables, tiki-type umbrellas for rent and the opportunity to see a remarkable sunset. We just went to hang out for a few hours and it was wonderful!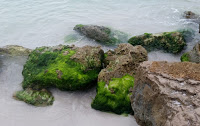 Okay, but I LOVE moss!!!
There was one unusual sight…bees laying along the shoreline…some dead and many others nearly so. It seems that rapid shifts in weather (recent cold front) as well as high levels of humidity cause whole colonies of bees to perish. Since they breathe through their skin, these conditions cause them to become water-logged and literally suffocate. A natural phenomenon, I suppose, nonetheless, kinda sad.
Before we arrived at the beachfront, we walked through the Serenity Path. The perfect experience to prepare us for the beauty of the white sands and clear blue Gulf of Mexico.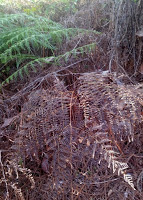 Fresh and fried…both beautiful in their own right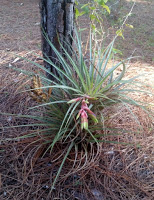 A fallen air plant…the trees
around here are loaded with
them…all sizes!
Cypress knees on dry land…weird
Just cool, that's all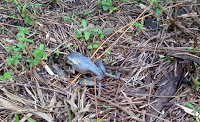 Walking buddy…lol