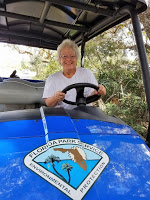 Grey is so not my color…lol
Work????? What was I thinking? As it turned out, my volunteer work experience was great!!! In the 7 weeks that I worked clean up at the park, I was blessed to meet many fabulous and diverse people. Some were campers and some were other volunteers. ALL of them have been welcomed additions to my journey! A few will remain in my heart and will continue to be friends as time goes on. I am especially grateful for them.
In addition to the people, there was the opportunities to spend quality time with nature….many types of birds, alligators, armadillo, turtles, raccoons, etc. The trees, the Spanish moss, the palms, the river, the hiking trails, the bird walk (pier that juts way out into the water), the canopy walk that offers an opportunity to climb a tower to way above the treeline and on and on. More fun was had on the air boat ride, the trips to several gorgeous beaches (I'll post them separately).
When I needed anything, there was always someone who unselfishly came to my aid. Potluck dinners on Sunday were always fun. I learned a new game called Pegs and Jokers….some say it is a little bit like Parcheesi! After my brain adjusted to the learning curve involved, I loved playing. Sometimes there were 6 players or 10 or 12 and and usually the men against the women. We had to split up and play two tables when the participants outgrew the space!!!
So on January 4th, I drove out of Volunteer Village, towing my little Ford Fiesta behind Van-Go, with mixed emotions. I only hope that I made some small positive impact on others because they sure did on me.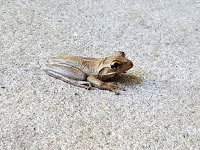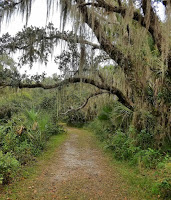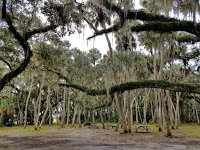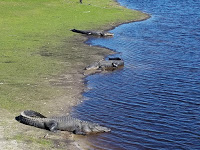 Bird walk