For the past 4 weeks, Carl and I have resided at Myakka River State Park. It is absolutely beautiful here. Carl works in various areas of the park as a workkamper (working=free site)…can't beat that!!! And you only work 3 days a week! I have explored several areas of the park on his work days and we have seen much together on days off. One of the greatest aspects of living in a state park is that nature is literally your home. Birds of all kinds, deer, raccoons, snakes, alligators, swampland, the river, trees and on and on! I hope the pics give you a sense of the peacefulness as well as the excitement of it all.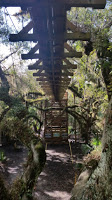 The underside of the
'wiggly' bridge that
connects the 2 sets of
steps that takes you high
above the treeline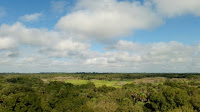 View from the top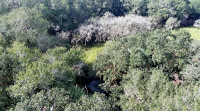 Another view…about half way to the top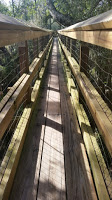 The Canopy Walk
bridge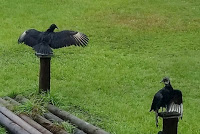 Not so friendly vultures by the river
near the concession/gift store and boat tour rental
building…gotta appreciate the awesome wingspan
though…lol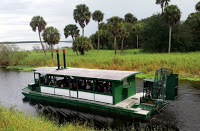 Air boat tour

They hang out in huge numbers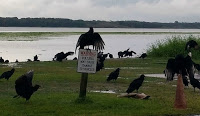 Zoom in and read this sign!!! There
have been cases where these crazy birds
EAT away windshield wipers, tires, the rubber
off of roof carriers. One woman had her car covered
and the vultures pulled forces and dragged the cover off
and went to town on her window rubber! It seems they like
the petroleum…pesky critters to say the least!!!
Magnolia trying to take over the river…
very pretty, but a nuisance…they clog
waterways around here
The river
Beautiful heron/tree reflection
Sasha…our adorable walking companion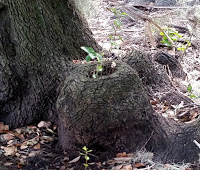 Nature's flower pot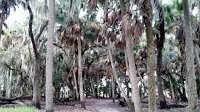 A path through the woods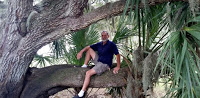 Carl caught climbing a tree!!!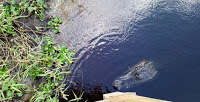 Mr. Gator!!!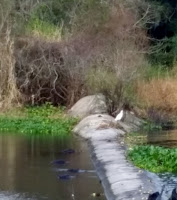 Four gators on the left of the dam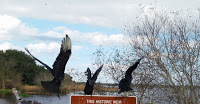 Vultures landing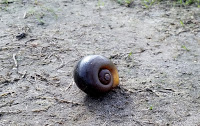 Awesome shell on one of the walking paths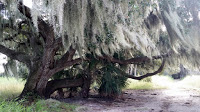 Spanish moss in the breeze!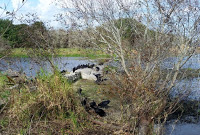 They are EVERYWHERE!

In addition to park sights, we have had a blast checking out wonderful places and events in surrounding Sarasota. Today; however, I'm only going to share pictures of the park. ENJOY!!! Other adventures coming soon!