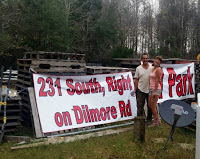 John and Vonda
Vonda is doing some really
cool stuff with vines and
driftwood
Vonda and their 2 dogs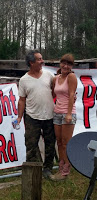 John and Vonda
Ethel and Howard took us to meet John and Vonda, creators and owners of a brand new campground scheduled to open by the end of January, 2016. The only thing cooler than their fabulous new earthy, natural, spacious, efficient yet no-frills campground are THEM!!! Carl and I have met many many people on our individual and co-adventures, but we both agreed that John and Vonda are way up there on the list of amazing unpretentious and hospitable people!
When we arrived, they both put there high volume workload on hold to show us around and share their story with us.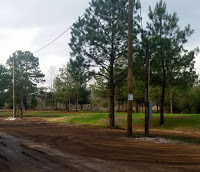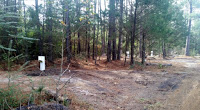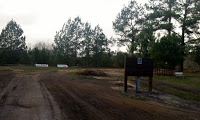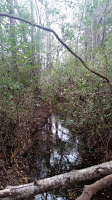 BRIGHT SPOT – John had been traveling by RV for several decades doing a bit of research as well as searching for the perfect location to see his lifelong dream come true. He traveled alone for most of that time, but about 2 years ago, he placed an add in the Personal section of Facebook seeking a traveling companion. Vonda happened on the site quite by accident and when she did, John's face popped up. Immediately taken in by his good looks, she decided to see what else there was to know about John! After reading his ad, she replied, "PICK ME!" A couple months of talking and messaging on Facebook lead to a mutual decision to meet. The rest is history…as they say. This coming May will mark their 2 year anniversary together. They are a team to be reckoned with…perfect partners to make a dream come true!!! They finally found the 11 acre property that they are working diligently and lovingly to transform into an incredible respite for horse owners to be able to stop, exercise their horses and refresh themselves as well as a campground for RV-ers and tent-dwellers. The hook-ups are state-of-the-art plus! The ambiance is delightful already. The lake, cedar tree grove and lovely footbridge into the property are just a taste of what makes this a prime location. Several egg-producing chickens, a couple of roosters and 2 adorable puppies also love their new home.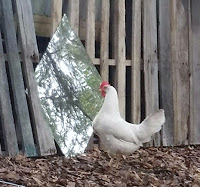 "Man, am I good looking chick or what?"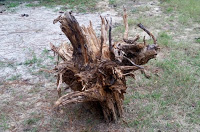 Awaiting Vonda's creativity
Lemon vine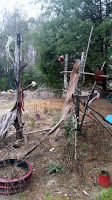 Another cool spot on the
property compliments
of Vonda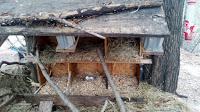 These are 3 of the 6 eggs Vonda gifted
us with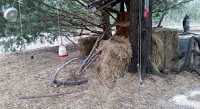 Play yard for the chickens and roosters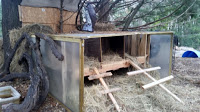 More private quarters…lol
This tiny tire was too small for
swinging, but it works perfectly
for a little bird feeder!!!
In addition to taking time to be with us,Vonda was gracious enough to give us 6 fresh eggs, 3 of which we plucked right from the nest! John offered to take a look at our motorhome's generator at no cost. If you or anyone you know of that is considering a simple and restful vacation in the Cottondale, FL area…we enthusiastically recommend The The Hitching Post Corral and Campground!!! You couldn't ask for better hosts or a more welcoming
place to gently coax you to bask in the beauty and serenity of the natural surroundings!!!