Rachel slid right under
my chair trying to pull
me out of the sun!
TOO funny!
Last weekend, Rachel and Megan flew into town…Madeira Beach, FL…to visit me. It was so wonderful hanging out with them for almost 5 days. With them here to spot me and help in other ways, I was able to go to the beach and GET WET…woohoo!!! We had a blast doing everything we did. Our experiences are best exemplified in pictures. So, here goes…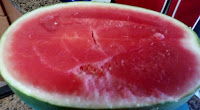 What can be said here except
scrumptious!
The girls were visited by an uninvited guest!
There's a storm comin'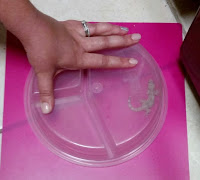 After the screaming and running was done, so was the guest!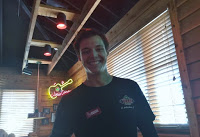 Bright Spot- This is Zyee, phenomenal server
at Texas Roadhouse and very proud daddy of
an almost 3 year old daughter, Kaydence. When I
asked Kyee what was wonderful about her,
he responded with, "What's NOT wonderful? That girl
is going to run the world one day." Kyee, thank you
for sharing about your little girl…but where is her
picture you were going to send to me…sad face on me!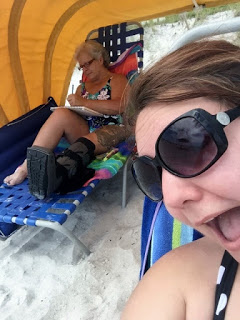 OKAY, you caught me working at the beach!

Bright Spot– A friend of mine recently created this incredible portrait of the man who opened this great pizza place
in Delta, PA years ago and gifted it to the man's son, who now runs the restaurant, in memory of his father. This labor of love and respect was hung in the front window for all to admire and be welcomed by when the restaurant reopened the first week of June after a terrible fire last year.
Sunset on the Gulf of Mexico
Hanging out with Rachel
The 3 Amigos…after having lunch at Bubba Gump's
where we won the trivia game!!!
Clearwater Marine Aquarium
Megan touching a stingray at the
Aquarium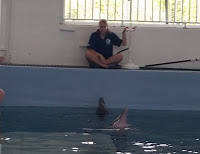 It's Winter & Hope from Dolphin Tale…the movie!!!!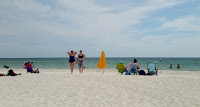 Megan & Rachel walking back from
swim and a scary moment when 2
stingrays glided right in front of
Rachel
Warning…Warning!!!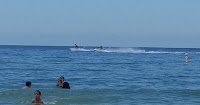 Folks having fun in the water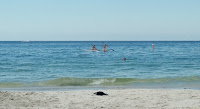 More fun in the water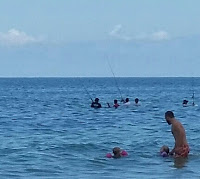 FISHING?????? Right in the middle
of people swimming and playing!
WOW!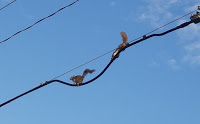 Rachel's new little friends playing
catch me if you can. She met them one morning
when we walked to a park to watch the sunrise.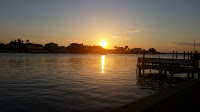 Our sunrise morning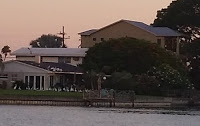 See all the birds? This man feeds them
in the morning just after the sun comes up. They gather on his lawn and roof
waiting….as soon as they eat, they're outta there! So cool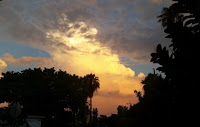 Our sunrise morning…clouds across the street
on the west side…gorgeous!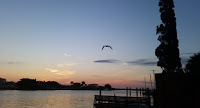 Our sunrise morning…pre dawn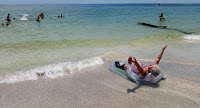 OMG! This was so much fun. In far enough to catch a
teeny tine wave and get splashed, but not so far that I'd float away!
Thank you Rachel and Megan for helping me get to the water and get into and out of
the floaty! I had a blast!!!

***Thank you, Marie, for being kind enough to let me have this much needed company and allowing them to stay at the house…I'm very grateful***