It's been a weird few days! I gotta say though for the most
part I've been feeling and doing terrific since the accident. But this week so far my state of mind and
overall mood has been immensely labile!!!
I can't even remember the last
time I was so "roller coaster-ish". Not
fun at all! Naps have helped!!!
I am grateful. I am angry. I am puzzled out! I
fall asleep when I try to read. There is
absolutely NOTHING on TV. I keep banging
my foot into things. Food is
boring! Every single thing I do requires
so much energy and focus! Taking a shower has become a major ordeal. My entire
functional wardrobe consists of a handful of sundresses! My colored pencils are all beginning to look
alike! I COULD go on and on, but I'll
stop! It felt good to vent though! I'm done!
Marie and I went to the midweek open air market this
morning. It was lovely. Beautiful produce, food vendors with all
natural preservative and yucky stuff-free food, pasta sauce that tasted like it
just came of 'Grandma Italy's' stove after simmering for about 8 hours and
some very eclectic crafts. It was good
to be out for a little while. The knee
walker and I have a limited mobility window at the moment.
He was checkin' me out! LOL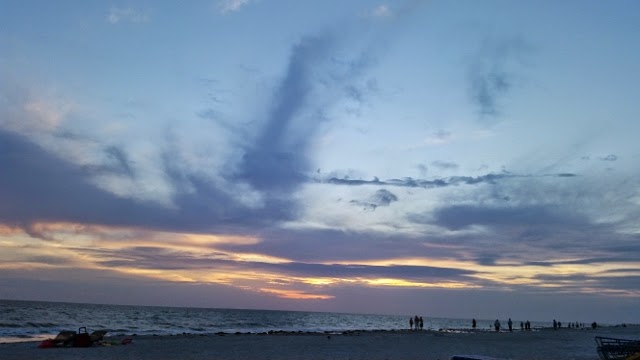 Click on this one and see if you can
find the men's faces in the clouds at
the top…so cool
The best part of the day was being able to watch the sunset
on the beach from my sports chair 'perch'!
Got a few nice shots and when I spotted a heron in the distance, Marie
offered to walk to get a closer picture.
Thanks Marie…they turned out great!
Bright Spot –
A few days ago, I received an unexpected package in the mail here at Marie's!!!! I was so excited and stunned at the same
time! I looked at the label and saw that
it was from Rachel and Megan! I opened
it up as fast as I could to see what was inside. Wrapped in beautifully colored tissue paper
were 5 separate smaller packages. Wow! They sure do know me!!!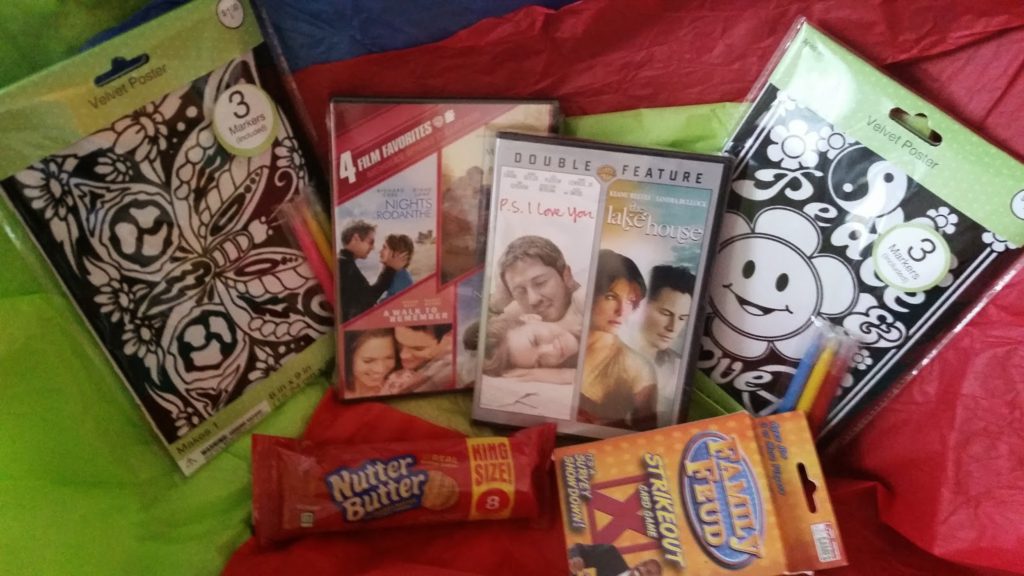 My goodies!!!
Craft items, tear jerker movies, especially
one that I have been looking many months for in several states, The Family Feud
card game, nutter butter peanut butter sandwich cookies AND a very sweet greeting
card!!! Of course I cried! But there was a big ole smile on my face,
too! Much gratitude to them both for my "cheer
box".