Tin City is what some people call the 'soul of Naples.' Back in the day, it was an area with many tin-roofed buildings. It was a clam shelling and oyster processing plant. There are nautical artifacts, antiques and displays that take you back in time when Naples became Naples as the hub of economic growth. Boat building along with the fishing industry really put this place on the map.
It is still a charming little area with gobs of shops selling items from magic tricks to clothing and everything in between. There are short boardwalks all around and two quaint waterfront restaurants. Many of the buildings still have the tin roofs. It was pretty cool just walking around and experiencing an old time feel in the current day.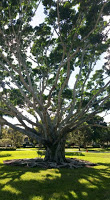 Awesome tree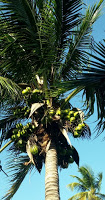 A coconut palm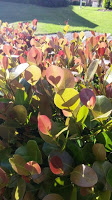 Sun creating reflections
of one leaf behind another-
sooooo cool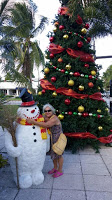 What can I say! How
can a girl pass up a chance
to hug Frosty???
We had heard about a pier that jutted out into the Gulf that had a beach running through/under it so we asked for directions. About a million feet later, we found it!!! OMG, we felt like we had walked for days and it was HOT!!! We did see some interesting things on the way…so that was great!!! Fortunately, Naples Pier was just as neat as we had heard. The beach was beautiful, people were fishing off the sides and this thing went WAY out into the water!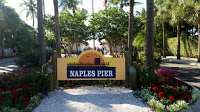 We were soooo glad to see this sign…lol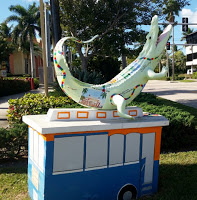 Alligators everywhere!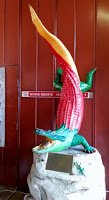 'Chili Gator'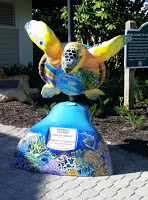 So adorable!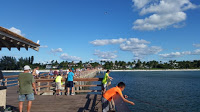 We were standing at the far end of the pier.
You can get a sense of how far out into
the water the pier goes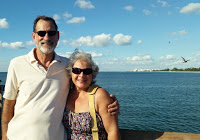 Carl, me and a pelican…lol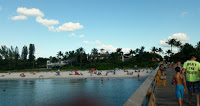 The beach from about halfway down the pier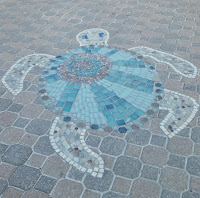 There were several of these inlays at the entrance to the pier