BRIGHT SPOT – Before I left for Louisiana, I spent a girls' day with my beautiful 'adopted mom', Ruth. She is Carl's mother who I fell in love with at first meeting back in the Fall of 2015. I had been sending her pictures of mine and Carl's adventures when we were traveling together and now I am sending her pictures of my solo adventures. She has a couple of small albums filled already. It helps us stay connected. We talk on the phone every couple of weeks, too. She is absolutely delightful. She is 84 years young with a heart of gold and an adorable laugh. I'm not sure when I'll get back to FL to visit, so we spent the day together having lunch, chit-chatting, laughing, hugging and getting a new hair-do!!! We had the most wonderful time.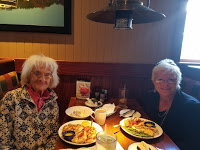 Ruth and I having a fabulous seafood
lunch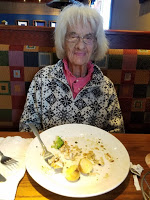 I think we were both surprised
when she ate every last bit of her
big 'ole meal!!! Go, Ruth!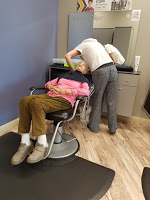 Aaaahhh, this is the best part…
the shampoo and conditioning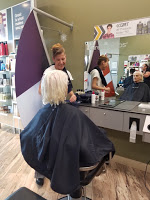 OK, now the decision about
the style…hmmm?!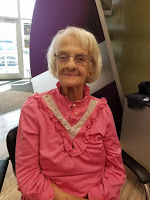 Stunning….just stunning!!!
Who ever said that a birthday could only be celebrated for the one day of your actual birth anyway!!! This year, in addition to hearing birthday songs and loving wishes from my sister and my kids and grandson over the magical ethers via cell phones and warm wonderful wishes on Facebook from friends…I had the pleasure of spending 5 days with a special guest and friend from North Carolina, Bud!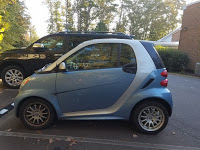 Sadhya's awesome Smart car that I
got to drive…soooo fun!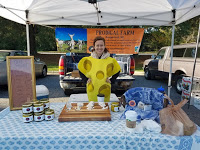 Open air market where
we got some goodies
for a small dinner party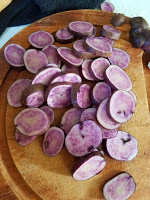 I was in charge of slicing
the potatoes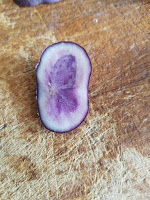 And I found a butterfly
facing left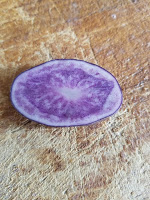 And…smoochy lips!!!
I met Bud over Halloween weekend when I was visiting a very dear friend, Sadhya, whom I hadn't seen in at least a decade.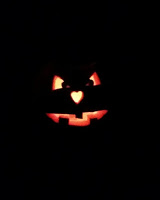 The night view of the pumpkin
I was commissioned by Bud
to carve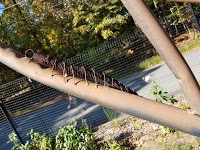 Mr. Caterpillar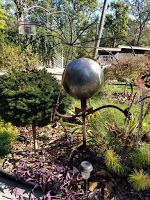 Cool umbrella, huh?!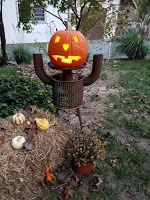 Pumpkin head in the daylight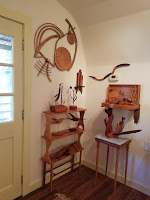 Bud's woodworking gallery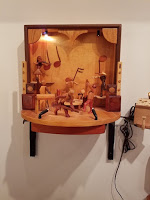 A wooden band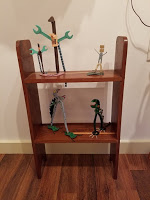 I love these…dinosaurs made
from tools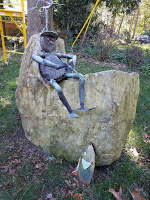 Just hangin out in the front
yard…fishin'
My initial interest in Bud was his amazing hand- crafted metal sculptures all throughout his yard and his gift of woodworking that he has displayed in a gallery on his property. After much conversation and several delightful visits later, we are getting to know each other and have become quite great friends and are looking forward to being possible 'travel companions.'

But first, before I tell you about MY birthday fun, I would like to share a special event that could not have been possible without Bud's respect for family and over all kindness and flexibility. I had flown from FL up to NC to visit him for 4 days the week before Christmas. After planning the trip, I was talking to my daughter Rachel who told me about plans to celebrate my other daughter, Nicole's birthday on Dec. 19th. I was scheduled to be in NC on that day as part of my visit with Bud. The wheels started turning and I came up with a possible plan. I thought it would be awesome to drive up to Potomac, MD and surprise Nicole at the Christmas on the Potomac event…light shows and especially the 2 million lbs. of ice sculptures!!!! Then I realized that this wonderful crazy idea would depend solely on the availability and willingness of Bud!!! I was prepared for whichever way it turned out, but it was worth a shot to propose the idea to him. I did and he said "Let's do it!" YES!!!!! I was so excited and sooo grateful! I immediately began to scheme with Rachel for the big surprise!
Bud and I left Chapel Hill around 8:30, took our time, stopping for breakfast and potty breaks and arrived at the Gaylord National Resort and Convention Center around 2:00. We got settled into our room, made contact with Rachel and having some time before we hooked up, Bud and I walked down the street and grabbed some lunch. Then the fun began… Rachel and I kept in touch on our cell phones so that we could go to where they were without Nicole seeing us. Finally, we spotted her.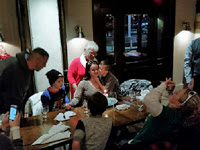 Cameron kissing his mommy on her
birthday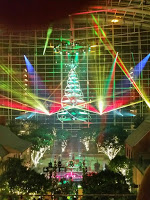 Lazer light show at the
Gaylord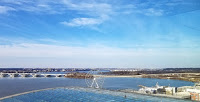 Afternoon view from our room
The ferris wheel was on a barge and it lit
up after dark!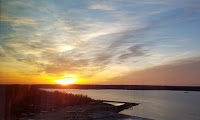 Sunset view from our room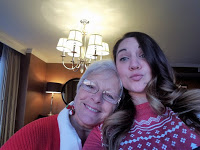 Megan and me being silly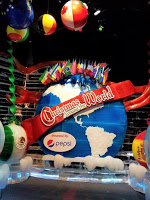 This was the theme of "ICE"
Everything in these pics are
made with huge ice blocks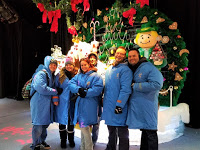 My offspring and their partners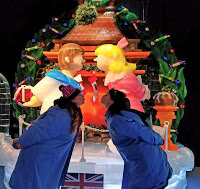 Megan and Nicole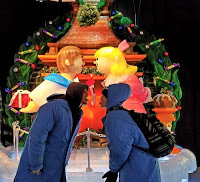 Jesse and Rachel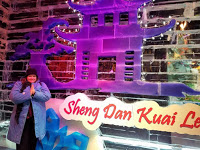 Alysia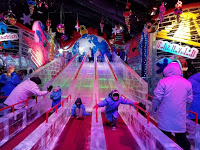 Jay and Cameron at the bottom
of the ice slide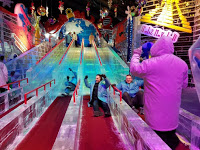 Adam and Matthew
Rachel and Adam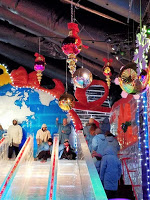 Alysia and me…this was so much fun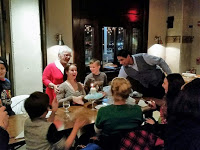 Bud ordered a sweet surprise for Nicole!
Happy birthday, Nicole!
It was a huge bowl of ice cream
surrounded by blue cotton candy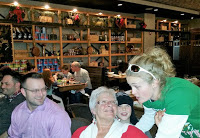 Cameron photo bombing at the
restaurant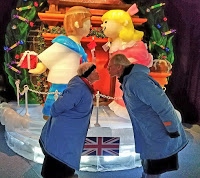 Bud and me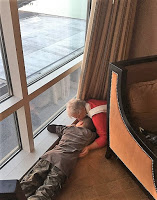 Cameron was exhausted from
walking around Washington, DC
all day
My artful mind offered Bud one more idea and, bless his heart, he agreed!!! I stood on the sidelines while he walked up to Nicole and said, "Hi, are you Nicole whose birthday is today?" You should have seen her face? Rachel did an amazing job of showing little or no expression! Then he told her he had a special delivery package for her birthday. That was my cue and around the corner I came! There was screaming and hugging and jumping!!! Nicole was sooooo surprised. We did it…Rachel, Bud and I pulled it off! There were 13 of us there that night hanging out making fabulous memories.
Another very cool surprise for all my kids was that my dear friend, Alysia, who I had been in touch with, had just flown into Pennsylvania from China the night before. We had not seen each other for years since she has been teaching at the Shanghai Academy. She rented a car and met all of us at the event! It was a beautiful reunion and a grand time was had by all!!!