Bud lives most of the time in his home in Chapel Hill, NC.
Fall and Spring he spends some time on his farm in WV, and summers he
loves being with family and soaking in the beauty that surrounds his home in
Michigan. He went to Michigan the second week in January to visit his brothers and
friends and then flew into New Orleans for 5 days so we could explore the city
and hang out for my birthday, January 17th!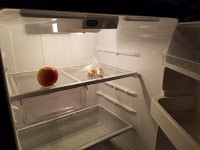 Looks like we will be eating out…LOL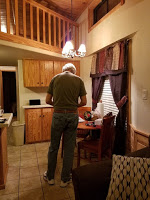 Hey get out of my picture!!!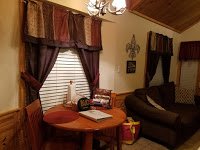 The cottage at the campground was
very nice!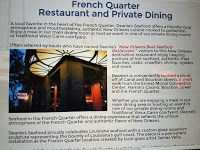 Deanie's
What an
exceptional time we had! Our first stop after picking him up from the
airport on the 14th was a very late lunch at Deanie's Seafood Restaurant…delicious!!! Then we walked around the French Quarter briefly as we wanted to get back to the campground for him to settle into his cottage before dark. We had an hour drive which in part was across the 24 mile Lake Pontchartrain Causeway. Very pretty.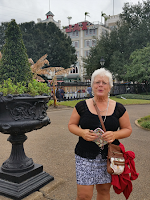 That man loves taking candid
shots…LOL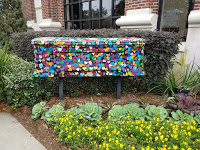 Each community got to decorate a
railroad car replica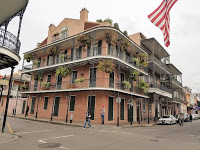 New Orleans architecture
Street music everywhere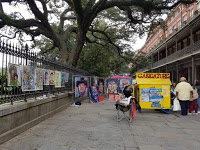 Art in Jackson Square
The following day we found a fabulous local restaurant, Abita Cafe, for breakfast. We ended up having breakfast there the next 3 days as well! Yummy! Then off to New Orleans for the day.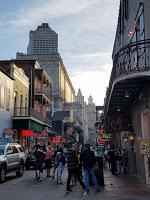 Typical street scene at any
time on any given day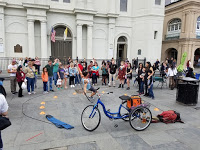 This guy was amazing…spinning and
rolling inside a giant hula hoop!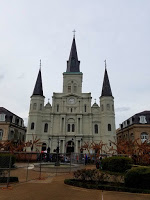 St. Louis Cathedral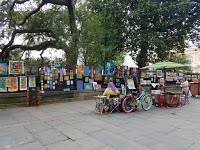 More spectacular art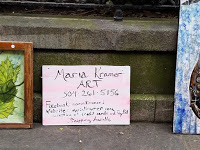 I couldn't line up her name with her art. She
was absolutely delightful. I really liked her
work.
The last picture is a print of a larger piece
of art that she painted. It was one of my
bday gifts from Bud!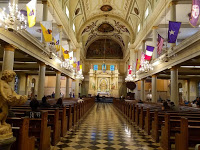 Inside St. Louis's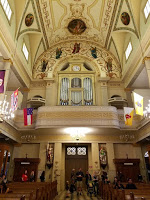 The organ in the balcony was
so beautiful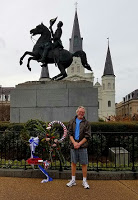 A once in a lifetime shot…
best smile EVER!!!!
Bud had this artwork shipped back to NC…
we both loved it…perfect balance of background
and design
My print….I was immediately
drawn to this piece…it is called
VERY WARM MOON