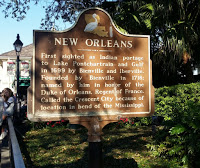 It has been nearly 35 years since I walked the streets of New Orleans! I did have a Hurricane 'beverage' just for old time sake…LOL It seemed stronger this time! We happened upon spring break and that made our experience a bit more 'lively' than it might have been! Beads were being tossed from the balconies all through the town like it was Mardi Gras again and adult beverages were being consumed quite early in the day.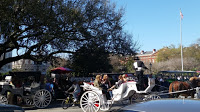 Carriages were lined up on Bourbon St
like taxis are in New York City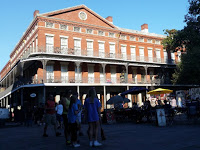 Great buildings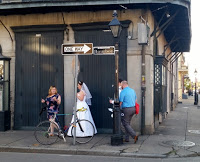 Bride and groom walking along
Bourbon St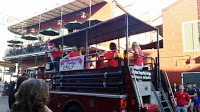 This bachelorette party drew quite
a bit of attention
The sights and sounds were memorable to say the least. Unfortunately, I'm not able to post videos here at this point, but the street music was wonderful. As far as the sites, well…some of them were not family friendly so I've left them out of the posting…oh my! The architecture…wrought iron framed balconies…is one of my favorite things about the area. Most restaurants have balcony seating…I think mostly for people-watching…lol We had lunch at one of them and it was worth the climb up the stairs…LOL The food was great,too. I had an alligator burger! It was such a fun day, but I must admit…I have no desire to go back again. Perhaps I've gotten older than I thought…but that's OK with me.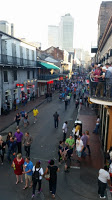 Street view from the balcony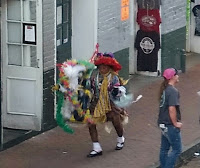 Are we having fun yet? LOL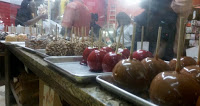 The aroma in there was fantastic