A few days after my last post, I discovered that I had "another" kidney stone. As it turns out, the surgeon in Texas didn't really get THAT one. It got blasted enough to stop blockage, but then the majority of it moved up into the lower kidney region. He assured me he 'got it all' even though he didn't do a follow up ultrasound and because of that, it grew another 3 mm and began to rear its ugly self when I was in NC. That eliminated, OH, MI, R.I., ME and Canada from the itinerary!
So, for the last 4.5 weeks, I have been in and out of doctor offices here in MD accumulating an impressive list of testing procedures waiting for an open spot in my new doctor's schedule to get rid of the stone. As the weeks progressed, the mild to moderate pain made its way into the ranks of horrendous! Finally, on Tuesday, I underwent the new procedure where they crushed the stone via sound waves. It seems they were able to do that successfully, yet there is still quite a bit of pain present. I go back for a follow up ultrasound on the 23rd. My intention is that I am back to my good ole self by then…peppy, pain-free and prepping for the trip back to NM!!! Please join me in that thought!!! Thanks!
Prior to the halt on activities that pain can cause, I did have some fun!!! Every little bit counts!!! And for that, I am very grateful! See pics!
A bit of ocean
A bit more…lol
Lunch with Sharon and friends while resting at
her place in Ocean Pines, DE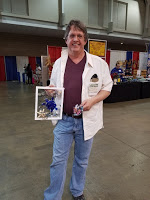 Edwin John Symonds-artist
Homemade coconut cake…celebrating friendship
and gratitude for life's joys as well as
challenges
Sol sister and me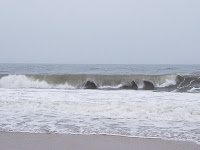 I love the sound of the waves!
Just like back in high school…almost!
I was able to get to a few of my
grandson's baseball games!
There he is…#5!!!
Now, THAT was a long inning!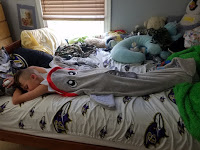 The morning AFTER the long inning…lol
BRIGHT SPOT– I dragged myself to the craft exhibit at the Ocean City Convention Center while in the area…knowing that it would take my mind off feeling crummy. Most of the displays were the 'usual'….EXCEPT for Landscape Glass Works! Being drawn to the eclectic as I am, Mr. Symond's little corner of the show pulled me right in. As well as a painter, he designs and produces Montages as Fine Art Landscapes constructed from Re-cycled materials such as old picture frames, old window frames, glass wine bottles, various types of colored glass, shells, sand, rocks, driftwood, etc. Edwin has an impressive background in art studies as well as an extensive history of shows along the east coast regions…New England, VA and WV. Talking with him was such a delight as he emanates such joy, enthusiasm, and passion in his art! I bought two pieces from him and am looking forward to displaying them in my new digs in ABQ. Mr. Symonds also accepts commissions. You can email him at LGW.ART@YAHOO.COM.
Part of why he does what he does is because of the immense healing benefits time at the beach or any body of water has on one's brain. His works allows you to experience some of those benefits. Visit-
http://earthables.com/beach-changes-your-brain for more fascinating information! Thanks, Edwin for sharing your love for what you do with me!
Fund raising BINGO for
Cameron's elementary school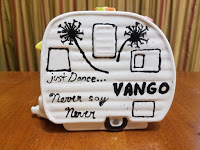 My very own Van-Go piggy bank
painted by my lovely daughter, Nicole.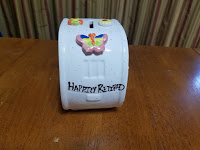 I'm thinking this is where I can save
money for the flights back home once
I settle back into apartment living in
NM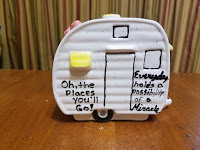 How adorable is this?!
Memories of the past…planning
for the future!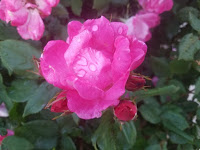 After a rainy morning in Havre de Grace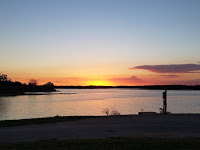 Caught one sunrise in HdG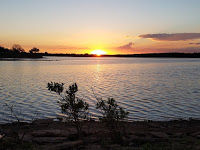 Aaaahhhhh!