Sometimes you don't know how much you miss something until you are without it for awhile! That holds true for me when it comes to the beach…moreso, the ocean. It doesn't ever matter what time of year I find myself back in Maryland, I go for a day or so to get my "WATER" fix! Lakes and rivers are great, but, really…..
My dear friend, Sharon, once again opened her beach home to me for a couple of days…thank you hon! That meant Bethany Beach…AND the weather was unseasonably warm and if I must say…PERFECT. The sky was clear, the air was warm, the ocean was alive and the sand was between my toes! It was magical!
A very special event took place in Bethany a year ago…one that was not obvious right away. I was at the main drag where shops are and I had just returned to Van Go from a day in the sun when a lovely woman approached me and asked about my van. Before we realized it, we had talked for a couple hours right there in the parking lot. It was like we had known each other for…ever! We knew it was no coincidence that we met there that day, but…. Well, one year later-we got together and spent the day at the beach having the time of our lives! Day one we actually hung out in Ocean City, MD where Suzanna lives which is only 20 minutes from Bethany. We walked on the beach and talked for hours and laughed out loud and cried over lunch…what a day! We blew bubbles all over everybody on the boardwalk! So many smiling faces…YES! And curious dogs…lol We took some crazy selfies and when it was time for Suzanna to go to work, we decided to hang out again a little while in the morning before I left. I invited her to join me for the sunrise and a homemade pancake and raspberry breakfast. I didn't have to twist her arm…well, maybe a little about getting up at 6:00AM…lol
She met me at the beach in Bethany and the morning was wonderful. We truly have a very special connection between us. When we share to help the other, we also help ourselves. Unexpected clarity and thought-provoking words flow from each of us. We are the kind of friends that don't need to see each other very often and somehow when we do it feels as if no time has passed at all. There was a delightful exchange of love and support those two days. I am so happy that we met up and spent some time together. Thank you my dear 'Sol' (sun) sister.
***Too many pics here…Part 3 on George moved to next post***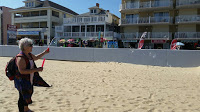 BUBBLES!
Sailboat at dawn
I LOVE my new sneaks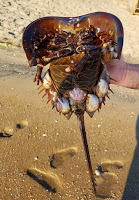 First LIVE horseshoe
crab I've ever seen
Lovin on Cersei…Suzanna's
doggy
On Suzanna's fridge…interesting
A gift from Suzanna
We're cool
There's a very large piggy on the beach…lol
WANT one of these chairs!!!
Awesome dinosaur climbing
thingy for kids
BUBBLES!
OK…it was begging to happen
The shades were right there on the
beach…I couldn't help myself!
It's Mr. Sandman…lol
Puppy prints
A mom and her little one watching
the sun wake up….just so sweet
A dolphin tail!!!
Our morning brews
Coffee and chai
Suzanna
"Sol" sisters
Aaahhhhhh!