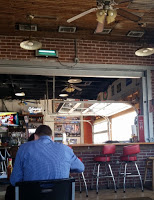 Check out the 'bay doors'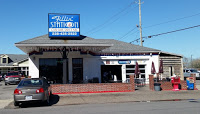 Awesome cafe in Biloxi…designed around
an old gas station…great food!
M-iss-iss-ipp-i…I used to love spelling that out loud as a kid…LOL
Carl and I had the opportunity to walk through a few of the Gulf towns that were part of the Hurricane Katrina devastation back in August of 2005. Even though New Orleans was the 'hardest hit', life here in southern Mississippi was disrupted substantially requiring its residents to have to rebuild their homes, businesses and their lives overall. One man, who experienced the camaraderie that happens when disaster strikes chose to help beautify what was once a symbol of destruction.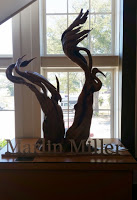 Other works by Marlin Miller
showcased in the Biloxi
Visitor Center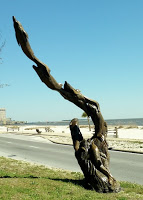 Miller's dolphin sculpture
Made out of pieces of
driftwood….it is gorgeous
in person












BRIGHT SPOT – Marlin Miller, a chainsaw sculptor from Fort Walton Beach, FL, was inspired by Dayton Scoggins' 5 works of art along Beach Blvd in Biloxi. Scoggins carved sea creatures out of the topped-off trees damaged by the storm. Miller approached the city about donating his time and talent to sculpt additional trees. He explained that he wanted to return the favor to the people of Biloxi who helped his community recover from Hurricane Ivan a few years prior. Over the course of several years, he created 15 works of art. I was only able to get a picture of one (traffic was heavy and nowhere to pull over), but you can see more of them by Googling 'Marlin Miller tree sculptures in Biloxi' if you are interested in seeing more.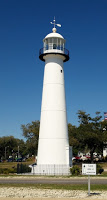 Biloxi Lighthouse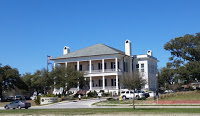 Biloxi Visitor Center right across from
the lighthouse situated on the median
The Biloxi Lighthouse was another really cool landmark. It withstood 20 hurricanes requiring minimal repair. The ground around it; however, has undergone some considerable transformation. Several of the storms washed out portions of the sand bluff beneath the structure, requiring some excavation to ensure a solid foundation. The lighthouse was first along the shoreline…built in 1847. In 1950, it became landlocked for the the first time with the completion of the sand beach.
A few fun facts about the lighthouse:
1-on the National Registry of Historic Places
2-an official MS landmark
3-listed in the 2002 edition of Ripley's Believe It or Not as the only lighthouse standing in the median of a 4 lane highway
4-featured on a MS license plate
5-commemorated on a US postage stamp in 2009
WAY TO GO, BILOXI LIGHTHOUSE!!!
One afternoon in Biloxi, Carl and I decided to embark on solo adventures…LOL He spent quite awhile in Harbor Freight Tools and I headed to the local bookstore/gift shop in the plaza. Not only did I acquire my 4TH 'big girl' coloring book (collection started by my friend, Dena, who gave me one for my birthday and now I'm hooked!!!), but I had the pleasure of talking with Shereen, the owner. BRIGHT SPOT – Prior to opening this great used bookstore, Shereen was a dental hygienist. After she lost her dad tragically, she quit her job and took several months to reevaluate her life and its value. As a lifelong lover of the written word and a woman searching for a way to meet the needs of her community, the Southern Bound Book Shop took form. It is a lovely addition to Biloxi for sure. Realizing that everything has value in some form to some people, the choice to open a 'gently used' shop was made. Now, she also offers a variety of new book selections, fun gifts for purchase, an area designed especially for the little ones and some interesting vintage publications. For anyone planning to visit the area, I highly recommend making her shop on Eisenhower Drive and/or her other book shop in Ocean Springs (75% local authors, all new books) a priority!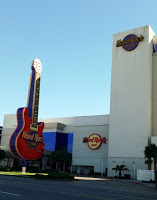 Hard Rock Casino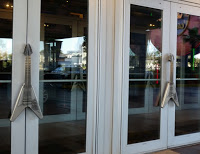 Love the door handles!!!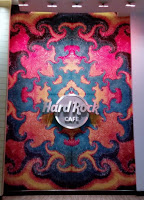 This continually changed
color schemes…very cool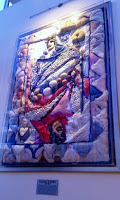 The 'Panty Quilt'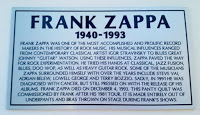 Zoom in to read about the quilt…it is a riot!!!
The Hard Rock Casino! What a fun place to visit…we didn't even gamble and it was still a blast – from the past – that is!!!
Pass Christian and Bay St. Louis were two sweet little towns also along the Gulf Coast. Once known for the booming seafood business, you can see many fishing boats in the marinas where oysters and shrimp were caught in abundance. Katrina and oil spills have greatly affected the seafood population, but there is still enough for visitors to enjoy at the market and local restaurants!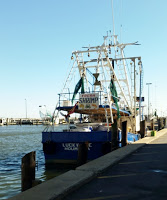 Shrimp boat
Sunrise on Pass Christian Beach
A bird on almost every post
Carl walking way out at low tide at
sunrise…what a great sport…up and out
at 5:30 AM…he loved it!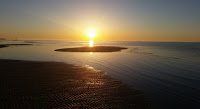 So beautiful
Guess this is the only way
I'll ever have long legs…LOL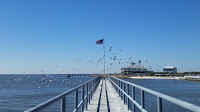 As we approached the seagulls on the
pier, they took off!!!
Two things each of the towns we visited had in common was their cleanliness and their hospitality…both of which made our time there delightfully memorable.