As I mentioned in my last post, we arrived in NC safely and the campground we had reservations for was very rustic and sweet. It was privately owned by 2 sisters whose family has been on the property since the mid 1800's.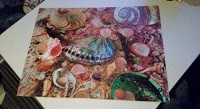 We survived doing a puzzle together…
GO, US…LOL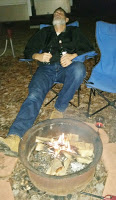 Now, THAT'S relaxing
by the fire!!! LOL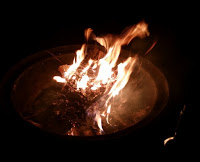 It was a gorgeous fire…go, Carl
It was a full moon on the 26th!
Their vineyard consists solely of muscadine grapes. They are native to southeastern US and are said to be the first grape to be cultivated in North America. The natural range extends from Delaware to Central Florida. Their popularity continues to grow because they are a sustainable fruit crop—tolerant of insects and diseased pests and can be grown successfully without the use of pesticides. All 7 varieties that slid across my pallet during the wine tasting shared one thing in common…a very strong grape flavor! We both prefer a semi-sweet wine and the one we bought was delicious! We enjoyed our stay there and being so close to the SC line, we ventured out to Myrtle Beach one of the days…stay tuned.
Shasha
BRIGHT SPOT – This is an unusual Bright Spot. It is one filled with great love and devotion to the doggie world! Shasha, Carl's little dog had been having a great deal of difficulty traveling as much as we do. She would get extremely nervous every time the engine started. She couldn't eat for at least 24-36 hours after we got to a new destination. After 6 weeks on the road, we decided it might be in her best interest to find her a stationary home. Several possibilities presented themselves while we were in Maryland, but I believe with all my heart that the perfect one won out!
My sister, Tanya invited Carl and I to bring Shasha by to meet her other 3 pups to see if they got along. If so, she'd agree to foster her for 4 days until another option became available. As it turned out, not only did the dogs get along, but Shasha and Tanya bonded almost immediately. Tanya felt like she wanted to keep her, especially since Shasha adjusted so quickly to the rest of 'the pack' and because keeping her would prevent her from having to adjust to yet another family. It seemed like a match made in heaven. After a little deliberation, it was final. Shasha and Tanya would remain together along with Amy and their other 3 pups. Now Shasha has a sister named Hazel, 2 brothers named Benny and Cooper and 2 mommies extraordinaire. She has acquired a beautiful red hoodie and has been out playing in the snow several times. Tanya has been sending pics and I've included a few here. Thank you Tanya and Amy. Love from both of us!