Wow! Stone Mountain, GA will be seeing me again for an extended stay for sure!!! Arriving at a sleepover in the dark is usually not preferable, but in this case it was fabulous! Stone Mtn. State Park was lit up for Christmas big time…just gorgeous!
Backing into my site was a bit tricky, but we did it…after about a dozen jumps in and out of Van-Go with a flashlight to check…LOL I chilled that evening reading about all the wonderful events that happen all through the year at this park that I'd love to participate in on a future visit.
When I opened the curtains at the back of Van-Go, I saw water!!! I was parked alongside the far end of a clear sparkling lake….oh, yeah!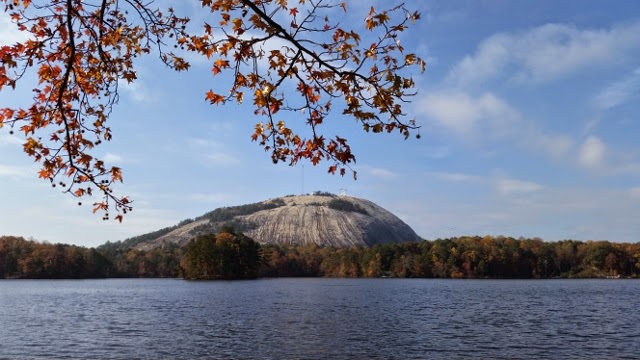 Stone Mtn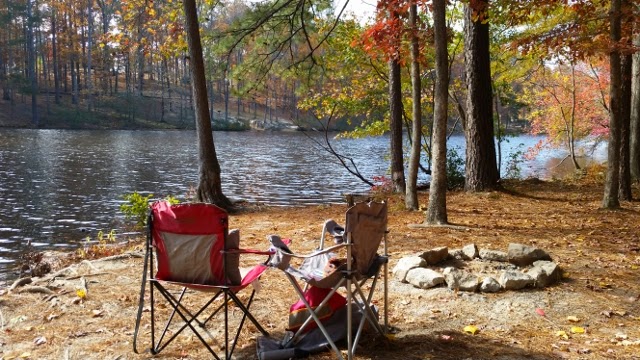 My little spot outside Van-Go
I was suddenly extra grateful that for some reason I had reserved TWO nights there. I must be smarter than the average bear…LOL It was chilly, but clear and I got some great biking in that day! Oh, boy, though, the body was screaming…"Remember this…you need MORE of it…a LOT more!"
"OK…I got it!!! Jeezy peezy already…" LOL
I spent some time at the wider section of the lake…the sunlight dancing on the water was mesmerizing…yep, I could hang out here a L–O–N–G time. Early bedtime to prep for a 5 hour excursion in the A.M…..to Florida…woo hoo
I left pretty early to get a jump on the day and by 9:00 I was starved! I hadn't been to the grocery store yet for my 2 week stash, so Van-Go's cupboards were bare. I kept pushing stopping for breakfast because there were no places I recognized on those highway signs. Then I saw IHOP…I knew THAT one! Well, I got off the exit and every establishment the signs had listed were there except IHOP. I rode up and down that street 3 times…nope, no IHOP. So, one the road we go another 20 miles and I see another IHOP sign….I was so hungry I was more than happy to try again. Lo and behold immediately off the exit…IHOP! The only thing more delectable than my eggs, pancakes and turkey bacon was…..Bright Spot – Alicia, server extraordinaire! Aside from being pleasant, accommodating, and on the ball, she proved to be a light and joyful spirit! Our conversation started at one point with me complaining about the unseasonably cold weather (frost warnings in GA,,,really?) Alicia, with the most childlike smile on her face went on to say how much she LOVES the chilly air and the changing of leaves because it puts everyone in the spirit of Christmas. I had no comeback for that except for an inside feeling of gratitude to her for putting things in perspective for me. She was born and raised in Sarasota, FL where autumn doesn't exist.
We talked about the benefits of living in a positive space. She told me about the inspiring quotes she gets in her inbox everyday from www.positivelypositive.com and how she looks forward to reading them each morning. Now, try to tell me that it was a fluke that the other IHOP couldn't be found!!! I don't think so! Thank you, Alicia, for being here waiting for me…I needed a dose of you!