My drive to Deep River Campground in Asheboro, NC was smooth. I actually arrived in the daylight…yippee! Of course, I gravitated immediately to THEIR much smaller, yet lovely lake! I plopped right onto the double swing and swung for two and a half hours smiling as the night sky slowly rolled in. I fixed dinner, watched a movie and read until I fell out!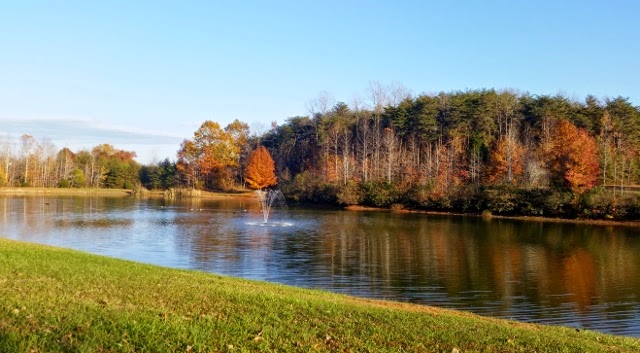 3:30 PM lake view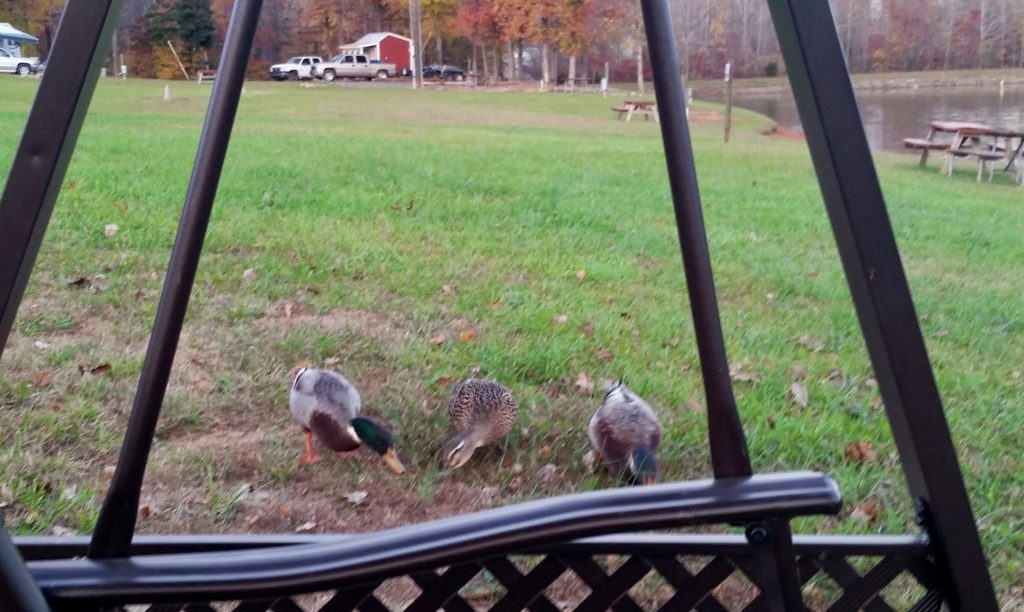 Early dinner for the feathered guests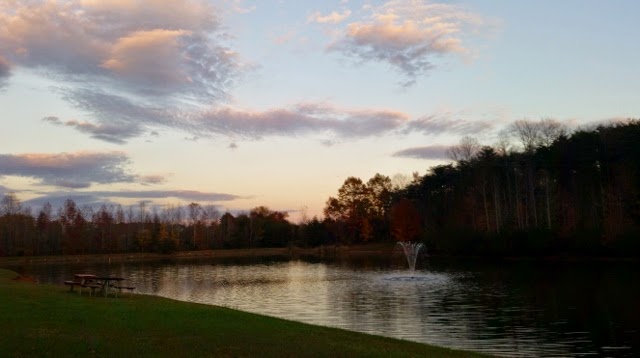 5:00 PM lake view

Shortly before heading out the following morning, Bright Spot – a very nice man approached me from the next site and asked if he could take some pictures of Van-Go! "ABSOLUTELY", I replied on her behalf…LOL Dennis and his wife Penny had recently sold their home in Vermont and purchased a new one…on wheels!!! Penny's health requires her to live in a specific type of climate and the search is on for the perfect location. They plan to stay in NC for another month and see how it goes…if need be, they will continue on their grand adventure to discover their new 'Home Sweet Home'. Best of luck to you. Dennis, it was a pleasure talking with you…hope your pictures turned out! On the road again for a few hours called for a potty break 🙂 I scooted off the interstate and stopped at a McDonald's and the place was packed…it was lunchtime. I found ONE spot for Van-Go and thank goodness for that! Bright Spot – As soon as I hopped down onto the blacktop, there was Karen! She was walking around making the grounds look marvelous! She commented on my quotes on Van-Go and we started talking. What a delightful woman! She told me about her gift from her husband…1, then 1 more chihuahuas named Peanut Peter Pan AND Jasmine Jelly Jam…OMG, I love this woman! Her two boxers, Samson and Delilah, passed on last year and a new dynamic duo has come to warm her heart!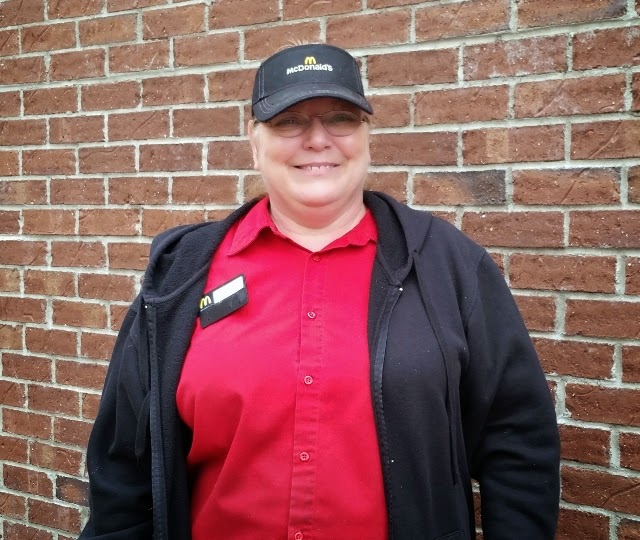 Kool Karen
She is also very happy that her hubby and grandkids are healthy! Her church is finally finished being rebuilt after a fire AND her face lit up at the thought she might get her Sunday school group back! She said that I inspired her and she is contemplating going on some kind of trip. Wow…if Karen could only bottle her delicious spirit! I gave her my card and power-walked to the restroom…lol On my way out, there was Karen and I just had to ask her where she'd like to go. She thought for a nano second and concluded that she and her hubby might splurge and take a cruise to Mexico…she heard the jewelry was amazing. Well, we absolutely had to hug! Thank you Karen for sharing your joy! Keep your sights on that cruise, ok?!