What a fun day I had! My Mother's Day treats to me from me. First, I drove 34 miles just to stock up on the ice tea that I love….only
Whole Foods carries it….it was absolutely worth it!
Then, I went to the Oasis Salon for a long overdue
haircut.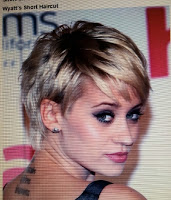 No, that's not me…LOL
But this is my new hairstyle!
There I met Jonesy, the
wonderful woman who did exactly what I asked her to do with my hair….unheard
of!!! She convinced me to have my
eyebrows waxed…a first for me!
I was so
excited! Well, not really, but I
survived!
Bright Spot
– Jonesy shared with me her amazement at the continuous
flow of gentlemen interested in going out with her lately. She seems to be enjoying the attention. She is learning to say YES with discretion
and NO without guilt. Good for her.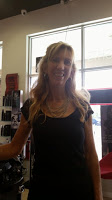 Jonesy
I stopped back at the house for a shower and lunch before I
headed to get a massage. Just as I was
scrambling about with my crutches and knee walker, a car pulled up. A window rolled down and a voice said, "Judi?" I said yes and the woman told me she had a
delivery for me. Shocked, I asked if she
would be able to bring it into the house.
She agreed.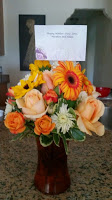 Mother's Day flowers
from Matthew and Adam
When I got in and
turned around, there she stood holding an absolutely adorable flower
arrangement…orange and white rose, daisies, carnations in an orange
vase!!! The things a son remembers about
his mother…favorite color…orange!!! It
was such a wonderful surprise!!!
My massage was also wonderful….first time ever 90
minutes! My muscles were ecstatic until
I had to use them to get me to the car using crutches…LOL It was 4:30 by the time I got on the road and
there was a lot of traffic. I decided to
get some early dinner at a Perkins restaurant nearby…hadn't been to one of
those in forever. Bright Spot– I was
greeted and treated with kid gloves the entire time I was there. My server, Gail was delightful and took good
care of me. I was in the mood for a
fresh salad and onion rings, but I'm quite particular about the latter. They have to have a lot of onion and minimal
yet flavorful coating. Of course, I
asked Gail to check with the cook. Not
only did she check, but the new manager, Darren, came out to talk with me about
them. He offered to make me a couple to
try before I confirmed my order. How
cool was that? He brought them out and
they were fabulous! My official order
went in immediately. My salad was just
as delectable. Both Gail and Darren
touched base with me regularly. I was noticing
that Darren was just as welcoming with each person coming through the doors. How refreshing, I thought. I spoke to Darren later and he told me the
restaurant was under new management with new menus hoping to win the love back
of Perkin's customers. That should be
easy if they continue to serve great food at reasonable prices and treat
customers like they did that afternoon.