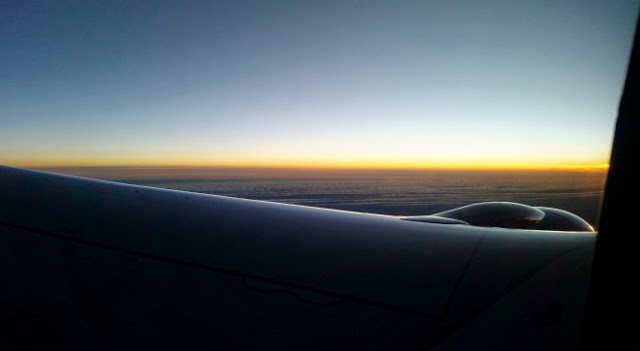 Sunset from the plane
What an amazing flight experience! The smoothest, quickest 6 hours I've ever
spent in the air!
Sharon and I boarded our Southwest plane and got situated
easily.
Bright Spot – After the drill, our little area was inspired
and entertained by the most incredible young man. He shared stories, offered bits of wisdom and
made us all laugh! He was one of the
attendants and extraordinary indeed! Sharon (my friend for the moment…lol) shared
that I just had a birthday! He wished me
well…and it got wilder from then on!!!
He told the entire plane of my celebration and had me raise my hand! Moments later, he announced that the crew
made me a crown and presented it to me!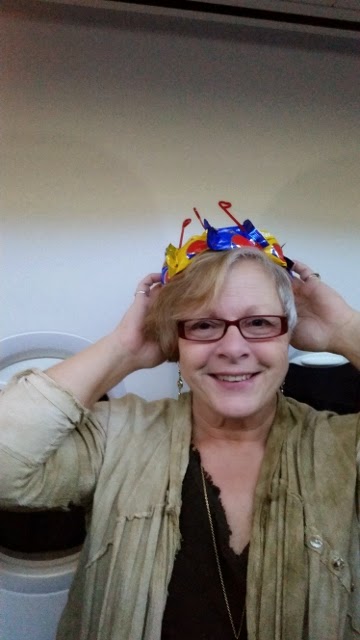 Crown #1 was a bit small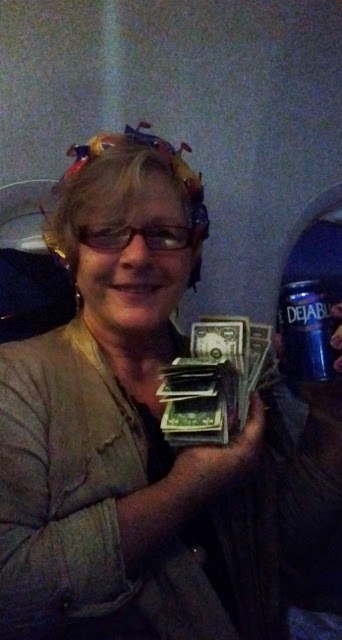 Crown resized…lol
and my amazing gift
Afterwards, the most unlikely but
spectacular thing happened. He announced
to the passengers that he thought that on behalf of SW, it would be a great
idea to give Sharon and me a complimentary dinner in honor of my 60th
birthday! He proceeded to say that
anyone who felt inspired could contribute a dollar or so toward this
gesture! He walked the aisles and
collected money. Once it was counted, he
called me to the front of the plane to gift me with over $100!!! He handed me the microphone so I could thank
everyone! Believe it or not, I was
practically speechless. I muttered a few
silly words to express my gratitude. I
wanted to say so much more like how honored I felt and how blessed but the
words just didn't come. As I headed back
to my seat, nearly each person wished me a happy birthday with a beautiful
smile on their face! WOW!
Later in the flight, I was telling this young man about my
blog and asked if I could take his picture and post about him. He offered that I take a picture of the SW
symbol of the heart instead, because it really wasn't about him!
Go, Southwest Team
A couple people asked for my blog address
when they overheard our conversation.
What an experience! I
guess I'll keep Sharon as my friend after all!!! LOL