My friend Marie who has been working in the Mohave Desert at
the 20 Palms Marine Corp training center for the past several months drove up
to San Diego to hang out for the weekend.
It was great! We had a fabulous time…as always when we get
together! After settling in on Friday evening,
we just chilled so we'd be ready for a jam-packed day of fun on Saturday. We grabbed breakfast at the Fig Tree Cafe on our way to the Little
Italy Farmer's Market.
At this one spot, the water was coming
ashore from opposite directions
and converging in the middle…COOL
There were cabins along the top of the
pier that can be rented
An awesome OOPS shot!
Then we drove to
Pacific Beach. It was a great beach with
a long pier jutting out into the ocean. I took a walk along the shore and found some very interesting "things". Because
it was somewhat overcast, we didn't actually lay on the beach for too
long. We walked on the boardwalk and had
lunch at Woody's on their rooftop deck where we could watch the waves AND the
passersby!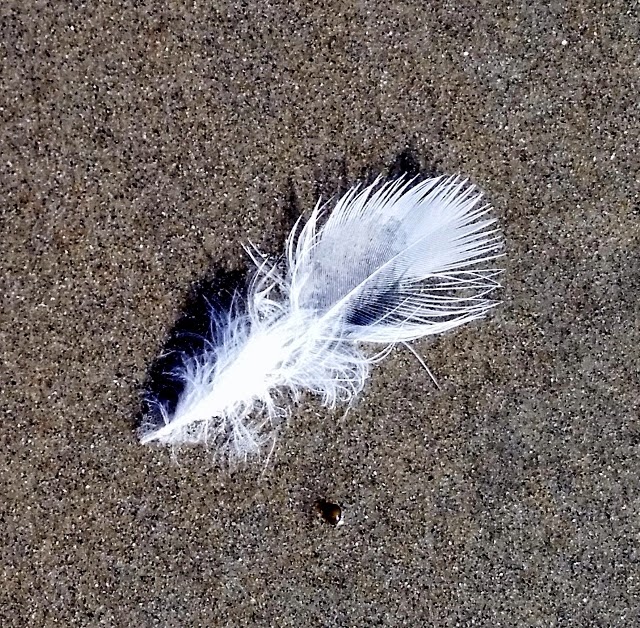 Marie
Picture taken facing windows…ocean is
reflected in them
House that was about 85% windows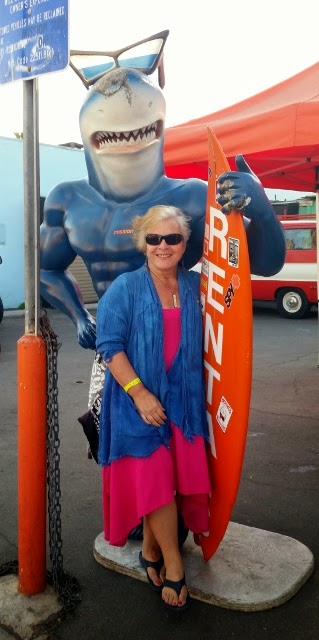 Judi and the Shark
Around 4:00, we went up to Mount Soledad…the beautiful
veteran's memorial overlooking all of San Diego…360* views of land and ocean…gorgeous! The memorial itself was very impressive with
picture/plaques of veterans from several wars covering the round multi-layered 'walls'
surrounding the structure. In the center
of the memorial sat a huge cross that lit up as the sun's glow passed through
it at dusk.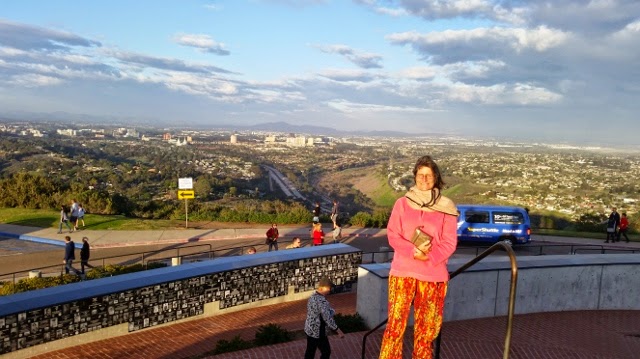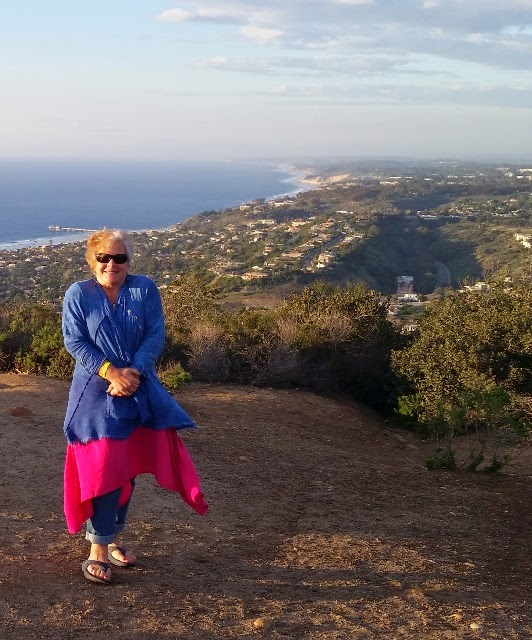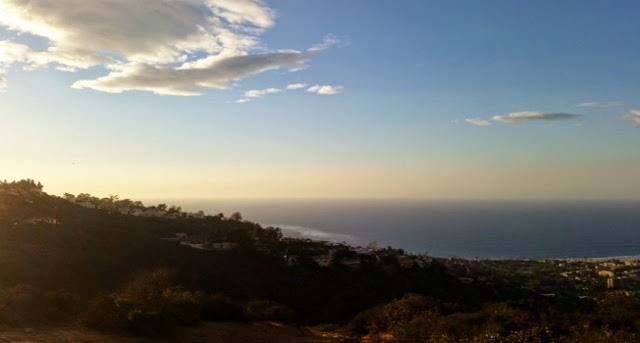 Finally, we went to have some Chinese food and then to the
movies to top off our wonderful day sightseeing around San Diego.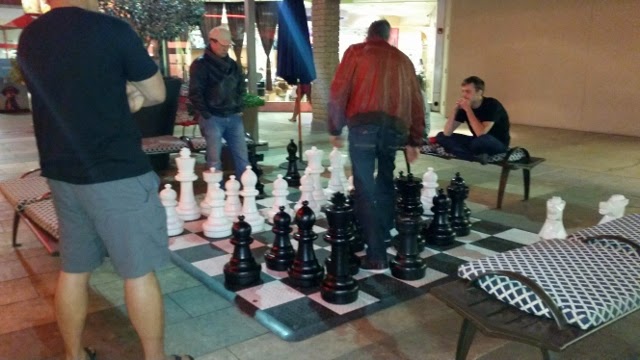 Chess match outside the theater
Just a nice shot of the sky at dusk driving to the theater
Sunday we headed to Balboa Park. First, stopped for a light breakfast 2 blocks
away at the Bassam Café. What an
eclectic
place! The walls and showcases
were filled with antiques…from dolls to knives and expresso machines to
jewelry!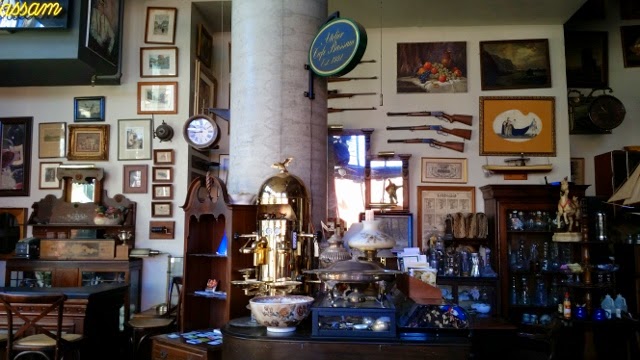 Bassam Cafe
We didn't mind waiting a bit
for our fruit and yogurt because there was so much to look at. An unexpected and spectacular fragrance
wafted through the café as we milled about.
Of course, the source was a magnificent homemade light pastry that had just been brought to
the counter from the oven…and, yes, we added one of them to share to our
meal!!! Yum!
At the park, we met up with a couple friends that were in
the area and we visited the International Cottages to learn about various
cultures and sample foods that were native to the regions and see the beautiful dancers.
Columbia
Columbia
Mexico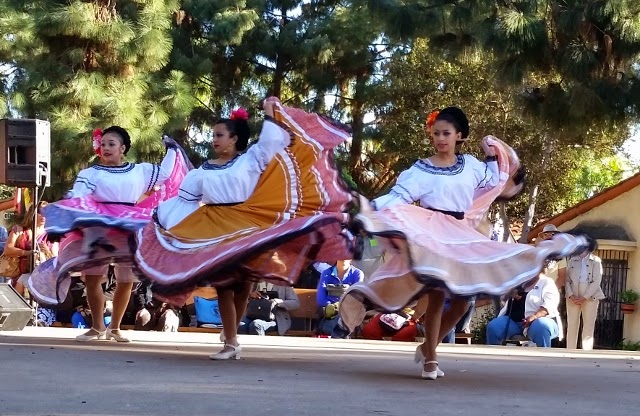 Mexico
Mexico
Panama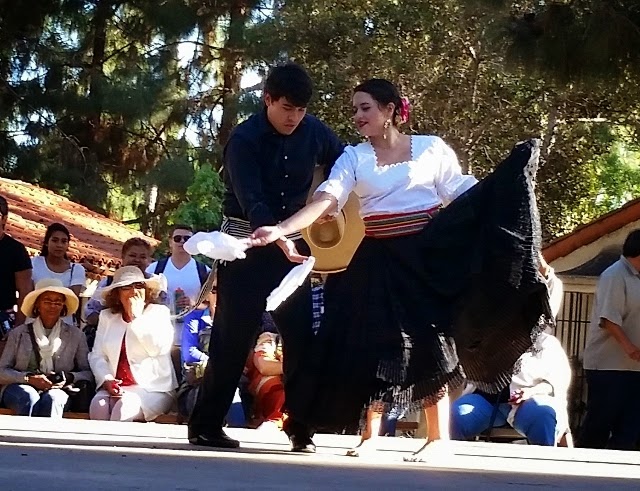 Peru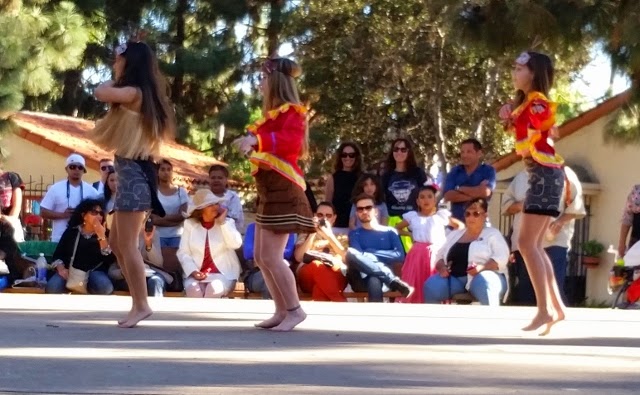 Peru
That was fun…each cottage was decorated to
showcase that country's unique aspects and contributions to their homeland and
the world. Representatives from the country
were available to talk and answer questions.
It's been my experience during my stay in San Diego that the people have
been exceptionally kind and very accommodating.
It has been a real pleasure interacting with people!


















































Bright Spots – At the hostel, there was such a diverse group of people in regards to age, outlook on life, experiences,
beliefs, etc. One of my roommates,
Brook, was only there for a couple of nights.
She was on her way to Thailand, wet suit in tow, to do some research!
Diana, age 32, from Harrisburg, PA, has taught ESL abroad
for several years. She has recently
started working with refugees from Burma right here in San Diego through an
organization called Americorp! She loves
working with international people and her goal in all her work is to be "giving back." Something she
really likes about Americorp is that they hire refugees that have been through
the program as case workers for the new people just beginning.
Both of these women have so much to offer and they were
filled with such enthusiasm and determination!
Gifts to the world!