Sharon and I went to breakfast before she left for the
airport to return to the east coast! I
have to say that the presentation of the meals we have had has been nothing
short of amazing! This place was no
exception!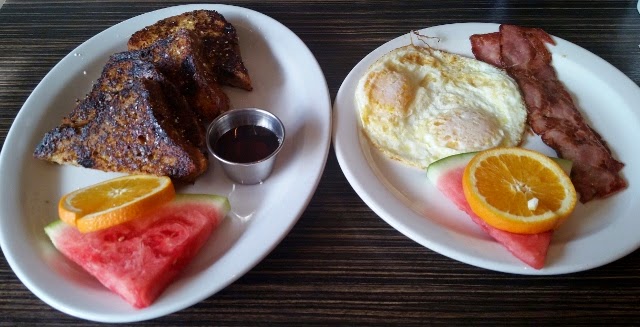 GLUTEN-FREE Raisin French toast!
Yippee!!!!

Breakfast Sushi
We hung out a little and off she went…it was sad to see her
go, but I'll cherish the memories and pictures of the spectacular time we had
here in San Diego!
I decided to stroll around the Hillcrest area to get my
bearings again since my navigator was gone…LOL
Bright Spot – I ran into an amazing young man that I had actually been in
line behind at the Whole Foods earlier. Sam
was pushing a stroller with his little niece in it that was eating a
snack. We started talking after he asked
me where I was from…he recognized my "hon accent"…lol As it turned out, his family is in Baltimore
and his mom still lives in Overlea near where my sister lives! How fun!
In discussing what I've seen and what will have to wait til my next
visit, he told me about an experience he had at Joshua Tree…a place that is
high on my list! He took a 10 day course
in Vipassana Meditation! He learned to
be more aware of his sensations, to practice equanimity and detachment. When he spoke of his experience, his entire
affect became even more alive…his eyes were pure and radiant. He went on to share that he rode his bike
from Baltimore to Seattle and down the west coast after I told him about my adventure. He is visiting his sister here!
His mom
will be retiring soon and he is hoping for her that she will embrace this
chapter of her life and have plenty of fun!
I could have talked with him for hours.
He was absolutely delightful! It would even be awesome to meet his
mom! Thank you, Sam, for the brief
encounter that added such sweetness to the quality of my day!
Many blessings to you and your mom!!! (sorry it took me 5 days to post this…hope
you kept checking)