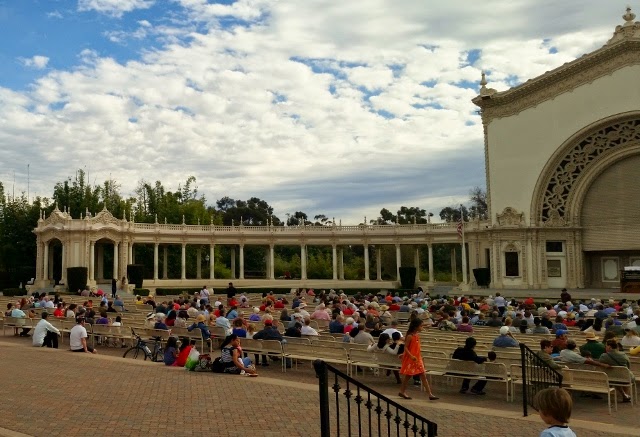 When doing my research on what to do in San Diego, I ran
across something about a free organ concert in Balboa Park. Sharon was doing a bit of her own checking
and thought it sounded interesting as well.
So we decided to venture to the park and see what it was all about.
When we arrived at this gorgeous OUTDOOR venue, we were both
quite surprised!!! The Italian-Renaissance
architecture was breath-taking and there on the open stage sat an organ! This organ built in 1914 is 75' high and
consists of 73 ranks totaling 4,518 pipes! It is one of the world's largest open-air pipe
organs. President Teddy Roosevelt even spoke there in July of 1915. After a period of nonuse during WWII and
quite a bit of renovation and expansion, now as many as 2,500 people can enjoy
a variety of concerts there.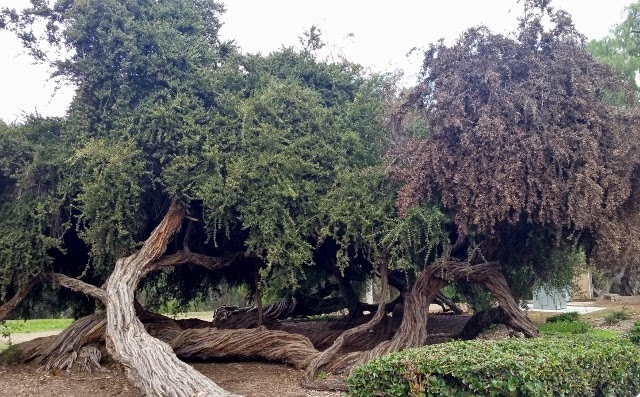 OK…I'm a funky tree lover!!!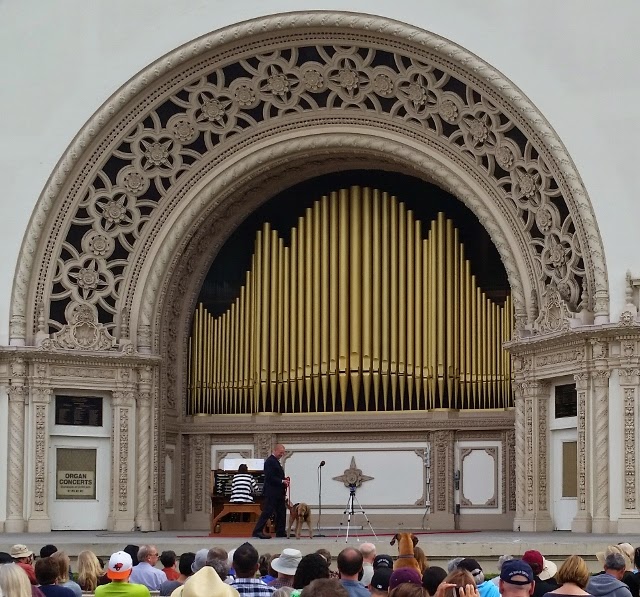 You can see 2 of the esteemed pet
members…one on stage and one
in the audience!
Today, Civic Organist, Dr. Carol Williams gave a spectacular
performance! In 2001 she was the first
woman appointed to this position. Her
concerts take her around the world. This
coming Sunday, Feb. 1st, the grandchildren of the original VonTrapp family singers from the Sound of Music will be performing at this
wonderful historic venue. Feb. 15th
the "Bark in Balboa Park" benefiting the Humane Society of San Diego will
celebrate its 10th anniversary.
The Pet Parade will be followed by opportunities for adoption! I think that is so cool! Pets can actually be members of the Spreckels Organ
Society! There were several members
there today!!! Every Sunday, regardless
of weather, a free concert is offered!
What a great way to spend a Sunday afternoon!!!