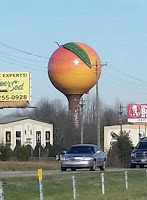 On the way into Greenville, SC
When calculating our mileage from GA to NC, it came to our attention that it was going to be a bit of a stretch to make the trip in one day. So, of course, I immediately began to search for a midway point (with something fun to see…lol) Lo and behold….a waterfalls…yippee! We added another hour to our drive, but since we were splitting it up by staying one night on South Carolina…it was a moot point!
The picture of the falls looked wonderful, but I've learned to be thrilled with whatever it ACTUALLY looks like as I've been traveling. You know…no expectations, but I've always added a healthy dose of intention…LOL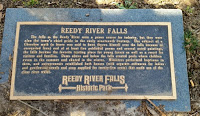 A bit of history
Well, what a surprise to discover that the Falls at Reedy Creek were even more lovely than the web displayed! Right smack in the middle of downtown Greenville, South Carolina, was a spectacular park nestled in a 'valley' slightly below street level! How charming!!!! It was also a dog-friendly park, so on went the harness and leash and off we went with Sasha…who totally enjoyed herself. (We were so happy because she has NOT been pleased with all the stopping and starting we have been doing since we left Myakka.)
The falls consisted of several beautiful cascades, then a bit further down the river, there was a smaller one, then even a third as we walked along. I'll allow the photos to speak to the beauty of the falls as well as the surrounding park grounds. Wow! What a wonderful 90 minute surprise!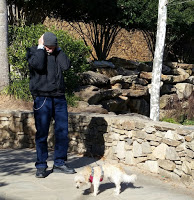 "My ears are froze!"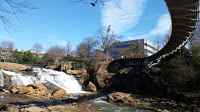 The underside of the walking bridge
in front of the big falls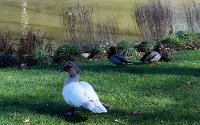 Interesting looking guy!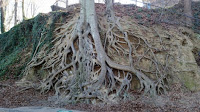 OMG…best roots ever!!!!!!!!!!
The stonework
was amazing!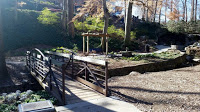 There were a couple of footbridges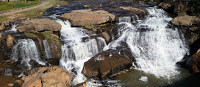 Taken from the walking bridge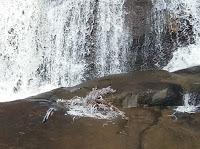 Frozen on the rock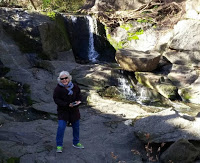 Hooray! I even love the little falls!