A detour that was worth a million! Between Glen Rose and Roaring Springs, Carl and I took a little side trip to Witchita Falls to check out a waterfalls I saw online. It was so worth the extra 40 miles!
A few of the chalk messages along the path
After walking along a meandering path through Lucy Park, spotted with chalk messages on the sidewalk, we came upon this beautiful 4-tier
waterfalls!
Lucy Falls from above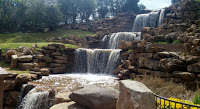 Lucy Falls from below
It was such a delightful surprise…we had no idea it would be that awesome! There were steps to climb to the top so you could watch the cascade from above. This tip was shared with us by a gentleman we met while enjoying the falls.
Bright Spot – Zan the Man was his name!
ZANTHEMAN49
He was traveling by bicycle and had stopped to admire the beauty before us. He had recently retired and told us that he was experimenting with ways to spend his days that were now filled with endless possibilities. He worked as a D.J. on the radio for many years until "computer automation began to dominate the radio broadcast industry, and many announcers like me, had to find another career."
He found a new way to connect with an audience…using that same technology, he now records his own songs. A couple years ago, one of Zantheman49's songs, "Mad Cow Disease", was featured on an internet radio show along with several other great artists! You can find him on You Tube. Zan was a true Bright Spot in our day. He was so friendly! We wish you all the best in your retirement, Zan!!! Keep taking those pictures, too!!!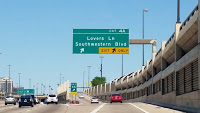 Too funny!!!
About the Falls
Land visitor
Water visitors
Along the path at Lucy Park
Part of the path to the falls