When I think Houston, I think big 'ole metropolitan city…that's nice. WELL…with only a half day to spend in the city, Carl and I had to be very selective in our choices of what to spend our time on. (Originally planned to be at a campground only minutes from Houston, but it got flooded out and we had to change our plans…new place a couple hours north…so we stayed at a Walmart near the original campground so we could at least get a little bit of the city)

Add caption
The first stop early morning was the Williams Tower, the 2nd tallest building in the state. It was truly impressive looking up from the ground. We were disappointed though in that the website said you could go up to an observation deck and see a panoramic view of Houston and we found out that this was no longer an option…boo-hoo! BUT…we were told that the other tower (the tallest) was not too far away and THAT ONE DID have an observation deck…oh, yeah!
But before we ventured out to see it, we spent quite a bit of time at the Water Wall across the street right smack in the middle of downtown Houston…it's actually considered uptown Houston near the Westin Galleria! A sight so impressive, it rendered us speechless at first! It's a huge multi story 'fountain' unlike any other I've seen! It is 64 feet tall representing the 64 stories of William's Tower directly across from it. Water cascades in sheets both on the outside and inside of the semi-circle wall.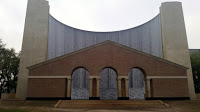 The front (concave) of the Water Wall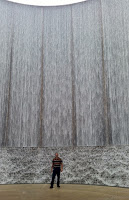 Carl on the inside
of the wall
ME in heaven…lol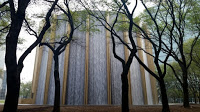 The outside (convex) of the Water Wall
The front or concave part of the wall has a Romanesque arch a little shorter than the wall and it gives you the sense of entering into this awesome space and being "hugged" by the falls and "kissed" by its tickley mist! The concave wall also has the added intrigue of the waters bouncing over several rows of stadium-seating-like granite. One of the most amazing facts is that 11,000 gallons of water pour over the wall EACH MINUTE!!! The park in which the wall sits offers the presence of 118 Texas live oak trees and a scrumptious lawn…green and soft and inviting. I would have no problem at all lying back with a good book on any given day…all day…gazing occasionally at this magnificent site! Aaaahhhh…it was just lovely!
BRIGHT SPOT – Upon arrival to Texas, I made the decision that I had let my lovely grey locks grow long enough…time for a new more spunky do! While Carl was patiently occupying himself between the motor home and Walmart (where we spent the night), I ventured over to the little strip mall that included a "Sport Clips" where Victoria took VERY good care of me and did an excellent job with my hair. It is a rare instance when the stylist does exactly what you asked her to do! (I usually only have that luxury when I'm in MD and my daughter Nicole does my hair!) In chatting with Victoria, I learned that she is a woman with an entrepreneurial dream. She initially had a career in the field of international corporate law. Having grown up in a military family and experiencing the type of travel that accompanies it, she found it to be a fascinating line of work. Then, as life would have it, she was thrown a curve ball. Her mom took ill and eventually passed in 2012. During that period, Victoria chose to stick around and go back to school. She received her cosmetology license and began a career in that field. As a young girl, she had cut hair for friends and family as the skill came pretty naturally to her and she loved doing it, so it made perfect sense. She also majored in business law which will be of great value to her in the future as she plans to start her own business.
Victoria
Just from the brief time I spent with Victoria, I got a strong feeling that whatever she sets her mind to accomplishing, will indeed manifest! Thanks Victoria for a great haircut and sharing your story with me. It was a pleasure meeting you!
***So folks, if you are in Houston and want a great cut, Victoria is your girl!!!