Water Garden of Fort Worth – This awesome place is in the middle of downtown Fort Worth! Rarely do you find a 'waterfalls' that you can climb down into with a bunch of other people and hang out! There are several areas at the gardens…the Wall where you can climb up layers and layers of stone steps…the Quiet Pool situated down in a valley of sorts where you can walk, meditate, etc. that is surrounded by cypress trees and walls with thin plane of water that cascades almost 90 degrees down, sounding like a gentle rainfall (there was a wedding going on the day we were there…beautiful)…the Aerating Pool that consists of multiple illuminated spray fountains and where a rainbow across the water moved as we did! My favorite section, the Active Pool – it has water cascading down 38′ terraces and steps dumping into a small pool at the bottom!!! The walk down was via concrete slabs going in a spiral with no railing…oh, boy!!!
Part of the Wall
The Blue Quiet Pool
This wedding was beautiful!
We got to hear their vows and the sharing
from the officiant about relationships…it was
very nice. Also the harpist played "It's a
Wonderful World" by Louis Armstrong
after the ceremony!!!
There were about 50 onlookers hanging
over the wall to see!
Of course surrounding these wonderful water features is a park with a grassy hilltop or knoll that protects the gardens from the city. Carl and I had a picnic there right by the Active Pool and watched all the people climb down and back up out of it. THEN WE ventured down. I got a little woozy about 1/3 of the way down and a gentleman coming up alongside me told me not to look at the water but to keep my eye on each step…I MADE IT!!!!
I was so happy to be at the bottom,
I had to let my toes celebrate!!!
LOL
This pic really doesn't do justice to
this amazing structure!
"I'm almost done taking pictures, Hon!
Then you can eat." LOL
This was so neat…a bike rental
station!!!
Caught a rainbow in the aerated pool.
Can you see it?!
Champion Stockyards Rodeo at the Cowtown Coliseum – MY FIRST RODEO…woohoo!!! I had no idea how much attitude a horse or bull could have! Jeez…I swear I saw one of the bulls give the cowboy rounding it up after it threw a rider a dirty look…LOL I got to see first hand what a bucking bronco could do to a well-intended rider…LOL My favorite part honestly was when the calf was freed and could run away after being lassoed and tied!!! I guess they are used to it…lol I thoroughly enjoyed the fancy riding around barrels, also.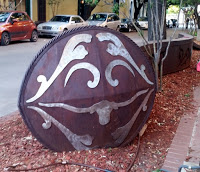 A ginormous 'belt railing' alongside the
Cowtown Coliseum
When it was time for the show to begin, a little cowboy about 4 years old appeared with 2 adults and threw t-shirts into the crowd, waved the crown on to cheer and generally just "hammed it up"! He was so adorable! At half-time, kids from the audience flocked to the ring and were given the opportunity to chase a goat and then a small calf around in hopes of yanking off a large piece of duct tape on each of their backs…it was hysterical!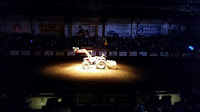 Before the competition began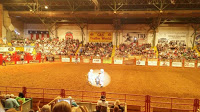 The tiny cowboy…
The whole Stockyards Historic District was cool with its wooden corrals, cowboys and cowgirls, live music and dust and dirt…I really felt like I was in a western movie! A few tumbleweeds would have made it perfect…LOL Great fun!