BRIGHT SPOT – What a better way to begin a post than with a Bright Spot! Carl and I were having dinner at the campground restaurant and we got to talking about desserts with a woman there. She chimed in telling us we MUST go into town and have pie at the Pie Peddler. We took her advice and got a lot more than pie! We met the most wonderful couple…Wade and Summer Redwine.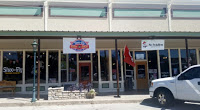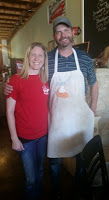 I'm lovin' the apron!!!
First we met Wade at the Shoo Fly Soda Shop which is right next door to the Pie Peddler. Wade was very warm and hospitable chatting with us as we walked around his eclectic shop. There are gifts of all types…something for every taste… available for purchase as well as an incredible array of drinks from good 'ole-fashioned root beer floats to milkshakes in any flavor you can conjure up in your mind! Wade even discovered a way for pie a-la-mode lovers to take their passion on the road!!!
YES – he makes shakes with actual slices of whatever your favorite pie is! Love apple pie…a shake coming up! How about a cherry pie shake or perhaps strawberry-rhubarb…no problem! If you are lucky, you might get a chunk of crust! Carl had an apple pie shake and it was amazing!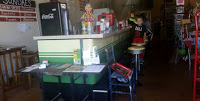 The 1920's Coca Cola bar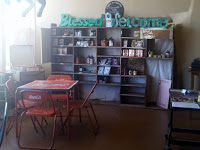 Upon entering the soda shop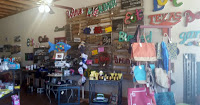 Some of the great gifts available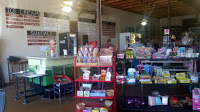 Wade told us how the Shoo Fly came into being. Living in this area, at one point, it occurred to him that the area (historic tourist town) was in need of a place where passersby both local and visiting, could grab a beverage and a snack on those hot summer days and take a little respite from their wanderings. So, he opened the Shoo Fly. One awesome feature of the shop is the long Coca Cola bar where customers sit enjoying their refreshments. It is green and white with lots of chrome and believe it or not they used to be the Coca-Cola colors back in the 1920's! It began its travels in the train station in Cleburne, making its way to the Glen Rose Pharmacy during the 40's and 50's. It retired and remained in storage until last year when Wade breathed new life into it by adopting it and adding it as a truly fun focal point in his shop!
NOW, the fun really begins…Wade and his wife Summer are parents to 7 children ranging in age from 18 to 5! There's Hannah-18, Lacy and Will-15, Ashton-13, Zaidy-12, Zion-8 and last but not least Stetson age 5. Through their schooling, Summer volunteered much time at school in the kindergarten rooms. Two of the children's teachers Jean Ford and Rhonda Cagle, just happened to own the Pie Peddler next to the Shoo Fly Soda Shop. They all became friends very quickly. After 13 years of offering their homemade award-winning pies to the town, they were ready to retire and spend their days hanging out with grandkids. Wade and Summer bought the pie shop in January of this year (2016) and are carrying on the tradition of offering 'from scratch', old-fashioned award-winning pies!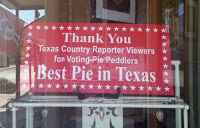 The reputation of being the "Best Pie in Texas" according to the Texas Country Reporter in 2012 is absolutely in tact! In the last week, between Carl and I, we have indulged in 5 of their mouth-watering pie flavors…strawberry-rhubarb, peach, apple, cherry and a frozen confection coconut/caramel pie! Oh my goodness…how do folks live in this town and not have to eat Pie Peddler pie every single day?! Maybe they can't! Wade told me that on an average Saturday, over 100 pies go through their doors! That's just the whole pies, not mentioning all the individual slices.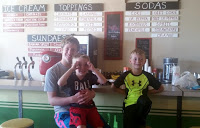 Left to right…
Big brother Will with Stetson and Zion
Wade shared that his two youngest 'partners', Zion and Stetson, spend a great deal of time at the Pie Peddler. Zion seems to be ear-marked to be an entrepreneur. He clears and wipes down tables and talks to the customers on weekends. Stetson, age 5, who totally rejected pre-school as a way of life…well, he is there all the time with shoe laces untied and hoping someone will come in and order a slice of buttermilk pie so he will be allowed to have his own slice! See, once a pie is cut into, then slices are available.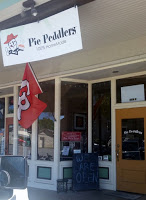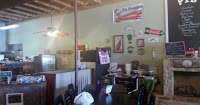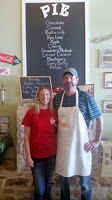 I can't say enough about this beautiful family and their two terrific businesses. If you are ever in the Glen Rose area of Texas…about 75 miles south of Dallas, you would be doing yourself a huge favor by making your way into town and allowing your taste buds to dance around a soda shop treat or a slice or more of homemade pie. Remember life is short…get your pie a la mode! Just to get you drooling, some of their top selling pies are: chocolate, coconut, buttermilk, key lime, apple, cherry, strawberry rhubarb, coconut caramel, blackberry, every berry and pecan!!! Decisions! Decisions!
***Thank you Summer and Wade for taking the time to chat with me. Also, thank you to 3 of the Redwine boys…Will, Stetson and Zion for talking with us as well! You are all great!