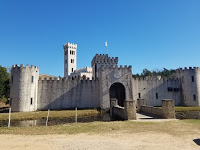 Newman's castle
It all started with the bakery. Michael Newman started up his now award-winning bakery over two decades ago. It is nestled in the small town of Bellville. You can find donuts, quiche, cinnamon buns, croissants, pigs in a blanket and even a full breakfast or hot lunch. They open at 4:00 am 7 days a week!!! I had a delicious breakfast there while I was waiting for the castle tour guide.
That adorable Irish Wolfhound
is the king's castle dog!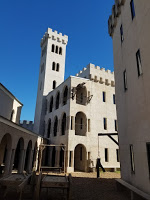 Just on the other side of the
drawbridge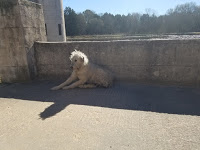 This is Avalon!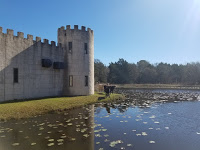 His cows have full run of the property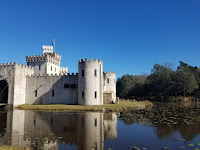 View of castle and moat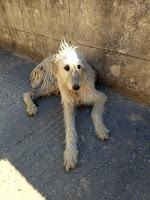 Aaawwww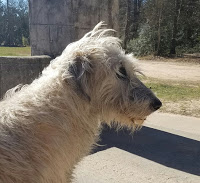 Could she be any cuter???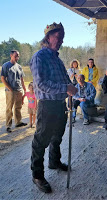 King Newman
Ok, so now about the castle….over 10 years ago, Mike Newman was thinking of building a log cabin on the piece of property he bought about 5 miles away from the bakery on the countryside. After much deliberation with an architect, he still wasn't sure of the exact 'look' he wanted. One day, his friend said that he could do anything he wanted because a man's home is his castle! WELL, those final words set in motion a plan that took 8 years to complete! He and one contractor built that castle one cinder block at a time! I would say that is quite impressive! At first, he did not give tours, but as the years went by and folks got wind of his masterpiece, the interest grew and grew. Finally, he opened his home, his private residence to the public and added several sections that he rents out for special occasions. He gives every tour himself…for $15 you get his full story, castle-fun activities, a catapult demonstration, a complete lunch of a huge sandwich with bread made in his bakery, chips and delicious yummies also from the bakery AND you are then invited to tour the entire castle including his private quarters and walk the grounds at your own pace and stay as long as you like. He even made ice tea for everyone! He also has a private chapel in the castle, but it was kind of dark and my picture didn't turn out. It was very sweet though.
I got to chat with him a little during the afternoon. He was telling me about his time in Ecuador many years ago when he was part of a Gideon Bible distribution there. He warned that the flight into Quito may be a little bumpy! Haha…I thanked him for the tip. He appeared to be a delightfully laid back low keyed kind of man that simply had a dream that he made come true! It was an unforgettable experience!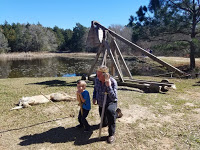 King Newman and his faithful knight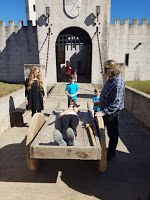 Unfortunately, there was one
casualty after an attack by
marauders…lol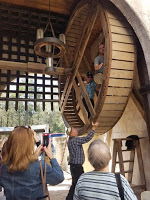 This 'hamster wheel' is the only
means of lifting and lowering
the 3,000 lb. drawbridge
One of the
dining rooms used when the
castle is being rented for a
special group event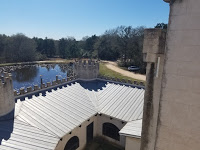 Views from the second level up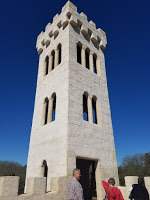 Bell tower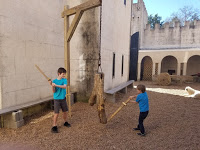 Two knights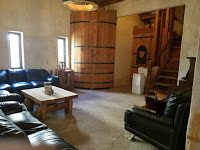 Guest living room
Guest bedroom
There are several more in the process
of being created on the second and third
levels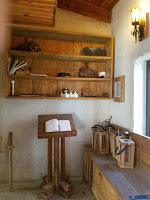 Guest registry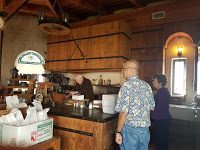 The kitchen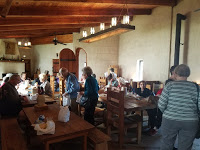 The dining room where the tourists
have their lunch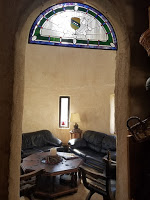 This little very comfy room
just off the kitchen is where I had
my lunch
( I toured first and ate later to avoid
tripping over people to get pictures)
The ceiling of the room where
I ate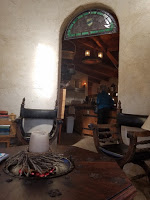 Looking out to the kitchen
Just inside the castle looking out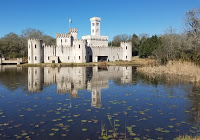 Castle reflection from the rear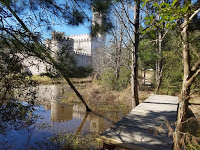 View from the foot bridge around
the castle moat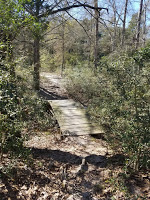 One of the foot bridges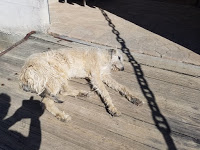 Avalon was done after the tour…lol
Private living room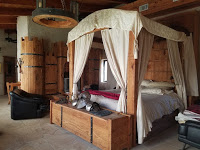 Private bedroom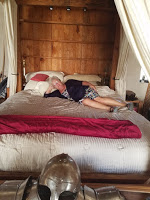 OMG…I couldn't resist…
how often can a girl say she
laid on the bed of a king…LOL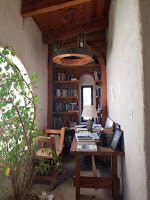 Private study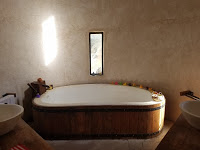 OMG…check out the line of rubber duckies
Private office
Queen Judi…LOL