Rockport is where I met my personal tour guide, Ed! Of course, I didn't know he was going to be my personal tour guide at first. He and I were registering at the campground next to each other and had basically the same camper information response…no pets, no slides and no other people! It was pretty funny and we both chuckled.
After I got to my site and set up for the week, I went to the clubhouse where the Internet was available and got on my computer. A little while later Ed showed up and came over to my table. We talked a while, then he said he had an idea! He offered to take me around the area and show me what there was to see. He knew the place well. OK, so what does a girl say at this type of juncture??? Well, I decided to ask him if he was someone I could trust?! So, would he tell me if he WASN'T?!!! LOL He said that he thought so and laughed and offered to give me his son's number if I wanted further assurance. OMG…we both laughed. What a riot! I figured I have been safe for almost three years on the road in many interesting situations, so….Why would I expect that to change now? Besides, I think I'm a pretty good judge of character. Soooo, I said yes and 9:00 the following morning he picked me up and off we went exploring Rockport!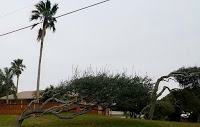 The winded trees!!!
First, we drove along Copano Bay which is the ideal place to catch a gorgeous sunrise…except at this time of year…LOL It is so incredibly foggy in the mornings here during the winter months.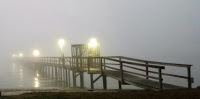 Foggy mornings on Copano Bay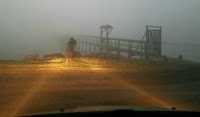 Headlights in the fog
However, we did get to see an amazing sight! In the front yards of the huge and somewhat gaudy beach homes were trees that leaned as much as nearly 180 degrees from their base!!! It was craziest thing I had ever seen. Ed explained that over the years the winds from the bay have been so strong that they literally pushed the trees away from the water and they bent at various degrees! Then we just drove around the town and had Chinese for lunch!
Corpus Christi and North Padre Island, about 35 miles south of the campground, was our next big adventure a couple days later. A sad yet touching site in Corpus was the memorial, named "Mirador de la Flor" (viewpoint of the flower) in tribute to Selena, the famous Latina singer who was shot at age 23. Ed and I spoke to a gentleman there who told us how thousands of fans surround the site each year on the anniversary of her passing. The Hispanic community still grieves the unfortunate and senseless death of this rising young talent.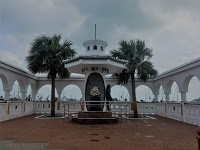 The Selena Memorial in Corpus Christi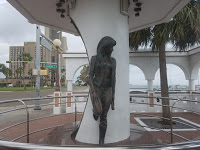 5′ 8″ bronze replica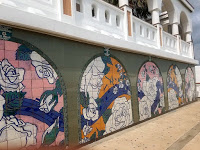 Every tile was hand painted by children
This wall is beneath the memorial facing
the Gulf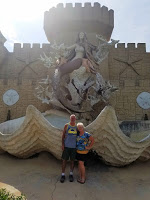 Ed and me
Ocean Treasures Souvenir Shop Facade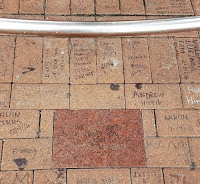 There were so many personalized
bricks surrounding the memorial. This
darker one is from her parents.
A fabulously fun sight was the facade of Ocean Treasures Souvenir Shop, the largest place of its kind I have ever seen. The giant castle has a mermaid on a clam shell and dolphins and sand dollars, etc. Very cool!!! Right next door to the mega shop was a miniature golf place with an awesome waterfall display!
Then we were off to Padre Island. This island is very long and narrow with the Gulf of Mexico on the east and Laguna Madre on the west. It's about 113 miles long and not quite 2 miles wide…second only to Long Island in New York. It has white sandy beaches which we walked several miles along to get to the pier where a restaurant was located. We made a long overdue pit stop…LOL…and had a light snack.
Ed walking across the sand castle
bridge…too funny!
Rainbow foam
Bet they are waiting for a little snack
Loved these benches…you can
people watch or Gulf watch
I have no idea what this sculpture
is, but it was calling me to climb
up the back and say Peek-a-boo!!!
These concrete and marble gazebos were
situated all along the water with about 6
of those two-sided benches between them
It was such a beautiful day. The sun was shining on the water, seagulls and pelicans were everywhere. For me, one of the neatest things about the beaches there is that you can drive your car right on the beach and park!!! Love it! We really had fun on our adventure touring days!!!
Cars on the beach AND a string of
covered picnic tables
The day before we both left in our different directions, we tried one more time to catch a sunrise…no luck! We put it about 8-10 miles that morning! The sun made a cameo appearance every now and again through the thick cloud cover.
We did however catch a bunch of pelicans at the marina and saw a pod of dolphins playing 'tag' in a circle! They were headed in the same direction we were going back to the campground so we biked and stopped and watched…over and over again all along the bay! What a blast!
Copano Bay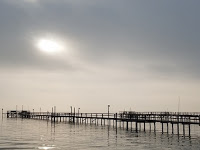 About forty minutes after 'sunrise',
she made a cameo appearance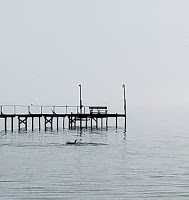 Dolphins playing
In between tour days, I spent a lot of time playing pool with myself…trying to hone my skills for when I play my kids next time!!! I went to a craft show, too. Also, Ed did help me plan an entirely new route from ABQ to Baltimore for after I return from Ecuador. It was looking like my original route was far too close for comfort to Tornado Alley! I'll be taking the southern coast route and spending as much time at the Mississippi beaches as I can!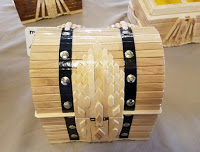 These amazing trinket boxes were
hand made, no electric tools, by a
disabled Veteran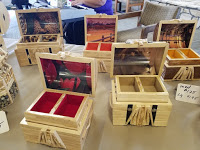 Unfortunately, he was unable to be at
the craft show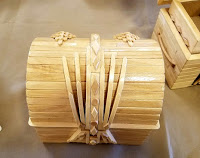 I would have enjoyed speaking with him
and hearing his story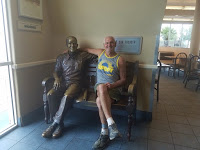 OMG…we stopped at a Whataburger
in Corpus to use the restroom. When
I came out Ed was sitting with the
owner like they were old friends…
that man will talk to anybody!!! LOL